Excerpts from analysts' reports


AmFraser initiates coverage of Ley Choon with 22-c fair value

Analyst: Victor Wai

Initiating coverage on Ley Choon Group with BUY, FV $0.22. Core businesses of Ley Choon Group Holdings are
i) infrastructure construction and maintenance, and
ii) sale and recycle of construction materials.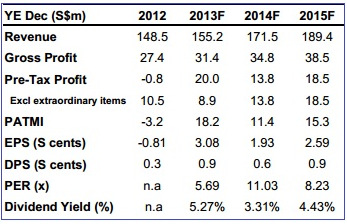 Besides Singapore, the Group has operations in Brunei and China.

Positioned to ride the public infrastructure boom. Ley Choon has a backlog of close to $210 million (approx. double its market cap), which provides earnings visibility through FY15.

Various infrastructure projects (ie rail network and sewerage system restructuring) in the pipeline would provide opportunities for the Group to augment its order-book beyond FY15.

Optimizing operational efficiency. Ley Choon produces asphalt pre-mix materials used for road/highway surfacing.

With the recently commissioned second plant, the Group is now the largest supplier of asphalt pre-mix materials in Singapore.

The supply chain reliability enhances its credential to tender for larger projects.

Government authorities make up 95% of revenue means that Ley Choon does not have to grapple with bad debt issues that plague many construction firms.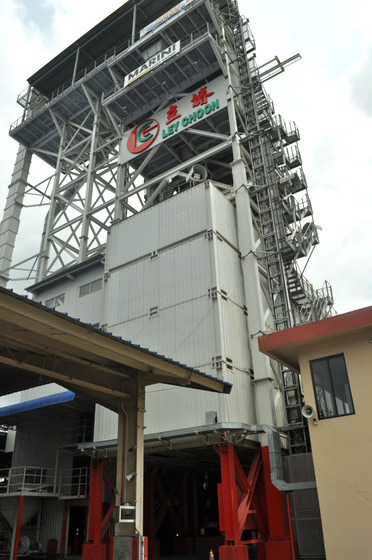 Ley Choon's new 45-metre high asphalt premix plant in Sg Kadut cost S$14 million, including land cost.
NextInsight file photoThe Group is one of the top contractors to PUB.

Strong earnings momentum between FY14 and FY16 (CAGR 24%) on upbeat macro outlook, benefiting Ley Choon's niche expertise in underground infrastructure construction.

Debt repayment from operating cash would ease the drag interest expense on net profit.

Special dividend pay-out of 0.9cts is expected on FY13 financial results, on profit made from sale of its building at Senoko Drive.

Although the company does not have a formal dividend policy, the management has guided a return of 30% of annual earnings to shareholders.

Barring unforeseen circumstances, this translates to dividend yield of about 5.2%.

Fair value of $0.22 using Residual Income model represents potential capital appreciation of 24% from Ley Choon's current share price.

The growth company is likely to start paring down its debt from FY14 onwards, as major capital expenditures have been completed.

Our FV translates to 11x forward PE, in line with peers average with exposure to public construction projects.


Recent story: LEY CHOON GROUP: Scaling up in Singapore, making inroads overseas


---

Voyage Research expects Otto Marine net profit to be US$22 m this year

Analyst:

Ng Kian Teck




Otto Marine Limited's (Otto) FY13 results were below our expectation as the company


1) incurred US$4.8m loss of associates and joint ventures in 4Q FY13 and




2) suffered lower gross profit from the chartering division and had a gross loss in the shipbuilding division during 4Q.





The former was mainly due to litigation claim (about US$8.9m) by customer on three of Aries vessels (Otto owns 49% of Aries) and the court ruled in favor of the customer.



The latter was largely due to vessel servicing and forex losses.



That said, the company had reported several positive news recently.

Firstly, the company sold nine vessels for a total of US$40m over the last two months and will generate an one-off gain of about US$8M.

They also secured close to US$60m chartering contracts (with options) on three vessels over the last three months and we are particularly pleased with the long term chartering of Go Phoenix.

Lastly, they won two new-built contracts for US$9m. Hence, we expect FY14 PAT to come in better than FY13.


We like Otto's new direction for the shipbuilding division and expect the chartering division to generate more than US$30m gross profit for the Group. The selling of vessels will also help to lighten up Otto's balance sheet.

Forecast and Valuation: The slew of positive announcements will probably assist in supporting Otto's FY14 numbers. The new direction for the shipbuilding segment will probably generate better profitability for the Group.

We now expect the company to recognize US$445m revenue and US$20m PATMI in FY14.

We have revised our intrinsic value to S$0.093. Recommend Invest.

Recent story: OTTO MARINE Christens ultra large AHTS - Go Phoenix