SGX Catalist-listed Ley Choon Group Holdings Limited (立堾集团控股有限公司) not only had stronger profitability in 1HFY23 (ended Sept 2022) but also enjoyed momentum in its orderbook growth.

The leading one-stop service provider for underground utilities infrastructure construction and road works was buoyed by a recovery of infrastructure-led construction activities.

Revenue increased by S$14.3 million or 30.4% y-o-y to S$61.3 million, mainly contributed by good progress in pipe laying, airport and sewer rehab projects.


S$'000

1HFY23

1HFY22

Change
(%)

Revenue

61,265

46,992

30.4

Gross Profit

8,498

6,689

27.0

Gross Profit margin

13.9%

14.2%

0.3 p.p.

Net profit after tax

4,676

3,550

31.7%

Net profit margin

7.6%

7.6%

+0.1 p.p.
Stock price

1.8 c

52-week range

1.5 – 2.2 c

PE (ttm)

4.1

Market cap

S$27.1 m

Shares outstanding

1.5 b

Dividend
yield (ttm)

--

1-year return

12.5%

Source: Yahoo!
Ley Choon's customers include government bodies such as Public Utilities Board, Land Transport Authority, Housing and Development Board, Urban Redevelopment Authority, Building and Construction Authority, Jurong Town Corporation and companies such as Changi Airport Group and SP Group.

During 1HFY23, Ley Choon continued to pare down borrowings (S$25.5 million outstanding, down from S$27.9 million as at end-March 2022) and lease liabilities.

This reduced finance costs by some S$0.5 million or 43.2% y-o-y to S$0.7 million despite rising interest rates.

Coupled with tight control of expenses, the Group reported 1HFY23 net profit of S$4.7 million (+ 31.7% y-o-y).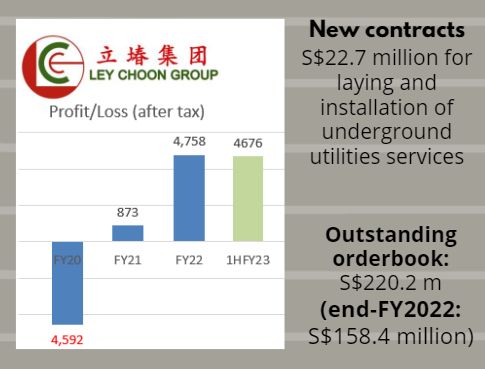 Mr Toh Choo Huat (卓沭橃), Executive Chairman and CEO of Ley Choon, commented, "Our growth momentum continues in 1HFY23. With the further easing of COVID-19 restrictions, our construction activities are gradually back to normal. Infrastructure construction demand is ramping up and we, as one of the key players in the local market, won a few contracts recently. The new orders help further extend our revenue visibility to 2025."