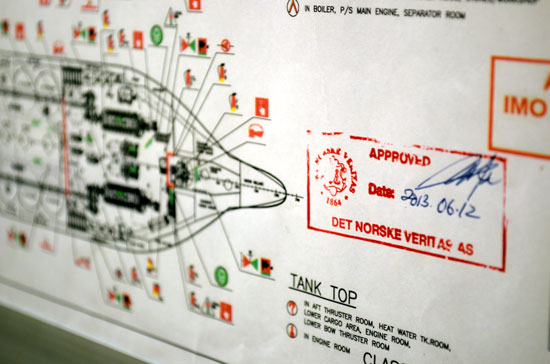 Otto Marine operates a fleet of 64 offshore vessels. Its shipyard builds to ABS, DNV and Norwegian standards, is one of the largest in Batam, and one of the most sophisticated in the Asia Pacific region. Above: DNV stamp of approval on Otto Marine's latest AHTS vessel, the Go Phoenix, christened on 6 September 2013.
Photos by Sim Kih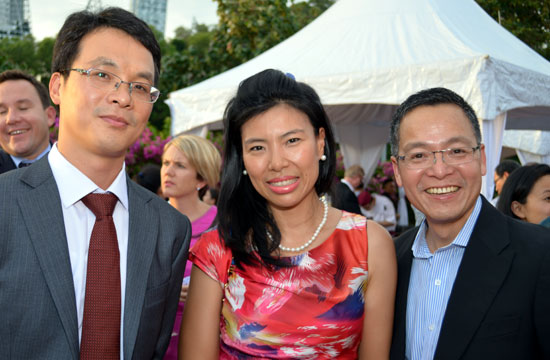 ICBC Leasing Project Director Jacky Hong (left) with Mr and Mrs Yaw Chee Siew. Mr Yaw is the Executive Chairman and major shareholder (63.4%) of Otto Marine.AT THE christening celebration for the second ultra large AHTS vessel built by Otto Marine, its management reiterated its resolve to diversify its revenue stream and improve capital management.

On last Friday evening (6 Sept), Otto Marine held a vessel naming ceremony for a highly complex 24,000bhp Anchor Handling Tug Supply (AHTS) vessel, Go Phoenix, at Marina Keppel Bay.

The vessel was built for its 90%-owned subsidiary, Group Marine Group, and financed by the Industrial and Commercial Bank of China, in what was the leading PRC bank's first offshore vessel deal in Singapore.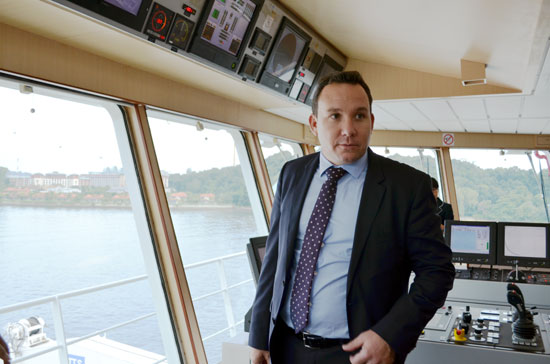 Go Marine Managing Director Garrick Stanley at the bridge of Go Phoenix. Mr Stanley, 40, was appointed as Otto Marine's Group CEO on 6 August 2013. He joined Go Marine in November 2007.
Otto Marine acquired 55% in Go Marine Group in 2011, resulting in a near doubling of the Group's vessel chartering gross profit that financial year.

The subsidiary is Australia's only integrated marine, oil and gas logistics provider.

Go Marine provides marine crewing, vessel management, logistics and project management services for oil and construction companies.

The vessels it operates include remotely operated vessels, platform support vessels, anchor handling tug and supply vessels, seismic support vessels as well as tugs and barges.

Last year, Otto increased its stake in Go Marine to 90%.
Hampered by delays in vessel construction, the Group suffered net losses in FY2011 and FY2012 but reversed its losses in 1H2013 after a management restructure this year.

It posted net profit attributable to shareholders of US$19.7 million for 1H2013. Net margin was 7.8%.

On 18 March, Group CFO Michael See, was appointed to the board.

Other appointments on the same day include Mr Mok Kim Whang as President of its shipbuilding division and former Drydocks World shipyard Executive Director, Mr Lum Kin Wah, as Otto Marine's Executive Vice President, Shipyard.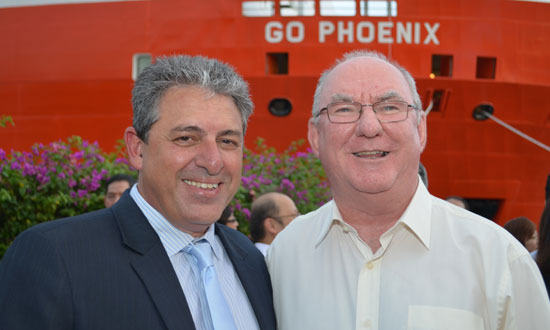 Newly-appointed Go Marine CEO Ian Del Rosso (left) with Sinwa CEO Bruce Rann.
Go Marine's managing director, Mr Garrick Stanley, was also appointed as Otto Marine's Group CEO on 6 August, whilst remaining as Go Marine's managing director.

Two C-level executives were also added to Go Marine's team (CEO Ian del Rosso and COO Tony Caccamo).

"We plan to renew and expand our fleet," said Executive Director Michael See at a media briefing prior to the ship christening celebration.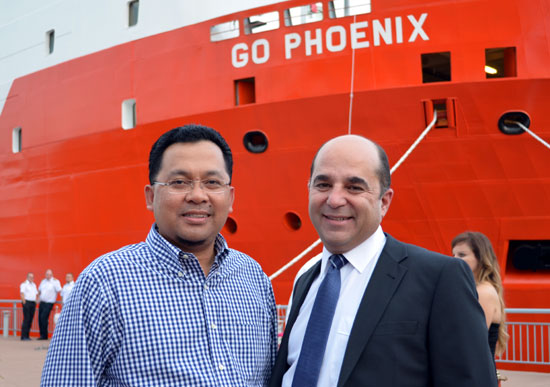 Alam Maritim Resources COO Shaharuddin Rahmad with Go Marine COO Tony Caccamo (right). Alam Maritim Resources is Otto's customer."The average age of our fleet is now less than 5 years and we intend to keep it at less than 8 years.

"Some vessels in our fleet were built at our yard and booked at cost according to the accounting standard.

"With depreciation, the net book value is most likely to be lower than its present market value," he said.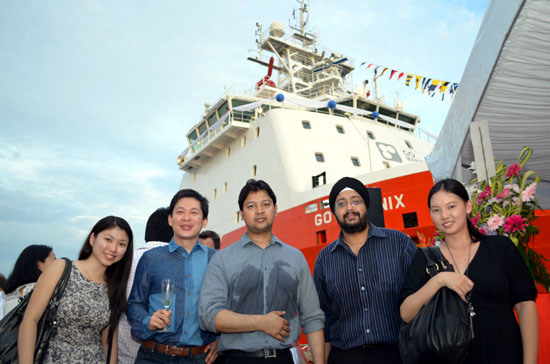 L-R: Irene Kee (Financial PR), Timothy Sim (Sinwa executive director), Romil Singh (Financial PR), Malminderjit Singh (Business Times), Gwyneth Yeo (The Edge).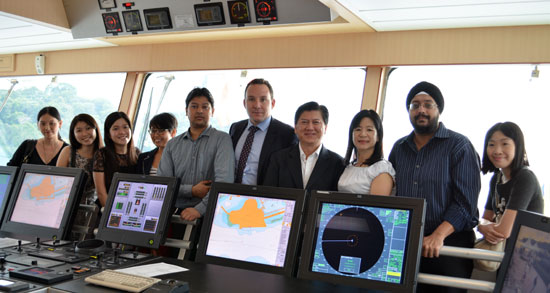 L-R: Gwyneth Yeo (The Edge), Irene, Jacelyn Loo (ODS Petrodata), Lissa Johari (ODS Petrodata), Romil, Garrick, Michael, Michael's wife, Malminderjit, Crystal Chan (Fairplay).

Recent story: OTTO, RH PETROGAS, REX: Latest Happenings...