Excerpts from analysts' reports

Voyage Research says Oxley Holdings is fairly valued at 69.5 c

Analyst: Ng Kian Teck

Oxley Holdings Limited reported another stellar set of quarterly results with 2Q revenue and PAT rising by 238% YoY and 185% YoY to S$202m and S$36.6m, respectively.

We reckon that the company is on track to meet our full year forecast of S$1,156m revenue and S$330m PAT.

With another two plots of land in Malaysia under their belt, the company now has eight projects in Malaysia, one project in UK, four in Cambodia and two in China.

We project Oxley to have S$0.9bn recognizable gross profit in Singapore and S$1.7bn recognizable gross profit from overseas (despite conservative assumptions).

We also expect Oxley to start launching some of the overseas projects over the next four months and contribution from overseas to kick in from 2016 – we may adjust the recognizable gross profit from overseas pending on the launch results of some of the developments.

That said, the company's share price has rallied more than 80% over the past four months, outpacing our change in valuation.

Recommend Fairly Valued with an intrinsic value of S$0.695.

Recent story: OXLEY's CEO on his first project: "I feared losing everything..."


---
Voyage Research highlights Roxy-Pacific's HK property divestment for a S$60-m gross profit

Analyst: Liu Jinshu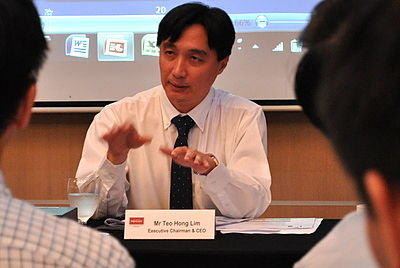 Teo Hong Lim, executive chairman & CEO of Roxy-Pacific. NextInsight file photo.WE are surprised by news that Roxy-Pacific Holdings (Roxy) has successfully divested itself of part of its Hong Kong property for a reported gross profit of close to S$60 million, translating to about 4.9 Singapore cents of value generated within one month of the completion of the investment.

Roxy is scheduled to announce its FY2013 results tomorrow, which we expect to be impressive because of lump-sum contribution from commercial project WiS@Changi.

The transaction, in our view, is a high positive, as the quantum of profits involved means that the company will be in a strong position to deliver further growth in FY14, thus "bucking the trend" and allaying concerns about the local market affecting the performance of companies.

Roxy's Hong Kong property investment comprises a 30 per cent stake in 21 floors of a property in Causeway Bay.

The offering is unique in the sense that the 14 floors were sold with one strata title of average GFA (gross floor area) of 4,718 sq ft per floor, for retail use, thus targeting large retailers (or landlords wishing to split each floor into smaller units). The space is used as serviced apartments.

We ask (a) whether value was created from the conversion of use from residential to retail, as retail space is generally more valuable and (b) whether there is a lack of large retail units in the surrounding prime area.

This transaction shows that value can still be generated out of well-selected investments.

Based on the reported selling prices, we estimate that the 14 floors will yield proceeds of about HK$1.9 billion, therefore paying back to the owners the consideration of HK$1.8 billion. We refrain from adjusting our forecasts and valuation, pending further information from the management, such as plans for the remaining seven floors, at its quarterly results briefing in a few days from now.

On the whole, the transaction highlights Roxy's property selection expertise and financial strength and is a signal that the property sector can still be highly profitable given the right moves.

We further reiterate our positive confidence in Roxy in the context of its low level of unsold inventory in Singapore and its track record in creating value . . . Intrinsic value: S$0.685.

Roxy-Pacific has provided strong gains in its stock price in 2012 and 2013. Chart: FT.com

Recent story: OCBC Investment Research: Earnings spikes for Roxy-Pacific & Lian Beng