When: 11.30 am, 30 Dec 2013.
Venue: Tanjong Katong Complex



Two exceptional features of Second Chance Properties were at the heart of questions at the AGM.

Firstly, in FY2013 (ended Aug 2013), its profit after tax of $57.1 million was higher than its revenue of $53.9 million, which is rare for any business.

In this case, it was due to $42.9 million in fair value gains of the company's investment properties.

Secondly, the company's dividend payouts continued to be strong -- but can they be sustained going forward?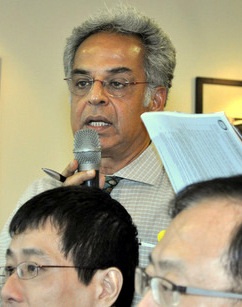 Mano Sabnani, a retired newspaper editor, is a vocal shareholder of numerous companies. NextInsight file photo.1. Sell some properties? Mano Sabnani, a shareholder, started by complimenting the board for the company's high corporate governance and disclosure standards as reflected in the annual report.

"Are you going to hold all your properties, hope for more appreciation and recognise $20-30 million surplus every year or are you going to actually realise the profit? My own call is, you should take profit on the shops you bought a long time ago."

Second Chance CEO Mohd Salleh Marican said the company had in fact sold about $27 million worth of properties in the last 1.5 years.

"As for your view that the market is toppish and it's a good time to take profit, we agree with you and we are looking into it. But we cannot announce anything if we have not sold."

2. Will investment properties be affected by new developments? Mano referred to the Government's plan to turn Paya Lebar into a regional centre which, he said, could result in falling rental for the retail properties owned by Second Chance in City Plaza.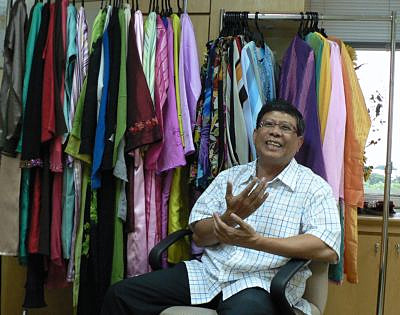 Second Chance founder and CEO Mohd Salleh, 64.
NextInsight file photoMohd Salleh replied that Second Chance's investment properties in City Plaza have seen full occupancy most of the time.

Rentals are relatively low at $10-15 psf for ground floor units while Parkway Parade and Tampines Mall can command $35-40 psf.

What Second Chance expects is that as Paya Lebar continues to be redeveloped, and new shopping malls such as One KM are built at higher cost, City Plaza would be able to command rates that are higher than its current levels.

"The market believes in that and the price of the units there has been adjusting upwards," said Mohd Salleh.

Mano asked if it is always the case that the appearance of a new shopping mall can help lift the rental rates of older neighbouring malls. He groused about the lack of attractiveness of City Plaza -- the units are individually-owned by enterprises which decide what businesses they want to set up and what times they wish to operate, unlike a shopping centre entirely owned and managed by a REIT.

3. Go into pawnshop business? A shareholder asked if Second Chance, whose other core business is retailing of gold and jewellery, has a pawnshop business.

Mohd Salleh said the company had not applied for a pawnshop licence and did not plan to do so. "There are many players in that industry and there are other ways we can make money."

Second Chance will form an investment committee in the next few months to advise it on investing.

4. Impact of falling gold price? A shareholder asked about the impact of the fallen gold price on Second Chance.

Mohd Salleh said the company had explained fully the impact in a press release on 30 Oct 2013. Simply put, when the price of gold falls, Second Chance's gross margin would go down but sales could go up as more people are attracted to buy.

When gold price falls, the company would buy more gold and vice-versa.

5. Why $11 m more in bank borrowings? Answer: Second Chance has bought bonds paying 5.6% interest on average while the borrowings have an interest cost of 1.2% p.a.

6. Why valuation of properties went up by about 20% but rental income decreased? This question was asked by shareholder Desmond Lin who also wanted to know if the valuation methodology had been consistently applied in the past 2 years.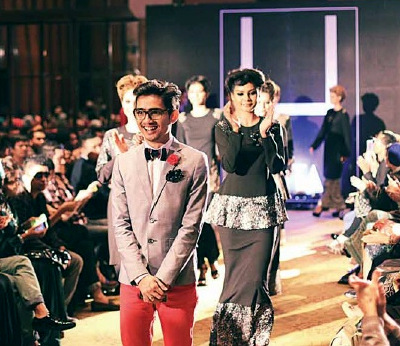 In 2013, First Lady and famous Malaysian designer, Hatta Dolmat, collaborated to release the HATTA ready-to-wear line for Hari Raya 2013. It marked the first such occasion where First Lady had manufactured and marketed a high-end designer range for the mass market. Photo: annual reportMohd Salleh replied that indeed, while property values had gone up in the past 2-3 years rental rates had not risen as sharply.

In addition, Second Chance's sale of $27 million worth of properties in the last 1.5 years meant that its rental income would decrease.

The valuation was done by Jones Lang Lasalle and the reports can be viewed at Second Chance's office.

7. Business plan in Malaysia? Shareholder Desmond Lin, noting that Second Chance had bought a property in Malaysia in mid-2013 for RM46.5 million, wanted to know the expansion plan.

Mohd Salleh said the company would "go all out" to expand its First Lady chain in Malaysia.

The building that it had bought is 10 storeys high which will host the flagship store for First Lady as well as serve as a centre for doing wholesale "in a big way".

And if opportunities arise, Second Chance would like to acquire more properties in the key cities such as KL and Penang.

8. How to sustain the high dividends? A shareholder estimated that the company's operating earnings is much lower than the 3.4 cents a share in dividends.

Mohd Salleh replied that the proceeds from the $27-m sale of properties have helped pay the dividends in FY13. "In future, we will sell some of our bond holdings and some of our shops, so we are not worried about not being able to pay this level of dividends."

Previous story: NAM CHEONG, SECOND CHANCE PROPERTIES: What analysts now say