Credit Suisse upgrades YANGZIJIANG to 'Outperform'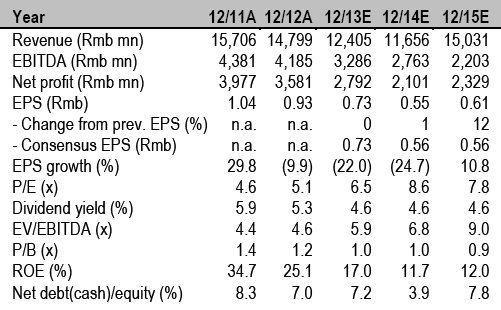 Source: Credit Suisse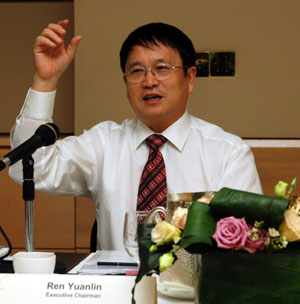 "We have one of the highest net margins among shipyards all over the world because of prudent use of our cash reserves," Yangzijiang Executive Chairman Mr. Ren Yuanlin told reporters in Singapore last month.   NextInsight file photoCredit Suisse said it is upgrading its call on Yangzijiang Shipbuilding (SGX: YAZG) to "Outperform" from "Neutral" while hiking the target price to 1.30 sgd from 1.10.

"With its strong financial position and low production costs, we expect Yangzijiang to benefit disproportionately from a recovery in newbuild orders.

"Yangzijiang has secured 1.22 bln usd of contracts year-to-date, on track to meet our forecast of 2.0 billion in 2013E and with improving order momentum, we raise our 2014E new order forecast to 2.5 billion usd (from 2 billion)," Credit Suisse said.

Yangzijiang currently has 51 outstanding options worth 2.87 billion usd.

This tally includes options for Seaspan for fourteen 10,000 TEU containerships.

"We expect writedown risks to be limited as 653 million yuan of provisions have been taken, representing 5.4% of total loans.

"Potential default can be repaid through sale of collateral," the research house added.

Yangzijiang Shipbuilding is trading at a forward P/B of 1.0x.

Credit Suisse expects improving order momentum to drive re-rating.

"Its dividend yield of 4.7% in FY13E should provide share price support."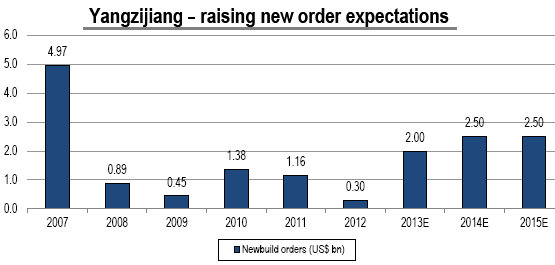 Credit Suisse is upbeat on Yangzijiang's order growth outlook. Source: Credit Suisse
---
Liu Hua, CFO.
NextInsight file photoCIMB keeps 'Outperform' call on YANGZIJIANG

CIMB said it is maintaining its "Outperform" recommendation on Yangzijiang Shipbuilding (SGX: YAZG) with a target price of 1.25 sgd (based on 1.4x FY13 P/BV).

"The re-rating catalyst for YZJ is the potential for more shipbuilding orders, backed by a sustained climb in the Baltic Dry Index.

"The BDI is supported by stronger steel production and macro fundamentals in China," CIMB said.

The research house added that the heightened order momentum and FY15 delivery slots being quickly snapped up suggest that Yangzijiang's order drought has bottomed out.

"We like YZJ as it is one of the last privately-owned Chinese shipyards with decent profitability.

"The stock has the highest dividend yield of 4.8% among the ship/rig builders."

BDI spike may boost orders

With about half of its order book (3.24 billion usd as at end-June) dominated by bulk carriers, CIMB believes Yangzijiang can benefit from more shipbuilding orders if the BDI's climb is sustained.

"A high BDI also lowers the risk of order cancellations," CIMB said.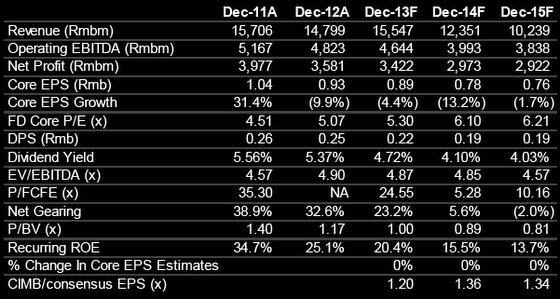 CIMB expects Yangzijiang to return to revenue growth this year.     Source: CIMB

The BDI spiked recently to its 52-week high of 1,478, driven primarily by the increase in Chinese steel production that spurred demand for shipping vessels mainly in the Capesize sector.

China's macro fundamentals have stabilized with the recent data showing that real economic activity is starting to improve.

"Iron ore inventories are also relatively low and we expect the import demand to remain relatively strong in 4Q13, which can lead to further upsides in the BDI," CIMB added.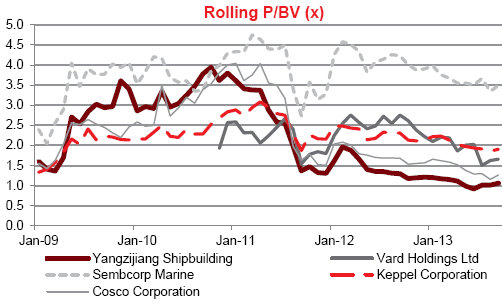 Source: CIMB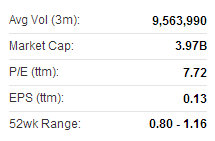 YZJ recently 1.06 sgdNew orders for Yangzijiang have rebounded sharply from 300 million usd in FY12 to 1.22 billion YTD.

"YZJ has been consistently getting new orders, with another 241 million usd (eight shipbuilding contracts) in the bag during the first two months of 2H13.

"The YTD order win is about 50% of our FY13 order target of 2.5 billion usd and we look forward to more orders in 2H13 as YZJ has 51 options worth 2.87 billion of which 22 are for containerships (1.79 billion) and 29 for bulk carriers (1.08 billion)," the research house noted.

Trough valuations

YJZ's stock is currently trading at its trough of 0.98x FY13 P/BV which CIMB says is "an unwarranted" 20% discount to its peers despite a stronger ROE of 20%.

In comparison, Cosco is trading at 1.23 P/BV with an ROE of 3.7%.


---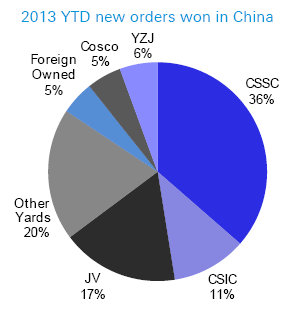 Source: DeutscheDeutsche: YANGZIJIANG a 'Top Pick', upgraded to 'Buy'

Deutsche Bank said it is raising its recommendation on Yangzijiang (SGX: YAZG) to "Buy," calling the bulk cargo and container shipbuilder a "Top Pick."

The target price on Yangzijiang is hiked to 1.15 sgd from 1.00 previously.

Deutsche is also raising its earnings estimates for Yangzijiang by 4-16% on higher new orders (FY14E up from 2.1 billion usd to 2.5 billion) and margins (FY13E GP margins up from 19.1% to 20.4% on better-than-expected margin recognition in 1H13).

As the industry consolidates, Deutsche expects Yangzijiang and Cosco to be survivors.

"For YZJ, its strong execution track record and healthy balance sheet should position it well to receive more orders and to ride through the challenging operating conditions.

"Year-to-date new order wins have been healthy for YZJ, and we expect this momentum to continue as smaller/weaker yards stumble."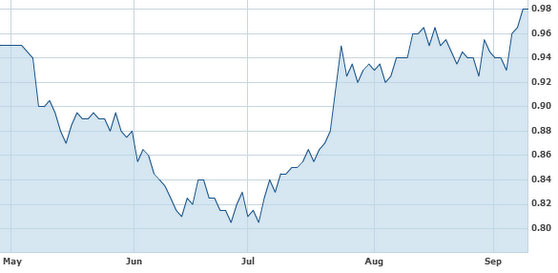 Yangzijiang's Singapore shares enjoyed a mid-summer bounce.     Source: Yahoo Finance

Prefer Yangzijiang over Cosco

While Cosco should also benefit from the impending industry consolidation, Deutsche says it prefers Yangzijiang at this stage as Cosco's balance sheet looks weaker and it is still trying to improve its offshore project execution.

"YZJ is an established shipbuilder and has a healthier balance sheet, in our opinion."


---

See also:

YANGZIJIANG Target 1.00 Sgd