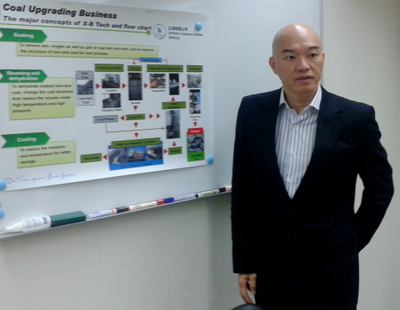 DeTeam Co-Chairman Mr. Godfrey Mak said higher coal prices were a big help in the first half. Aries Consulting file photoDETEAM swings to black in H1

DeTeam Co Ltd (HK: 65) saw its first half revenue fall 36% year-on-year to 170.4 million hkd.

DeTeam, engaged in the production and sale of plastic woven bags and barrels as well as sales of coal and low-rank coal upgrading operations in the PRC, saw its January-June bottom line swing to the black.

It recorded an interim net profit of 5.85 million hkd versus a net loss of 7.85 million in the year-earlier period.

The improved performance is mainly attributable to:

(i) an increase in DeTeam's gross profit as a result of an increase in the average selling price of higher grade coal exploited from an underground coal mine leading to an improvement of its gross profit margin; and
(ii) profit contribution from the coal upgrading business continuing to increase.

"Changchun Yicheng was still the engine of our source of profit," DeTeam Co-Chairman Mr. Godrey Mak.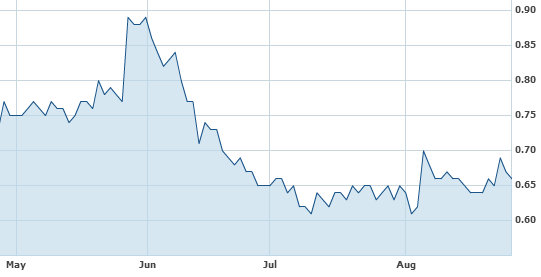 DeTeam's Hong Kong shares have struggled to return to early-summer levels.
Source: Yahoo Finance

Changchun Yicheng in Northeastern China recorded an interim segment profit of 31.95 million hkd, and higher grade coal excavated from the underground coal mine resulted in an improvement of the gross margin of the coal business.

Other recent developments include construction work for the Xilinhaote Project in Inner Mongolia with annual capacity of two million tonnes of upgraded coal recommencing in early April, and the manufacturing and installment of equipment to continue later this year.

Looking forward, DeTeam was upbeat on its prospects.

"China is the largest coal producer and consumer in the world.

"Although the proportion of coal in primary energy consumption is declining gradually amid the recent change in energy structure in China, coal remains China's dominant energy source, making up more than 2/3 of energy consumption, and its demand will retain single digit growth in the coming years," Mr. Mak said.



DeTeam recently 0.68 hkdAccording to professional estimates, coal will still account for more than 50% of primary energy consumption by the end of 2050.

The mainstream solution to air pollution is the development of alternative energies such as solar and wind power.

However, considering production costs and the maturity of technologies, alternative energies are unable to launch on a large scale in the foreseeable future.

"On the other hand, with concerns over the current energy consumption mix and national energy safety, Clean Coal Technology (CCT) is a practical way to curb pollution issues in China and coal upgrading technology is one of the key aspects in CCT.

"Leveraging on our successful experience in Changchun, we intend to develop the coal upgrading business in Eastern Inner Mongolia to improve the coal quality and curb air pollution, allowing our shareholders to enjoy higher returns," Mr. Mak added.


---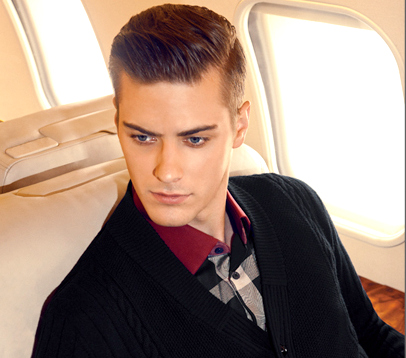 Evergreen has its eyes set on Greater China's high-end menswear market. Photo: EvergreenEVERGREEN boosts H1 top line 10.3%

Evergreen International Hldg Ltd (HK: 238), one of the leading menswear enterprises and brand operators in the PRC targeting mid-upper to high-end markets, raised its first half top line 10.3% year-on-year to 372.7 million yuan.

Gross profit for the period increased 9.0% to 251.5 million yuan, while the gross profit margin decreased slightly to 67.5% from 68.3% in the year-earlier period.

Evergreen's interim net profit was down 13.9% year-on-year to 61.2 million yuan mainly due to the decrease in non-operating bank interest income of 13.1 million as a result of the decrease in average cash and bank balances.

Excluding the effect of the decrease in bank interest income and other non-operating items, operating profit attributable to shareholders remained stable at 78.2 million yuan versus 77.2 million in the first half of 2012.

"In the first half of 2013, the economic growth in the PRC continued to slow down and the retail sector remained weak. Amid increasing uncertainties over economic growth in China, consumer sentiment continued to weaken during the period.

"In addition, operating expenses including rentals, wages and salaries, and major raw materials costs continued to surge during the period, which further increased pressure on retail operators under the current challenging environment," said Evergreen Chairman and Executive Director Mr. Chan Yuk Ming.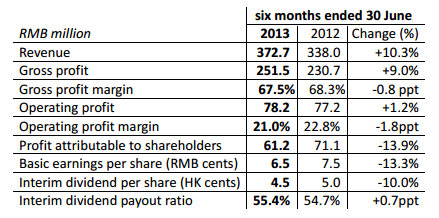 The company increased resources in strengthening the direct retail business through its self-operated stores, enhanced marketing strategy for brand building, provided distributors with extensive training and improved operational efficiency and business infrastructure in order to build a solid business foundation, he added.

First half sales from V.E. DELURE, TESTANTIN and the licensed brands business represented around 79.5% (1H2012: 78.3%), 17.2% (1H2012: 17.1%) and 3.3% (1H2012: 4.6%), respectively, of total turnover.

V.E. DELURE and TESTANTIN generated 296.4 million yuan and 64.0 million yuan in revenue in the first half, respectively, up 12.0% and 10.7% year-on-year.

Self-operated stores of V.E. DELURE sold 85,121 units of apparel products with an ASP of 2,080 yuan, while TESTANTIN sold 35,060 units of apparel products with an ASP of 1,225 yuan.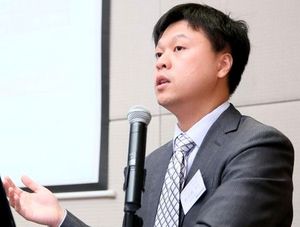 Evergreen CFO Dennis To told investors in Hong Kong earlier this year that the menswear firm would focus more on loyal VIP customers.
Aries Consulting file photoIn the first half, V.E. DELURE and TESTANTIN recorded same store sales growth (SSSG) for the self-operated business of 1.5% and 1.0%, respectively, while aggregate sales from self-operated stores achieved an increase of 7.2% and accounted for about 63.0% (1H2012: 64.8%) of total turnover which was mainly the result of increased efforts in the self-operated store business amid the current challenging conditions.

Sales to distributors in the January-June period recorded an increase of 19.8% and accounted for about 33.0% (1H2012: 30.3%) of total turnover.

As at 30 June 2013, the company had a total of 433 stores in 33 provinces and autonomous regions, covering 192 cities in China.

There were 148 self-operated stores (up from 143 a year ago) of V.E. DELURE in 57 cities in China whilst there were 64 self-operated stores of TESTANTIN in 29 cities in China.

Franchised stores operated by the distributors of the Group decreased from 164 to 161.

"Given the risk of continuing slowdown in economic growth in China, the outlook of retail sector in the second half of 2013 remains uncertain and challenging and the sustained low consumer confidence is likely to further impact the retail sector and create challenges to retail operators in Mainland China.

"However, as the Chinese government continues to drive domestic consumption to support economic growth, domestic consumption will remain the key contributor to GDP growth and achieve healthy and sustainable growth in the long run," Mr. Chan said.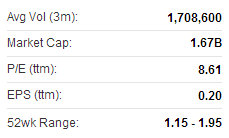 Evergreen recently 1.76 hkdHe added that as one of the leading menswear enterprises and brand operators in the PRC, Evergreen will appropriately adjust its strategy in response to market conditions in order to maintain the advantageous position in China's high-end menswear market in the long run.

"With respect to strengthening the brand equity of V.E. DELURE and TESTANTIN, the Group will focus particularly on sustainable development over a long-term basis as well as increasing and retaining VIP customers.

"Despite the challenging business environment, the Group will expand and enhance its retail network prudently to prepare for long-term development so as to maintain its position as one of the leading high-end menswear brand operators in China."


---

See also:

DETEAM'S Positive Profit Alert

EVERGREEN 'Well Suited' To Serve China Market