Main reference: Story in Shanghai Securities Journal

SEVEN OUT OF 10 investors surveyed believe Chinese shares will finish the year ahead.

The same is true for Hong Kong.

A global Franklin Templeton survey found that a large majority of Mainland Chinese investors believe this year will see the beginning of at least a decade-long upswing, with PRC stocks providing the best returns on investment worldwide for the next ten years – with the US and Canada expected to finish second and third in the competition.

At the same time, the 70% of investors bullish on China believe the benchmark Shanghai Composite Index – the chief tracker of shares listed in both Shanghai and Shenzhen – will rebound from recent doldrums and trend on the upside to finish out the year.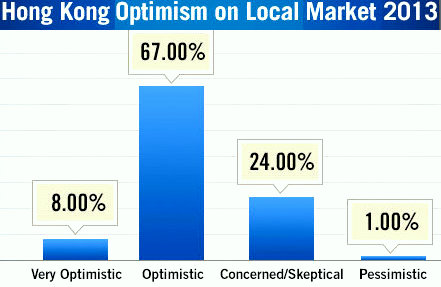 Source: Templeton

The consistently pro-growth rhetoric and policies coming from the new leadership in Beijing were a major reason for the optimism in China.

Meanwhile, neighboring Hong Kong was even more upbeat, with 72% of investors expecting the local stock market to finish higher this year.

Three quarters express that they are very optimistic or optimistic about the Hong Kong stock market this year, one of the highest levels in the 19 countries surveyed.

Templeton said that most of us are even more optimistic about our own portfolios, with the average Hong Kong investor calling for 11.6% returns this year, compared to the average rate of return of 9.2% in 2012.

"Hong Kong investors are showing even greater optimism over the longer term, expecting an annual rate of return of 16% over the next 10 years."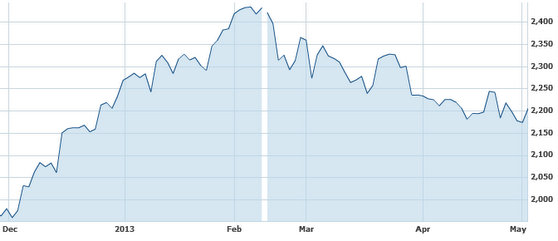 China shares have been struggling to regain traction. Source: Yahoo Finance

Templeton recently asked nearly 9,500 investors in 19 countries how they feel about today's markets, where they see the best opportunities, and whether they are taking actions that reflect their mood.

After four consecutive years of global economic growth, Templeton said it's no surprise that optimism is on the rise.

"What is surprising is how few of us are following our instincts: 60% of investors around the world anticipate positive returns in their local markets this year, but only 31% plan to get more aggressive.

"Hong Kong is the rare exception. 51% of Hong Kong investors plan to take a more aggressive investment approach this year—the only country we surveyed where most investors are taking actions that reflect their mood."

Templeton added that over 60% of investors around the world expect their local stock markets to grow in 2013.

"Investors who live in some of the world's fastest-growing economies—including many investors in the Asia Pacific region—feel even better about the year ahead, with two thirds anticipating local gains."

The survey revealed that the average returns expected by Chinese shareholders in their stock markets this year is 13.2%, which is nearly double last year's 7.8%.

Surveyed investors were most bullish on precious metals and property in 2013.

Over 500 Chinese investors participated in the Templeton survey.

Of these, 73% currently have capital tied up in investment fund products, and nearly 90% plan to do so over the next five years.

---

See also:

FAB FIVE: Reasons For A-share Frenzy