The writer (left) is Vice President, Equity Sales at Maybank Kim Eng Securities Pte Ltd. He is a shareholder of Oxley Holdings Limited.

This is part 2 of the article. For part 1, click here.




Growth Driver 3: Cambodia Land Parcels
According to Ching, "not any foreign developer can enter the Cambodian market". Oxley's partner, Worldbridge Land, is the property arm of Worldbridge International, a Cambodian logistics company headed by Okhna Rithy Sear.

So how did Oxley tie up with Worldbridge?

Interestingly, Worldbridge Land's executive director, Tan Teck Kee, "was a long time police officer and his last appointment before joining the business world was Deputy Superintendent, heading the investigation branch in charge of the busiest part of Singapore including the challenging red light district, Geylang".

According to Oxley's IPO prospectus, Ching, in his personal capacity, owns companies managing Oxley Hotel, Oxley Blossom Hotel and Oxley Hotel 88 in Geylang.

A check of Worldbridge Land's website shows that it has started marketing its "Land near Naga".

"Prominently located in a Prime City area, this is one new and upcoming project promising a One-stop City living by the River. In the over 40-storey building, there will be condominiums of various sizes to suit different dream lifestyles. There will also be a full range of facilities comprising of offices, shops, entertainment, food, clinics, gym and many more. Most excitingly, more than 1,000 parking lots would be available to complete your lifestyle" it reads.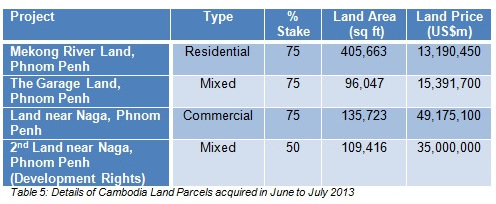 Growth Driver 4: Royal Wharf London
On 1 November 2013, Oxley announced its largest acquisition ever, Royal Wharf (http://m.youtube.com/watch?v=JV_qgfuegn8). Royal Wharf is a residential-led mixed-use development with over 500 metres of River Thames frontage, located in London's Royal Docks.

It is the largest London development opportunity since Battersea Power Station in 2012. Oxley intends to develop over 3,000 residential units and a variety of commercial, retail, leisure and educational facilities on the site. Currently served by the DLR (Docklands Light Railway), it is 1 km away from a new Crossrail station opening in 2018.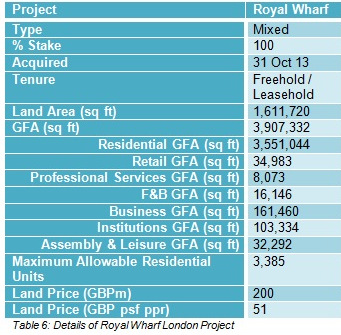 Costing GBP14.8b, Crossrail is Europe's largest construction project which is set to significantly reduce travel times and congestion in London.

The Mayor of London, Boris Johnson, said: "My team and I met with Oxley Holdings on our trade mission to China last month and I am thrilled at this demonstration of their confidence in our great city."

As Royal Wharf received planning permission in 2012, Oxley could launch the first phase of 811 residential units relatively soon. Or it may decide to make changes to the plans. The land price of GBP51 psf ppr is similar to that of 30 year industrial land in Singapore. Assuming a breakeven of GBP300psf and selling price of GBP450psf, Oxley could make S$1b from the residential component alone.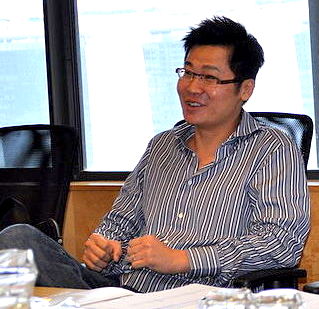 Hafary Holdings CEO Eric Low is a non-executive director and a major shareholder of Oxley Holdings. NextInsight file photoChing and non-executive director Eric Low (Hafary Holdings CEO) collectively control 71% of Oxley. Both of them have been consistently buying Oxley shares on the open market. It seems like they have been channeling their generous dividend payouts from Hafary into Oxley.

Like Hafary, Oxley has a habit of rewarding shareholders with dividends. Ching hopes that the initial IPO subscribers would eventually receive their entire investment back through accumulated dividends. Tee Wee Sien, who Ching says is "Eric's good friend", owns 12% of Oxley.

He appears to be a passive shareholder, unlike Eric who is intimately involved in Oxley. A familiar name on the list of top shareholders is Fragrance CEO Koh Wee Meng, who has a direct interest in 10.45m shares and a deemed interest in 33m shares held by his wife Lim Wan Looi.


"Within 5 years of establishment, Oxley had become an over S$1b company. How did it achieve this, considering that there are so many long established property developers who languish below S$500m, who 'can grow old but cannot grow big'?"


In February 2013, Oxley transferred its listing from the Catalist to the Mainboard. Within 5 years of establishment, Oxley had become an over S$1b company. How did it achieve this, considering that there are so many long established property developers who languish below S$500m, who "can grow old but cannot grow big"?

In my view, the differentiating factor is the "entrepreneur" behind the company. Ching has successfully steered Oxley from being an innovator of shoebox apartments, to strata industrial projects with lifestyle facilities, to strata office projects in the CBD, to residential units built over a strata retail mall.

In the process, Oxley has enjoyed supernormal profit margins in different segments. Oxley is not immune to gearing up aggressively to acquire sites and capitalize on all available opportunities.
At the recent AGM, Ching said that currently "there is more certainty in overseas projects" due to the many rounds of cooling measures in Singapore. However, at the right time, "Oxley will make a comeback in Singapore".

Responding to a comment that he has slimmed down recently, Ching said that was because he has been travelling extensively. Even his family is complaining that they hardly get to see him but his reply to them was, "now is my opportunity to achieve something great".



The contents are intended for information purposes only, and may be subject to change without further notice. The writer neither represents nor warrants the accuracy or completeness of the information or as to the existence of other facts which might be significant, and will not accept any responsibility or liability whatsoever for any use of or reliance upon any of the contents hereof. The contents hereof does not constitute any form of investment advice, recommendation or offer to buy or sell any securities or subscribe for any product or service and was prepared without regard to the specific objectives, financial situation or needs of any particular person who may receive it.