The writer is Vice President, Equity Sales at Maybank Kim Eng Securities Pte Ltd. He is a shareholder of Oxley Holdings which has achieved a market capitalisation in excess of $1.2 billion already.


Announced yesterday, 1QFY14 net profit attributable to shareholders soared to a record $250.8 million compared to $6.6 million in 1QFY13. Oxley has declared an interim dividend of 3 cents per share.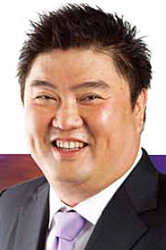 Ching Chiat Kwong, chairman & CEO of Oxley Holdings: "Now is my opportunity to achieve something great."
Photo: annual reportI FIRST MET Oxley Holdings' CEO, Ching Chiat Kwong, at an IPO roadshow in October 2010 held for trading representatives of Maybank Kim Eng Securities, which was a placement agent for Oxley's upcoming IPO.

He was a charismatic speaker and put in an enthusiastic sales pitch for what was then the largest Catalist IPO with a S$565m market capitalization.

Oxley was established only in 2009, hence it did not qualify for a mainboard listing. It was a little known shoebox apartment specialist which had just bought a huge industrial plot at Tai Seng via a JTC land tender and The Corporate Office in Robinson Road from City Developments.

At that time, for comparison, the market capitalization of Fragrance was S$600m and Roxy-Pacific, S$250m.

Both these companies were much more established property developers and their valuations were backed by hotel assets. Needless to say, I did not participate in the IPO placement exercise.

Over the next two years, while the market capitalization of Fragrance and Roxy-Pacific shot up to S$1,780m and S$500m respectively, Oxley underperformed.

In November 2012, Oxley did a rights issue to raise S$45m. Its market capitalization stood at S$650m.

Meanwhile, the industrial plot, Oxley Bizhub, was 95% sold, and Oxley Tower, on the Corporate Office site, was 84% sold.

A SIAS Research (now known as Voyage Research) report dated 12 November 2012 estimated gross profits from Oxley Bizhub and Oxley Tower to be S$344m and S$252m, respectively.

Besides these 2 major projects which are 100% owned, Oxley had launched 18 other smaller projects, some via joint ventures, which were either fully or substantially sold.

I believe its sharp execution had allowed its fundamentals to finally catch up with its valuation.

I started a position in Oxley somewhere in the middle of last year and built up a decent position by buying more rights and exercising them during the Nov 2012 rights issue. This year, I have progressively added more such that it is the largest holding in my stock portfolio.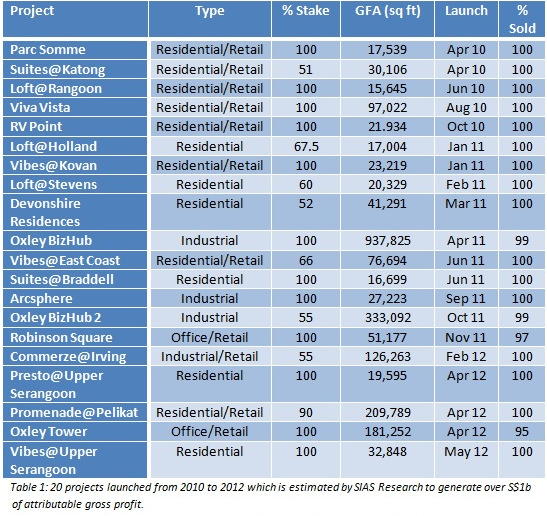 After an aggressive landbanking spree, Oxley ended 2012 with 10 sites in its landbank, out of which 7 projects have been launched year-to-date. The stellar performer is KAP which was almost sold out at the launch. I estimate this project will generate S$300m in gross profit. NEWest may also generate over S$300m in gross profit when fully sold.

These 2 highly profitable projects would benefit Oxley's joint venture partners such as Lian Beng, Heeton and KSH. The Tampines Industrial Crescent site cannot be strata divided for sale and the intention is to hold it for recurrent income. The site is opposite IKEA Tampines, a vibrant location, and Oxley expects to tap on the spillover traffic.

An alternative exit strategy could be to sell the project en-bloc to a Reit once the rental income has stabilized.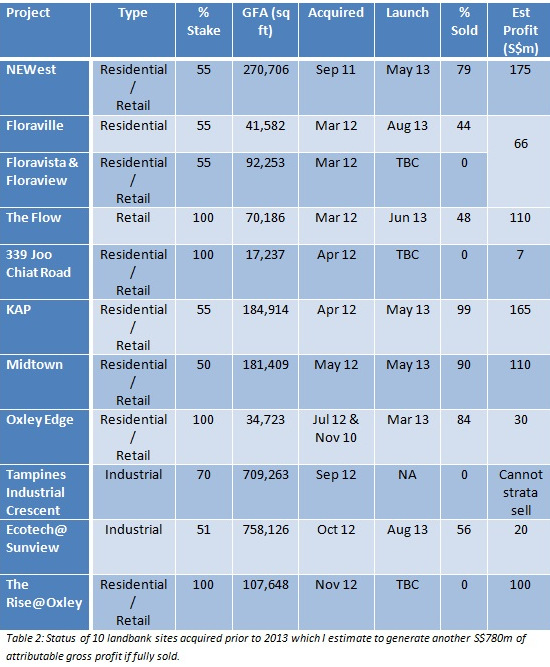 This year, Oxley has pounced on the opening up of the corporate bond market to issue S$500m of Multicurrency Medium Term Notes at coupons of 5.1% or 4.75%. This has allowed it to stretch its balance sheet even further to acquire sites in Singapore, Malaysia, Cambodia and London to create 4 new future growth drivers.

I have not accounted for Oxley's China foray as it remains insignificant although Oxley has the option of scaling it up in the future.


Growth Driver 1: The Pines @ 30 Stevens Road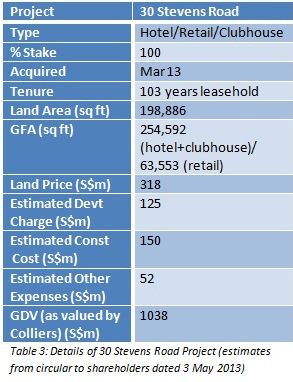 An EGM was held on 20 May 2013 to approve this acquisition and expand the business scope of Oxley to include hotel development.

Oxley bought the site from Peter Kwee's Exclusive Resorts to build 2 blocks of eight storey hotels (total 734 keys), 2 blocks of two storey commercial buildings and 1 block of four storey clubhouse with a basement. A reputable hotel management group will be appointed to manage the hotels while the clubhouse is expected to be leased back to Exclusive Resorts.

The current intention is to keep the retail space so as to control the tenant mix, although strata sale is allowed.

Kevin Kwee (Peter's son) who attended the EGM described the transaction as win-win for both parties. Members of The Pines will benefit from a new clubhouse. Based on Colliers valuation of the completed project, Oxley will enjoy a valuation surplus of S$393m.


Growth Driver 2: Malaysia Land Parcels
Oxley invested M$475m for four sites located in Johor, Selangor and Kuala Lumpur. Interestingly, Oxley has avoided the residential sector in Iskandar, Johor. This seems wise as that sector may be facing a potential oversupply situation. The plot ratio and GFA of the sites have not been disclosed.

At the AGM on 14 October 2013, I asked about the Penang project which seems interesting. Under the joint venture agreement with the land owner, Beverly Heights, Oxley shall carry out the development of the land and shall be entitled to 70% of the gross total sales of the built-up saleable area of the land. Beverly Heights shall be entitled to the balance 30% with a minimum of M$500m and maximum of M$900m.

According to Ching, the land is valued around M$350m. Currently, they have planning approval to build a township with around 1000 residential units, but they are trying to get approval to increase the density.

This seems like another win-win transaction. Beverly Heights gets to share in the development profits as opposed to selling off the land at the valuation price, and Oxley need not stretch its balance sheet by paying for this huge piece of land which will be developed over several phases. If the M$900m target is hit, it will translate into a GDV of M$3b.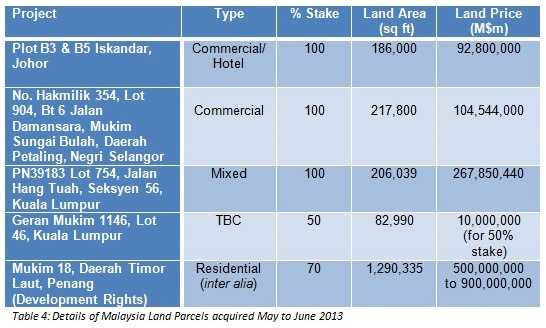 This story continues ....> here.