Photos by Sim Kih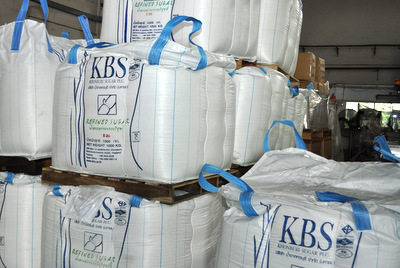 Tonnes of sugar from Thailand waiting to be used to produce Food Empire's instant 3-in-1 coffee.
THE PHOTO above is of Food Empire Holdings' factory in Chin Bee Drive, which is about 5 minutes' drive from Jurong Point Shopping Centre and Boon Lay MRT station.

The two gentlemen run the operations, and showed us around the production area a couple of days ago.

And we learnt of a fascinating routine there.

Trucks arrive bearing raw materials -- there is refined sugar originally from Thailand or Malaysia, or as far away as Britain and Australia.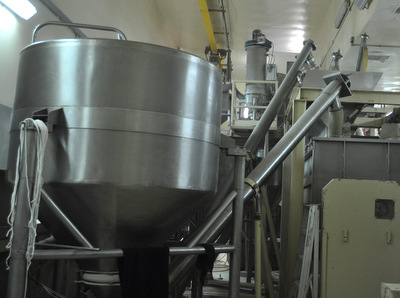 Rows of steel silos containing the ingredients for making 3-in-1 coffee and other beverages. Pipes from the base of the silos channel the ingredients into a mixer to produce the 3-in-1 beverages.
There is, of course, instant coffee powder made from coffee beans from Colombia, Brazil and India.

Then there is non-diary creamer from Malaysia, Indonesia, Holland, China.....

They all come by ship to Singapore but one type of raw material is air-flown: aroma extracts, which come in powder form, from countries such as Germany, Switzerland, the UK and the USA.

The aroma extracts include hazelnut, cognac, rum and Irish cream.

All these ingredients go into the making of a wide variety of Food Empire's 3-in-1 coffee.

Food Empire -- market cap up from $45 m to $225 m since IPO

Food Empire, listed on the Singapore Exchange since 2000, is big on export markets and does not sell at all in Singapore.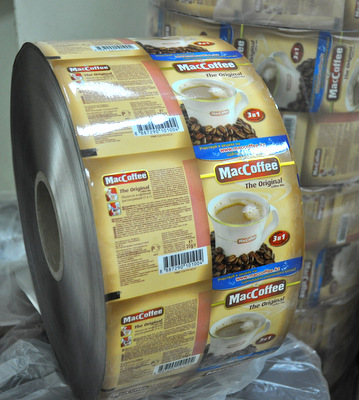 A roll of 11,000 printed sachets waiting to be fitted into a machine and then filled with 3-in-1 coffee.
Aside from Russia, it sells in 60 countries such as Ukraine, Kazakhstan, Central Asia, China, Indochina, the Middle East, Mongolia and the U.S.
Its total revenue for 1H2012 was US$110.7 million, an increase of 3.4% year on year.
Profit after tax jumped 24.6% to US$8.7 million on improved margins and a tax write back.

The company has a market cap of S$225 million based on a recent stock price of 42.5 cents.
The market cap has surged 400% since its IPO in 2000 when it was $45 million, which translates into a compounded annual growth rate of about 12.7%.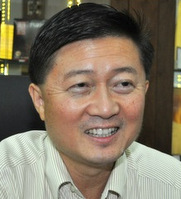 Tan Wang CheowFood Empire (www.foodempire.com) was founded by Tan Wang Cheow, its Chairman & Managing Director.

Read more about him in The Forbes magazine article.
Aside from Singapore, Food Empire has factories in Malaysia, Vietnam and Russia.

Its factory in Singapore sits on 9,000 sq m of land, or about 1.2X the size of a soccer field, and employs about 120 staff.

Production, which is highly automated, could go on 24 hours a day in 2 shifts.

The production capacity is 2,000 tonnes a month but the factory's utilisation rate varies throughout the year -- from about 80-90% to as low as 40%.

Production peaks ahead of winter in the export markets, as people there drink more coffee during that period than in summer (when they switch to beer and tea).
Export routes - by sea, road, rail

Food Empire produces to order. It does not stock up a large inventory, since the goods have an expiry date which is 2 years from production.

This may seem long but a couple of months is 'lost' in the shipment from Singapore to the market, including time spent in warehouses and in distribution hubs.

From Singapore, the products travel in containers on ships to Finland, and then by truck for five to six days to Russia.

For customers in another key market, Kazakhstan, the coffee products are unloaded in Qingdao port in China for the next leg of travel by rail, which takes a few weeks.

The logistics may have been honed to perfection and the Singapore production process highly efficient but it is all not rocket science. They contribute to Food Empire's success but the supreme key is actually in its building of powerful brands.

Food Empire has won numerous accolades and awards including being ranked one of "The Most Valuable Singapore Brands" by IE Singapore.

MacCoffee was ranked one of "The Strongest Singapore Brands" and the company has been named one of the "Best under a Billion" companies in Asia by Forbes Magazine.



A sampling of the wide variety of Food Empire's coffee products. Photo: Annual report

Recent story: FOOD EMPIRE: Net profit up 25% to US$8.7 m in 1H2012