Photos by Leong Chan Teik

FACTORY LAND in Malaysia can be very spacious but I still felt wonder as we drove into Super Coffeemix's plant in Johor, which sits on 1 million sq ft of land, or about 17 soccer fields.

The plant – which is about 20 minutes from the Causeway - opened about two years ago, and is the biggest instant coffee plant in Malaysia.

Super Coffeemix executive director Charles Li told us that it produces 8,000 tonnes of instant coffee a year, which translates into 4 billion satchets of its popular 3-in-1 coffee.

I was amazed at how the company had grown since its humble inception two decade ago.

Last year, in an interview with me, David Teo, chairman of Super Coffeemix, recalled how he, his wife and brother-in-law started the business in a small office with one packing machine, which mixed creamer, instant coffee and sugar, and packed them into sachets.

They were the pioneers of 3-in-1 instant coffee in Singapore back in 1987. Now they have more than 300 different types of food and beverages which are distributed to over 50 countries.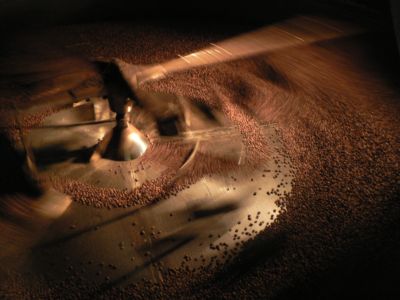 Coffee is roasted, then turned into liquid concentrate whose water is removed before fine coffee powder can be produced.Aside from the coffee plant, also located on the plot of land in Johor are Super Coffeemix's other operations producing cup noodles, potato chips and canned drinks.

The equipment and building for coffee production alone cost about RMB 100 million.

The scale of the coffee operations is overwhelming.

To begin with, you can't see from one end to the other end of the warehouse where thousands of bags of coffee beans are stored under a temperature-controlled environment to preserve the beans.

We witnessed a forklift transferring bags of beans to a platform, where two workers slit the bags open and poured the coffee beans into a rectangular hole cut out of the platform.

I thought of quicksand as I watched the hill of beans sink into the hole, which is part of an equipment called "destoner". In there, foreign materials such as pebbles which could have been bagged when the coffee beans were packed in some foreign country, as well as dust are removed.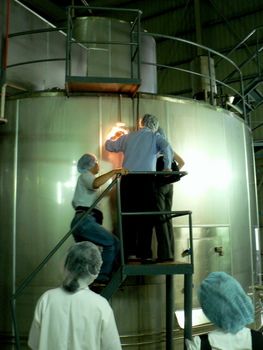 Spray dryer: Where coffee extract is sprayed in a hot chamber, and coffee powder is obtained.Super Coffeemix gets its supplies of coffee beans from countries such as Indonesia, Vietnam, Brazil and Colombia.

The production process is largely automated and sophisticated.

Most of the time, as we toured the plant, we saw stainless steel structures – such as silos and endless pipes – and a few air-conditioned rooms where workers sit in front of a computer terminal to monitor and adjust operations.

A key step in the process is the roasting of the beans. To obtain concentrated liquid coffee, only pure water is used. "We have a reverse osmosis system to remove any chlorine, hardness and odor from the potable water supply," said Mr Li.

During the production process, the coffee bean gives out aroma.

"The technical challenge for all instant coffee plants is how to recover the aroma and add it back to the coffee? We have a cutting-edge system for that. We are the only plant in Malaysia to have such a system, so our coffee has the aroma of freshly-brewed coffee," said Mr Li.

Some companies use 'artificial aroma' which is a chemical.

One of dozens of Super's coffee products.The liquid coffee concentrate is subject to high temperature to remove water, paving the way for the coffee extract to be sent to a 'spray dryer'. The coffee extract is sprayed out of a nozzle at high pressure in a hot chamber. The extract will atomise into fine coffee powder.

Mr Steven Lim, who oversees Super Coffeemix's sales & marketing in Malaysia, said there are about 150 brands of instant coffee in Malaysia. Super's product ranks among the top 3 in terms of sales.

Coffee products contributed about 76% of Super Coffeemix's sales last year.

For the half year ended June 30 this year, the group reported sales of $139.9 million (up 16%) and net profit of $13.5 million (down 21%). The lower net profit was mainly due to the fair value loss on investment securities of S$2.9 million (1H07: fair value gain of S$3.4 million).





























Previous story: SUPER COFFEEMIX: What has Yeo Hiap Seng bought into?