Yeo Hiap Seng bought 61.6 million shares of Super Coffeemix at $1 apiece from the Oei Hong Leong Foundation on July 3, 2007. Yeo Hiap Seng saw the acquisition as part of its growth strategy. Super is a 20-year-old company which is building on its success in the food industry to strike out into new ventures. How did it come so far? What's next?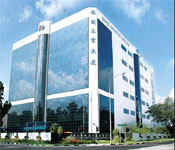 Super's 7-storey building in Senoko South is one of the company's many facilities in the region.STEP INTO Super Coffeemix Manufacturing's headquarters (left) in Senoko South Road, and you will instantly spot a tall banner next to the spiral staircase. The banner bears a picture of David Teo, and proclaims that the founder and chairman of Super won the Ernst & Young Entrepreneur of the Year award in 2006.

Given this accolade, it's difficult -- at least initially -- to imagine how humble his business beginnings were back in 1987.
Up in his spacious seventh-storey office, David, 56, recalls the cramped industrial space in Golden World Flatted Factory in Jalan Rajah, Balestier, where it all started with his wife and brother-in-law.

They started out with one packing machine which mixed creamer, instant coffee and sugar, and packed them into sachets. That's how 3-in-1 instant coffee started in Singapore – and was a first anywhere else except perhaps South Korea.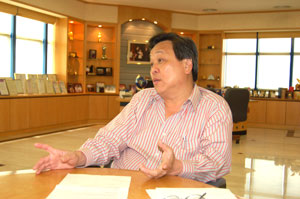 David Teo in his office, speaking to NextInsight."I thought our product offers great convenience to coffee drinkers," says David. "But initially, it was not easy at all to sell to them. Different people like different amounts of sugar and creamer with their coffee. At one point, we wanted to give up."
He didn't. Super was listed on the Singapore Exchange in July 1994 with market capitalization of $116 million. Recently, its market capitalization exceeded $500 million. For his enterprise and innovation, David has reaped rich rewards.

He owns a direct interest in 31.3 million shares of Super and a deemed interest in 99.9 million shares, with a total value of around $131 million based on a recent stock price of $1.

---
Super Coffeemix would not be what it is today if not for ...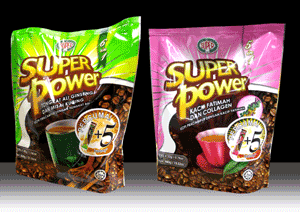 Regularly creating new products, Super has recently launched ginseng coffee, Tongkat Ali coffee (above) and Liang Bao Herbal Tea.Good products: Through the years, Super's 3-in-1 coffee has been its mainstay. But Super has also come up with more than 300 products whose common feature is an instant beverage. You can get ginseng coffee, potato chips, and, recently, Tongkat Ali coffee and Liang Bao Herbal Tea too.
Total sales have grown by leaps and bounds, hitting $210.7 million in 2006. Net profit was $24.6 million. Super had brewed its fifth consecutive year of record revenue and profit.

Advertising & promotion: The big break came just a year after Super started business in 1987. It hired popular artistes Jack Neo and Moses Lee to promote Super in a weekly television variety show. The promotion continued for a few years.
"We saw the potential of our 3-in-1 product and decided to throw in a lot of money for A&P. We got good results: sales soon shot up to a few million dollars a year," says David.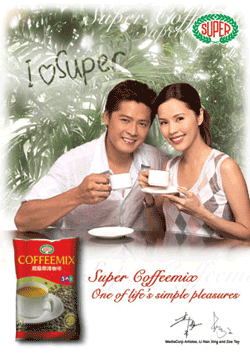 Super's products are endorsed in advertising blitzes involving top Singaporean performing artistes to the likes of Zoe Tay and Li Nanxing, in the city state where it has won numerous branding awards.Much of the initial capital came from other business ventures that David owned. Among them was a manufacturer of cassette tapes, one of the largest in Singapore in those days.

David also had founded Fuji Offset Plates Manufacturing, which became a listed company in 1988. To this day, he remains the chairman of Fuji Offset, which manufactures aluminum offset plates and industrial chemicals for the printing industry.
Through the years, A&P in various channels has been a critical tool for Super to promote its products to the masses. In recent years, its A&P budget reached about 13% of sales a year.

Its own production facilities: In the beginning, Super depended on suppliers for raw materials such as creamer, so quality control was difficult. "When the market price of coffee was low, you could expect top quality coffee from the suppliers. But when the price was high, suppliers could give you lower quality coffee. We encountered this a few times, and we could not reject it or we would not have raw materials."
Considering the long-term potential of his business, David decided to invest in a production plant in 1998 that made instant coffee in Tuas. His coffee suppliers from the US and India took a small stake in the venture, which had a capacity of 360,000 tonnes a year. It was awarded a seven-year pioneer status by the Economic Development Board.

Three years later, the plant also produced non-diary creamer, which is made from palm oil and corn syrup and is less costly than dairy creamer. It also has a longer shelf life.
This coffee-cum-creamer plant was set up after Super had the nasty experience of being cut off by its supplier of cereal for its 3-in-1 cereal mix whose sales were growing 30-40 per cent a year and was especially popular in Taiwan and China. The supplier, a multi-national company, decided to venture into the 3-in-1 cereal mix business too. David turned to an expert to set up a cereal plant in Senoko in 1993. It enjoyed a 10-year pioneer status as it was the second such plant in the world after Nestle's.
Super's competitors are packers. Super has a strict policy of not selling raw materials to competitors, or buying from them. "Otherwise, the products will be of the same taste. The difference between our products and others is in the taste. We buy coffee beans of various types. We don't use one type of bean. We have a formula for mixing the beans. In Singapore, only Super has its own plant. In Malaysia, it's just Super and Nestle. Super's coffee plant is the biggest such plant in Malaysia – 8,000 tonnes capacity."

Research & development: From a single product, Super now has more than 300, as a result of its constant drive to increase its product range – and its emphasis on R&D.
Because of its strength in R&D, Super could attract San Miguel, the giant conglomerate of the Philippines, to propose a joint venture. Super has more than 10 food technologists in R&D, and spends about 1 per cent of sales on R&D.
"That's why we could buy Owl, which has a 50-over year history. It was losing $1.5 million a year when we bought it. It doesn't have R&D and kept producing the old products. We turned it around in the first year, and now it produces $1 million -$2 million profit a year.

Super now is creating an entirely new product line: formulation milk. This is a more affordable alternative to dairy milk, whose price has been soaring beyond the reach of many consumers in Third World countries, especially.
Fifty per cent of formulation milk is dairy-based but not the other half. Super will produce formulation milk powder, which contains the same protein and fat content as dairy milk, for its partner in the Philippines, San Miguel, for example.
Production will start in the second half of 2007 from its factory in Tuas.