Excerpts from analysts' reports
AmFraser initiates coverage of CSE Global with 73-c target price
Analyst: Royston Tan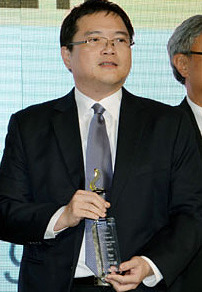 Mr Lim Boon Kheng, the recently-appointed CEO, joined CSE in 1999 as group financial controller. NextInsight file photoWe initiate coverage on CSE Global Ltd ("CSE") with a BUY recommendation and a target price of S$0.730. CSE is a leading global technologies company with over 1,300 employees in 30 offices and 17 countries. The company provides cost effective integrated solutions to the Oil & Gas, Infrastructure and Mining & Mineral industries .
O&G to spearhead growth. CSE derived 75% of its revenue from the O&G industry. We see a few key trends in play: 1) Growth in FPSO demand, 2) Greater refinery spending and 3) Buoyant LNG market as potential opportunities for CSE to capitalize on. We forecast the O&G industry to spearhead its growth, with expected earnings CAGR of 17% in the next 2 years.
New management to stem decline in order wins. The company disappointed in terms of order flow as previous focus on clinching large greenfield projects did not come to fruition.

New management plans to refocus its attention into clinching more brownfield and small greenfield projects, recapturing its lost market share in the process. We expect order wins to accelerate in 2H14 with FY14 forecast reaching S$403m, a 11% increase YoY.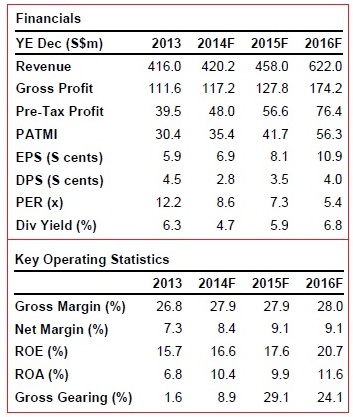 Maintenance to provide earnings stability. On top of the reported S$207m order book as of 1Q14, there is additional S$200m worth of maintenance orders not included which are recurring in nature and accounts for 45-50% of total revenue.

New projects that are expected to start operation in the coming years such as the Australia LNG plants provide good opportunities for CSE to further boost contributions from its maintenance segment.
Strong balance sheet for M&A. CSE has an outstanding track-record for growing earnings through acquisitions. The company is now in a net cash position, the first time in years following the divestment of its UK business.

The added financial resource will aid in making a large acquisition for earnings growth visibility beyond 2015.
Initiate BUY with fair value at S$0.730. We value CSE using a blended metric of P/E and EV/EBITDA based on FY14/FY15 earnings.

We derived a fair value of S$0.730 using this method. Including a forecasted FY14 dividend yield of 4.7%, total potential return stands at 28%.


Recent story: @ CSE Global's EGM: 28-c special dividend will be paid on 13 Jan 2014