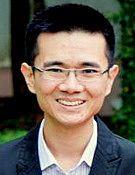 Mervyn Sim (left), a shareholder of Oxley Holdings, contributed this article to NextInsight. He is also Vice President, Equity Sales at Maybank Kim Eng Securities Pte Ltd.

LAST FRIDAY, Oxley Holdings said it is exploring the possibility of restructuring its business, in particular its property development business outside Singapore (including its London project Royal Wharf).

The study will include the feasibility of listing its overseas property development business on Catalist. Oxley has engaged professionals to work on the restructuring but cautioned that there is no certainty it will materialize.
Nevertheless, there are signs that the wheels have been set in motion for the listing of Oxley International.

On 1 February 2014, former non-executive director Eric Low was appointed as deputy CEO after he resigned as CEO of Hafary Holdings.

Oxley International Holdings has leased the entire 16th floor of Palais Renaissance. It is currently being used as the sales gallery of Royal Wharf and The Bridge Cambodia.

And on 1 March 2014, Dato' Othman bin Haji Omar was appointed as CEO of Oxley Malaysia. His profile can be found here.
A listing of Oxley International would be very similar to Oxley's own listing on Catalist four years ago.

To recap, Oxley was only established in 2009. At its listing in 2010, it was a company with no revenue in its historical financial statements. It listed with 16 sites in its portfolio, comprising mainly small projects in Singapore.

The largest sites it had were the Viva Vista, Oxley Bizhub and Oxley Tower sites. Its market capitalization at IPO was S$565m.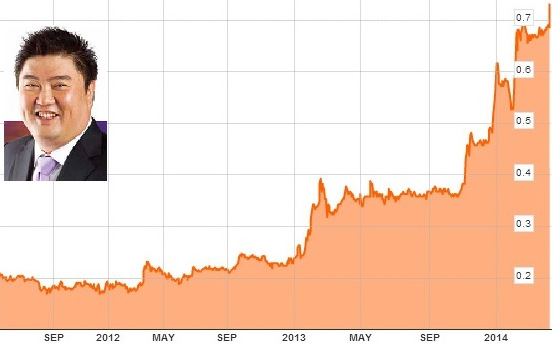 Ching Chiat Kwong (inset), chairman & CEO of Oxley Holdings, must be thrilled to see Oxley stock reach an all-time high of 73 cents, giving the company a market cap of S$2.1 billion.
Chart: Bloomberg
Oxley International was only established in April 2013. It bought its first site in KL in May 2013 and to date, it has 16 sites in its portfolio comprising 8 in Malaysia, 4 in Cambodia, 3 in China and 1 in London.

As revenue from overseas projects can only be recognized on completion, Oxley International will only recognize its first revenue in 2016 when the first phase of Royal Wharf is completed.
What might Oxley International's market capitalization be at IPO?

This will depend on the capital value of its 16 sites which will be disclosed in valuation reports in the IPO prospectus.

Capital value is the projected realisable value, which is defined as Gross Development Value (assuming full completion) less projected development cost to be incurred (including land cost).

"I have estimated the potential profit of Royal Wharf's residential component to be over S$1b, but I do not have enough information with regards to the sites in Malaysia, Cambodia and China."


-- Mervyn Sim
In other words, it is the potential profit if the project is fully sold.

I have estimated the potential gross profit of Royal Wharf's residential component to be over S$1b, but I do not have enough information with regards to the sites in Malaysia, Cambodia and China.

My calculation can be found in my previous article on NextInsight (14 November 2013). Referring to table 6, the residential GFA is 3,551,044 sqft.

Assuming 90% efficiency, breakeven of GBP300 psf and selling price of GBP450 psf, 3,551,044 X 0.90 X 150 = GBP479 m which at 2.09 exchange rate is equals to SGD1b.

My assumption of GBP450 psf has turned out to be too conservative as media reports stated that the average selling price at last month's phase one launch was GBP550 psf.

The IPO valuation would have to be at a discount to the capital value as it will take many years for the sites to be fully developed and sold.

Pending further information, my guess is that the market capitalization of Oxley International at IPO would be around S$1b. If correct, the figure will record-breaking as the largest ever Catalist IPO.
Many value investors have been avoiding Oxley due to its high debt levels and its market capitalization of S$2.1b seems incredible.

Assuming Oxley floats 15% of Oxley International, it will raise S$150m which will ease its gearing.

So far, Oxley has disclosed little information about its overseas projects, unlike other companies such as Roxy-Pacific. The IPO prospectus would provide this much needed information to justify any further upside in Oxley's share price.
The contents hereof are intended for information purposes only, and may be subject to change without further notice. The writer neither represents nor warrants the accuracy or completeness of the information or as to the existence of other facts which might be significant, and will not accept any responsibility or liability whatsoever for any use of or reliance upon any of the contents hereof. The contents hereof does not constitute any form of investment advice, recommendation or offer to buy or sell any securities or subscribe for any product or service and was prepared without regard to the specific objectives, financial situation or needs of any particular person who may receive it.

Recent articles: