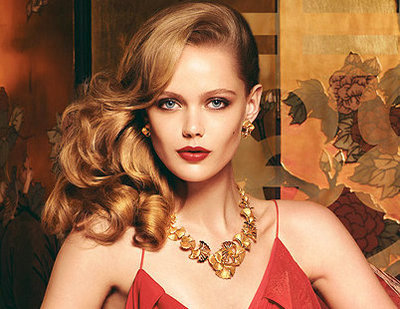 Chow Sang Sang is the fastest growing jewelry play in terms of PRC sales. Photo: Chow Sang SangCHOW SANG SANG is at the forefront of the strong recent performance of gold and jewelry retailers in China, with Morgan Stanley expecting Q1 growth in the high teens.

Meanwhile, the research house breaks down Hong Kong-listed retail plays, saying rural Chinese consumers are starting to flaunt their growing spending power.

Morgan Stanley said that stronger recent retail sales in China by Hong Kong-listed firms have been driven mainly by consumers outside of major metropolises.

"The mild uptick in retail sales growth in March was helped by a pickup in rural while urban was steady," Morgan Stanley said.

Rural driving overall growth

"In March, rural growth was 15% versus 12.2% urban growth. Rural growth acceleration had a pronounced impact on overall retail sales in 1Q13."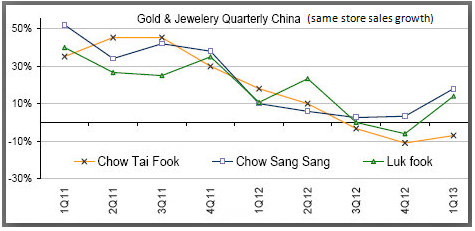 Source: Morgan Stanley

Modern retail sales lagged overall retail sales in 1Q13 as gold & jewelry and softline categories picked up strongly.

The bankcard consumer confidence index rose in March to 87.2, but the unseasonably cold spring was an overhang, with overall March retail sales growth up 12.6%.

"This is slightly faster than the 12.3% growth exhibited in January and February combined. However, the pickup was mainly due to marked acceleration in rural areas with March growth of 15%, up from 13.4% in January and February combined," the research house added.

Sales growth for enterprises above a certain size (i.e., modern retail) lagged overall growth, and in particular, restaurants and dining continued to show negative growth so far in 2013.

Gold & jewelry shining bright

"Gold and jewelry category growth had a marked acceleration to 26.3% in March (from 14.3% in Jan+Feb), and softline category growth accelerated to 17.4% (from 9.4% in Jan+Feb), likely due to an easier comparison," Morgan Stanley said.

The category for apparel, shoes and textile had a significant deceleration in growth in the January and February period to about 9.4%. However, there was a noticeable acceleration in March to 17.4%.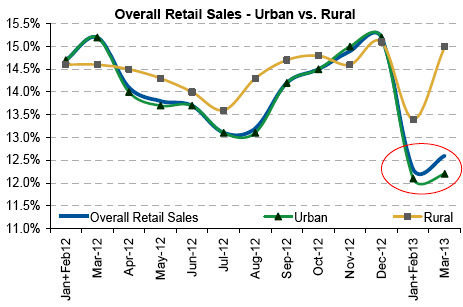 Source: Morgan Stanley

"The gold & jewelry category also had a marked pickup in growth, likely due to International Women's Day on March 8, which was a Friday.

"According to department store players, sales of products popular with women, particularly gold & jewelry, had good growth in March," Morgan Stanley said.

Retailer rundown

Belle (HK: 1880, OW) reported Q1 SSSG of 4.5% and 11%, y-o-y, for footwear and sportswear, respectively, representing modest acceleration from 3% for footwear and 10% for sportswear in 4Q12.

Both were in line with Morgan Stanley's expectations.

Daphne (HK: 210, EW) reported SSSG of -2.5% and net addition of 100 POS (+127 directly managed and reduced 27 franchised), attributing the SSSG result to the slow consumption recovery in China due to a colder-than-usual spring season, and to a difficult comparison with 22% growth in 1Q12.

Stella (HK: 1836) reported 1Q13 SSSG of 8.9%, outperforming its peers, Belle and Daphne.

C. Banner (HK: 1028) reported 1Q13 SSSG of 1.7%, while Intime (HK: 1833) 1Q13 SSSG grew 9.5%, in line with its prior guidance of high-single-digit SSSG.
---
See also:

JEWELRY Surges: CHOW SANG SANG Gets Two 'Buys'