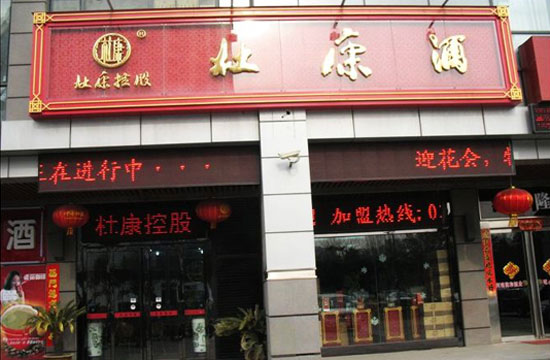 The slowdown in China's baijiu market has not dampened Dukang's aggressive expansion plan. 3Q2013 net profit attributable to shareholders was up 64.3% at Rmb 102.6 million.
Company photo of Dukang flagship store

SHARES OF Dukang Distillers closed yesterday at 47 cents, the highest in nearly two years, as its earnings growth continued to be evident.

It has not been hit badly by China's economic slowdown nor the clamp-down on extravagance at government events, although there has been a slowdown in the baijiu industry.

In a teleconference with analysts after the release of the 3Q results recently, CEO Zhou Tao said "Dukang will continue to outperform the industry".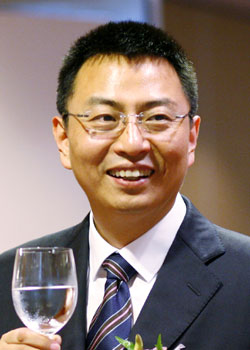 CEO Zhou Tao. Company photoThe baijiu distiller recently posted a 60.5% increase in 9M2013 profit attributable to shareholders of Rmb 310.4 million on sales growth of 29.9% to Rmb 1.8 billion.

Its stellar earnings growth for 9M2013 was achieved despite a dent in 3Q2013 sales.

Production was disrupted when the company relocated its plant for Siwu wine from Zhoukou City to Luoyang City in January, and integrated the business operations of Siwu with Luoyang Dukang.

3Q2013 group sales grew 8.1% to Rmb 638.6 million, partially affected by a decline of 55.7% in Siwu sales to Rmb 89.8 million.

The production disruption was mitigated by the increased sales of its iconic product series, Jiuzu Dukang, which contributed 21.6% for 3Q2013, up from 19.7% for 2Q2013.

"Typical contribution of iconic product series is more than 50% for baijiu distillers," said Mr Zhou, who wants the iconic product series to gain further traction in the market.

"Improving our product segment structure increases average selling prices," he said.

During 3Q2013, Dukang increased the number of its distributors by 13 to reach 155 in Henan and another 85 for the rest of China.

"Having more distributors increases our sales volume," he added.

Keeping up the momentum
The Dukang brand was recently endorsed by China's Ministry of Foreign Affairs. More than 200 embassies worldwide will have the option to serve Dukang baijiu at official banquets and use the liquor as official gifts presented to foreign dignitaries.
In 4Q2013, it will step up on advertising and promotion (A&P) activities to bring the Dukang brand another leg up. The management expects to increase its A&P activities in the quarters ahead but will ensure that A&P expense over sales ratio will stay within 12% for the full year.
It will also start production of 700 new fermentation pools in July or August 2013, adding another 3,000 tonnes of grain alcohol production capacity to the existing 7,610 tonnes per year.


Below is a summary of questions raised by investors at the teleconference and the replies provided by Mr Zhou and Group financial controller Raymond Ho.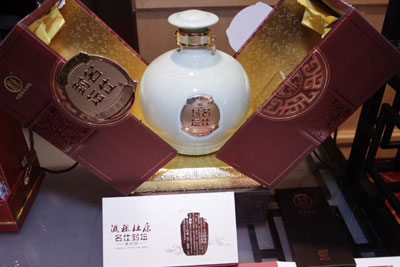 Elaborate packaging of Dukang baijiu makes it an ideal gift for government officials. Company photoQ: How many brands have been designated as the Ministry of Foreign Affairs' official baijiu?
We believe that Maotai, Wuliangye, Yanghe, Luzhou Laojiao, Er Guotou are some of the baijiu brands accepted by the Ministry of Foreign Affairs. Dukang is the only baijiu brand from Henan designated by the government as official liquor for diplomatic relations activities.
Q: How do you intend to use your cash balances of Rmb 846 million? Will there be dividend payments?
In 4Q2013, we will increase our A&P expense. In 4Q2012, we spent about Rmb 70 million. We expect to spend Rmb 150 million in total for 4Q2013 and 1Q2014.
Q: How much inventory is held by distributors?
There are different stages of our baijiu supply chain. We can only analyze the inventory held by distributors based on their orders. One way we manage inventory levels is to sell only on cash terms for Dukang brand of products. As they have to pay cash upfront, distributors only place orders with us when there is genuine demand in the market.
Q: Do you think this year's growth for the baijiu industry can maintain at more than 30%?
We expect the baijiu industry to slow down this year, or even suffer a contraction. We do not expect Dukang to continue to grow as rapidly as before because we have a large base now. While we expect to outperform industry growth, our growth may not be as high as 40%.
Q: Will the relocation of the Siwu plant affect the grain alcohol supply for Siwu?
The existing grain alcohol in Siwu's inventory is sufficient for Siwu's high-end products while most of the grain alcohol used to produce Siwu's regular series products is purchased externally. Therefore, the relocation will not affect the grain alcohol supply for Siwu.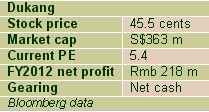 Q: Why is the gross margin of Luoyang Dukang's premium series flat at 55% while its regular series gross margin is rising?
We launched a few regular series products with higher margins, such as Mianrou Dukang ("棉柔杜康"). The increase in the regular series' gross margin is due to a change in product mix. We have not launched any new product series under the premium segment.
Q: What is the sales breakdown between Henan province and the rest of China?
75% of sales come from Henan, and 25% from outside. For our Jiuzu Dukang series, the sales breakdown is 60% in Henan and 40% outside Henan.
Q: Will the endorsement as official baijiu for the Chinese Ministry of Foreign Affairs contribute to future sales significantly?
We do not foresee a sudden surge or demand from the Ministry of Foreign Affairs as they only place orders when there is immediate demand - that is, they do not stock up. But the endorsement will definitely elevate Dukang's brand equity as we are being ranked amongst first-tier baijiu brands in China. We hope that the heightened brand awareness and nationwide publicity will help us penetrate markets in other provinces or international markets.



---
Related stories:

Case For Privatisation Of DUKANG DISTILLERS, CHINA MINZHONG, 7 Others

DUKANG Appoints Distributor For Singapore And The Region