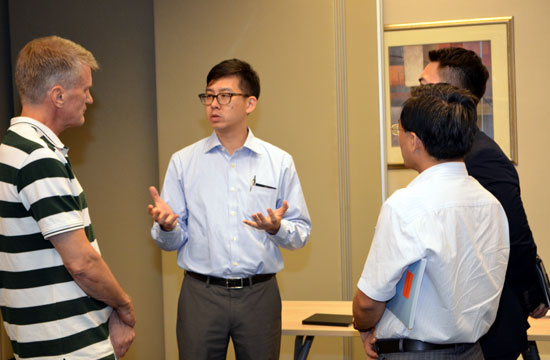 At Anwell's AGM on Wed, executive director Ken Wu sheds light on the company's prospects and plans with shareholders such as Robert Stone (left).
Photos by Allison Chen



Time & date: 3 pm, 24 April 2013.
Venue: Wilkie Edge




AT ANWELL TECHNOLOGIES' AGM held at Wilkie Edge, executive director Ken Wu explained how the company's second solar panel factory fits into the Group's growth strategy.
There is currently an oversupply situation for solar panels that is affecting the profitability of most solar panel manufacturers.
In the face of this industry consolidation, Anwell is pushing ahead with the final stages of construction for its solar panel factory in Dongguan, which is expected to be operational this year.
"We are positioning our Dongguan factory differently compared to our Henan factory. The new factory will produce high-efficiency solar products which have a wider range of applications," he said.
These solar products will have a conversion efficiency of 13%, compared to 9% for solar products from Anwell's factory in Henan.

Shareholders interact with Mr Wu (extreme left) and board members after the AGM.
Below is a summary of questions raised by shareholders at the meeting, and Mr Wu's replies.
Q: What is the outlook for Anwell?
Many solar panel manufacturers, including us, are incurring losses as the industry consolidates. The current problems include: oversupply of solar panels, a fall in European public spending for renewable energy projects since 2008 as governments grappled with huge sovereign debts, and a lack of supply of project financing funds.
The upside is: We believe the solar industry will continue to grow. Firstly, countries like Japan and France do not want to rely on nuclear power. Secondly, the cost of investing in solar farms is decreasing.
We expect strong growth in demand for solar power in China, Japan and Thailand in the coming years. These are our target markets.
Over the past few years, we have invested in technology and marketing channels in anticipation of a healthy growth phase of the solar power industry post consolidation.
As for our optical disc business, we have done much work to lower its cost structure. We expect earnings from this segment to remain stable and to continue to provide cash flow for the Group over the next few years.
Q: How much did you pay for the land used to construct your Dongguan solar plant?
The Dongguan government sold us the land at a reasonable price. The Dongguan government and the Guangdong government are very supportive and keen to help us grow our solar panel plant over the next few years. This piece of land will suffice for our development in Dongguan the next 10 to 20 years.



Anwell's new solar panel production base in Dongguan, PRC, is expected to start operating this year. Company photo
Q: Are you able to sell the land for capital gain?
As we own the land title deeds, we are free to sell the land if we need to relocate. However, in China, land sales need prior approval from the government. Furthermore, we need the land for our development.
Q: What is happening with your OLED business?
We have accumulated sufficient technology and process for OLED equipment. However, in China today, LCD remains the mainstream product for display panels on mobile phones, computer notebooks or TV rather than OLED.
OLED has not reached the stage of mass market yet. When the production trend in China shifts to OLED, we can sell our OLED technology or equipment to OLED panel manufacturers.
We have not started mass production of OLED panels because the market is not mature. We have some small orders once in a while and we have sold some production modules.


---

Related stories:
ANWELL: Halves FY2012 Net Loss To HK$266.2 Million

ANWELL, JAYA HOLDINGS, STX OSV: Latest Happenings…

ANWELL: Booming Thai solar power demand to continue to drive revenue