THAILAND HAS an aggressive plan to increase its alternative energy consumption from 12.2% (2011) to 25% over the next 10 years. This, plus its abundance of land and sunlight, a clear legal framework and a supportive banking environment has led to rapid growth in its solar power industry.

This is a boon for Anwell Technologies, which forayed into solar panel manufacturing two years ago.

It has since evolved into a provider of engineering, procurement and commissioning (EPC) services for solar farms, with half of its 3Q2012 revenue from its solar business.

On Wed, it announced 3Q2012 revenue of S$74 million (HK$470.8 million).

Anwell's wholly-owned subsidiary Sungen has built a 11-megawatt (MW) solar plant which commenced operations in Thailand this Oct.
"Thailand is a very promising market for us. A solar farm investor can achieve IRR of 16% to 20% based on a 20-year cash flow schedule," said executive director-cum-CFO Ken Wu during a results briefing on Thursday.

To seize the opportunities in Thailand, on 18 May 2012, Sungen inked a deal to acquire 100% in a Thai-licensed power supplier for S$4.8 million (120.5 million Baht) in cash.

The newly acquired subsidiary, Lopburi Solar, has a power purchase agreement from the Provincial Electricity Authority of Thailand (PEA) to supply up to 5 MW a year to PEA for 10 years.

"Thailand, India and China will be the major markets for our solar business in the year ahead," said Mr Wu. He believes that the solar business will continue increasing its contribution to group revenue.

Solar power projects contributed 50.5% to group revenue, up from 31.9% in 3Q2011. Another 44.4% was contributed by the manufacture of optical discs, while 5.1% came from the manufacture of equipment for optical discs and solar power.

Its optical media business also did well. Segment margins improved to 22.35% in 3Q2012 compared to 0.05% in 3Q2011, thanks to better selling prices for its optical discs and a reduction in depreciation after it took an impairment on machinery in 4Q2011.

This helped lift group gross margins by 8.8 percentage points to 17.6%.

"There has been a consolidation in the optical disc industry and many players have exited. Even though this industry is not growing, especially in DVD-R, our market share is growing," said Mr Wu.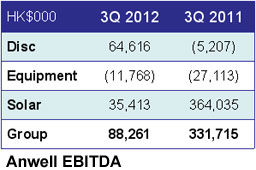 Dip into red belie improved business fundamentals

At the briefing, Mr Wu pointed out that the company's 3Q2012 operating profit of HK$40.5 million reflected a year-on-year improvement of its business fundamentals.

In 3Q2011, it would have reported an operating loss if not for a HK$352.4 million gain on revaluation after increasing its stake in a subsidiary.

The company had a net loss attributable to shareholders of HK$40.2 million in 3Q2012.


Below is a summary of questions raised at the results briefing and Mr Wu's replies.
Q: How have solar panel prices been doing?

Solar panel prices are now at 65 US cents per watt, below the cost of many solar panel manufacturers. We have a competitive edge in that our cost structure allows us to remain profitable. We will achieve better economies of scale when our new factory in Dongguan starts to operate as our cost structure will come down even further. The new plant has one line that can produce 240 megawatt-peak (MWp) a year and will be completed by year-end.

Q: Who are your solar business competitors in Thailand?

Most of our competition is from Thai EPC contractors who do not manufacture solar panels like us. When a solar farm owner encounters problems with its solar panels, we are able to directly fix the problem, unlike other EPC contractors who procure third-party solar panels. There are very few Chinese solar panel manufacturers in Thailand offering EPC services.

We have a good reputation in Thailand as a solar project EPC solutions provider. There are not many power purchase agreements granted in the market and this is something we managed to secure. Banks in Thailand are also happy to finance our solar projects.

Q: How will China's change of leadership affect you?

The change of guards will not affect China's policies. The policies are passed as a collective effort.

Q: Why did your finance expense increase so sharply (up 156% at HK$59.4 million in 3Q2012)?

Last year, the government acquired 19.5% in our thin film solar panel manufacturing subsidiary for Rmb 700 million (S$137.4 million) with the option to return the stake after 5 years. Our auditors want us to account for this sum as a liability. That is why we have an additional interest on other financial liabilities of HK$21.0 million in 3Q2012.

Q: Do the government subsidies you receive preclude you from selling your factory even if a big player makes a good offer?

We won't divest the businesses that are under subsidy. We have a steady stream of subsidies from the PRC government. Having identified our business as a sector it wants to nurture, the government takes the initiative to guide us in application for subsidies.


Related story: ANWELL: Completes US$25 M Solar Power Plant In Thailand