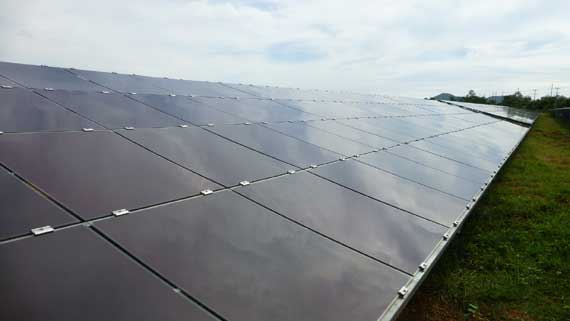 Anwell is ramping up production capacity for solar panels in anticipation of the end of the industry consolidation. Company photo
ANWELL TECHNOLOGIES has halved its net loss attributable to shareholders to HK$266.2 million for FY2012, compared to a HK$523.8 million loss in FY2011.
FY2012 revenue was down 7.2% year-on-year at HK$1.3 billion. The good news is: Group gross profit margin improved by 7.3 percentage points to 18.5%.

Manufacturing and sales of optical media products such as CD-R and DVD-R continued to drive earnings: Segment contribution to Group revenue was 59.1%.

Gross margins from its optical media segment also improved to 21.8%, up from 0.95% in FY2011, thanks to improved production cost and lower depreciation after impairment made in FY2011.

Solar power business contributed 32.7% to Group revenue.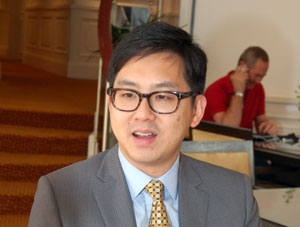 "To prepare for a market recovery post-consolidation, we are increasing production capacity and improving our product mix by opening a second solar panel factory in Dongguan," said CFO Ken Wu. NextInsight file photo
In FY2012, Anwell forayed into EPC solutions for solar farms in Thailand, a business with relatively good margins compared to distribution or manufacturing exports.

More than half of its solar revenue came from EPC projects in Thailand.

However, solar segment gross margin dropped from 29.5% to 15.5% as the solar industry is in a stage of consolidation.

Manufacturing of media production lines and equipment contributed 8.2% to Group revenue. Equipment segment gross margin remained stable and was 6.5%.

Below is a summary of questions raised at the Group's FY2012 analyst briefing and the replies provided by executive director Ken Wu.


Q: Why are you ramping up capacity when there is industry consolidation?

The product we intend to produce in the new solar panel factory in Dongguan will be different from our first solar panel factory in Henan.

In Henan, we use amorphous silicon to produce thin film solar panels that have conversion efficiency into electricity of about 9%, which is relatively low.

Although cost of production is low, the low efficiency limits the product's applications.

That's why our solar panel markets are now mainly in low cost countries such as Thailand or India, where land is abundant and labor costs are low.

In high cost countries like US or Europe, amorphous silicon technology may not be applicable.

We are planning to produce high-efficiency products with conversion efficiency of up to 13%.

A better product mix will enable us to penetrate more markets and increase our market share.

This will be produced in Dongguan using technology that we intend to patent.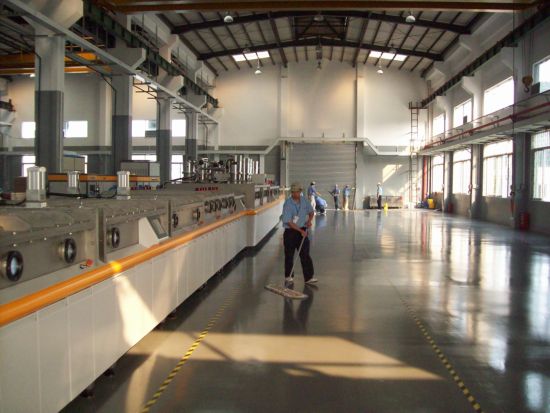 Anwell's Dongguan factory under construction is expected to start operation in 2Q2013. Company photo
Q: How will cost structure for the Dongguan factory differ from the Henan factory?
The cost per watt is expected to come down when we eventually achieve better economies of scale at Dongguan.
The cost of solar panels is important as it comprises 40% to 60% of a solar farm project.
As an EPC solutions provider, we have to help customers (investors) lower project cost.


Q: What's going to happen in 2013?
The improvement of our distribution business will depend on our production capacity for solar panels.

In Thailand, we have signed a contract for a 5.5 MW solar farm to be delivered in 3Q2013. We are in talks to secure more EPC contracts. To boost our EPC business, we are also trying to acquire Power Purchase Agreements (PPA) issued by Thai grid companies.

The solar market as a whole is still very tough. Many European manufacturers have exited the industry because of overly high overheads. Nowadays, most solar panels are made in China. The Chinese government is trying to get the industry to consolidate.

In China, availability of bank financing is highly dependent on government policy. Fortunately for us, the government has given clear direction to support selected high-tech companies in renewable energy so that the industry can consolidate.

We are seeing strong demand for solar power in Thailand, India and Japan.
---

Related stories:

ANWELL, JAYA HOLDINGS, STX OSV: Latest Happenings…

ANWELL: Booming Thai solar power demand to continue to drive revenue