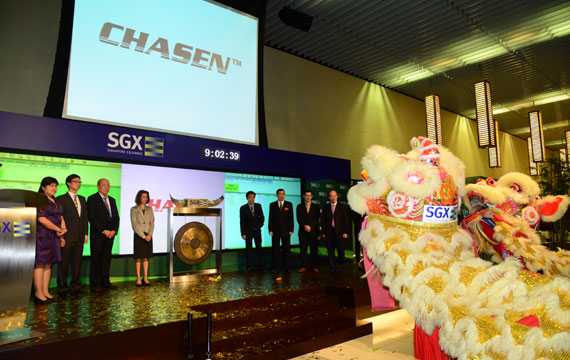 At a ceremony to mark Chasen's transfer from Catalist to Mainboard, a pair of dancing lions usher in its next leg of growth. Company photo.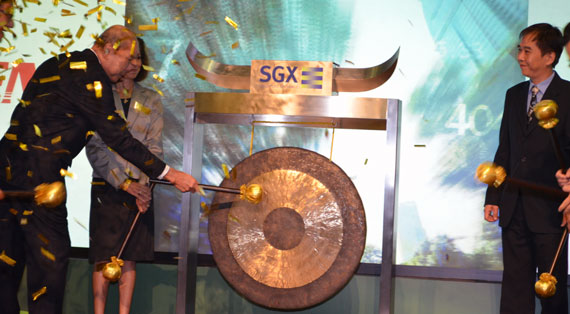 Chasen founder Louis Yap strikes the gong at SGX as Chasen opens to its first day of trade as a Mainboard stock. It has a market cap of about S$59 million, based on a stock price of 24 cents.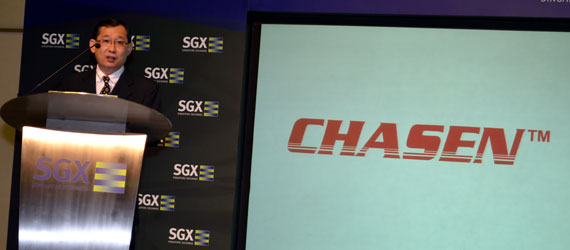 "Our established track record, long-standing customer relationships and expanded service offerings earned us a wider and diversified customer base," said Chasen executive director Eddie Siah.

Unless indicated, all photos are by Sim Kih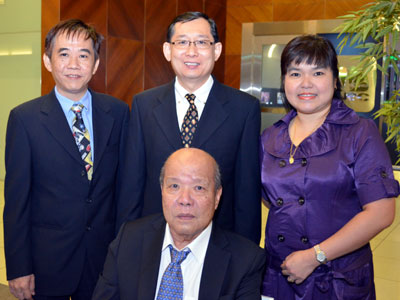 Standing L-R: Justin Low (Chasen managing director), Eddie Siah (Chasen executive director), Dorothy Yap (Chasen alternate director to Louis Yap).
Seated: Louis Yap (Chasen non-executive director & father of Dorothy Yap).26 FEBRUARY 2013 was a red-letter day for Chasen Logistics Services as it transferred from Catalist to the SGX Mainboard.

"The transfer enhances our image and helps us not only in terms of business opportunities, but also widens our reach to a broader base of investors," said executive director Eddie Siah during the gong ceremony at SGX yesterday (Tuesday).

To qualify for the transfer, Chasen had to generate a cumulative consolidated pre-tax profit in excess of S$7.5 million for the three consecutive years prior to the transfer.

It also had to generate a minimum pre-tax profit of S$1 million for each of those three years.

Chasen had a cumulative pre-tax profit of S$17.1 million for FY2010 to FY2012 (FY2010: S$5.4 million, FY2011: S$4.6 million, FY2012: S$7.1 million).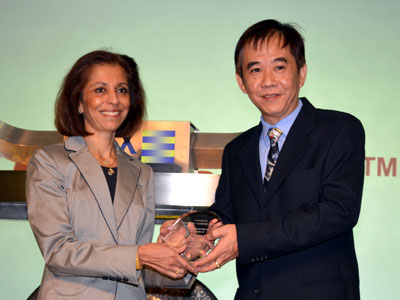 Gift exchange: Justin Low (right) with Mita Natarajan (SGX senior vice president, head of corporate services - listings)
The Group was founded in 1995 by Mr Louis Yap and listed on the then SESDAQ board (now SGX Catalist) via a reverse takeover in 2007.

At that time, it was primarily a specialist relocation solutions provider --- it was the tail-end service in the supply chain in the setting up of manufacturing facilities.

Since then, it has moved up the supply chain to provide third party logistics and technical and engineering services.
It now offers a good range of turnkey services: From the construction of the building, providing facilities installation and services, to relocating and hooking up the sophisticated machinery and equipment.

It has also penetrated the wastewater treatment industry in China.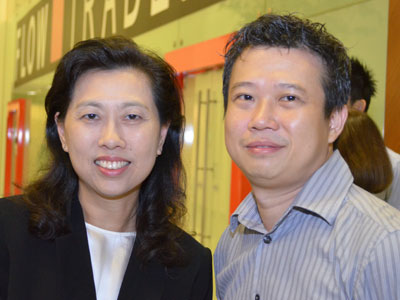 In the audience: Linda Kwok (RHB Bank head of capital markets - investment banking) with Jacky Lee (NRA Capital analyst)
On 24 September 2012, it announced its maiden purified water and wastewater treatment transfer-operate-transfer projects in China.

In FY2013, the Group clinched six engineering projects (five locally and one in Malaysia) with a total contract value of approximately S$9.9 million and one relocation contract in China worth S$2.4 million.

In addition to its list of global customers in the electronics sectors of TFT LCD panel manufacturers, wafer fabrication manufacturers and other semi-conductor related industries, it now also has customers in the telecommunications, renewable energy, oil & gas, ordnance marine and construction sectors.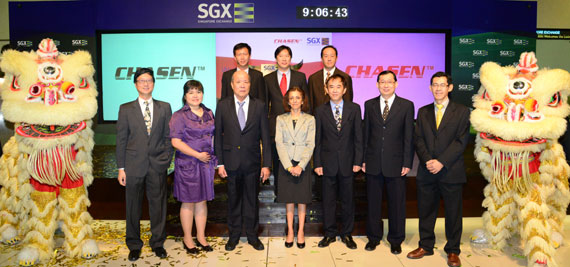 The management with Chasen's heads of strategic business units.
Company photo.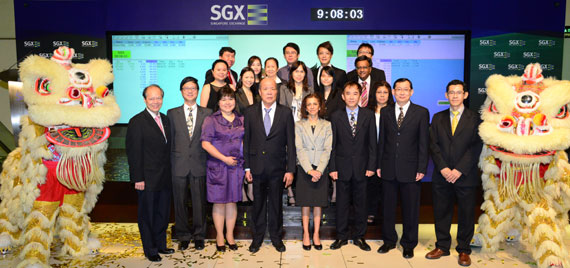 The management with Chasen's support personnel and business associates. Company photo.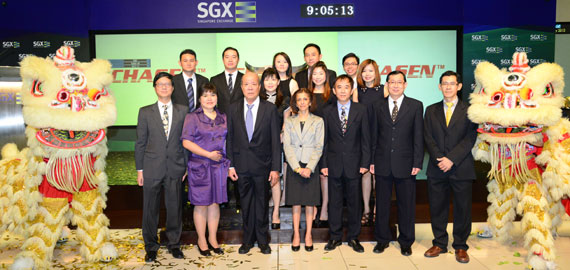 The management with Chasen's bankers. Company photo.
---
Related stories:
AUSGROUP, DMX TECHNOLOGIES, CHASEN: Latest Happenings

NOL, AUSGROUP, NAM CHEONG: What Analysts Now Say...