For many long-time investors, Thakral Corp was a well-known player in the
consumer electronics and IT businesses.

Then it exited the industry and set out to grow new core businesses. It kept a lower profile as the years went by -- not surprisingly since it took time to show strong results.

It's been 10 years since Thakral's above-mentioned exit, and its 1HFY2023 results and a follow-up investor briefing signalled that it's ready to show up on investors' radar again.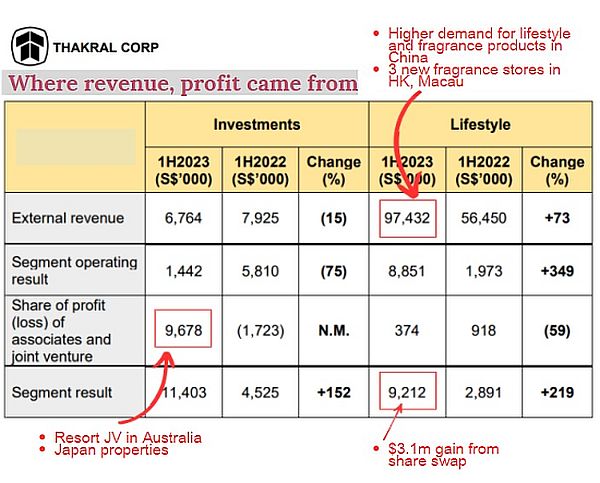 In the above chart, one would note the outstanding profit contribution of the "investments" segment. The key story there is Thakral's 31.7% stake in GemLife, which acquires land sites, develops and operates resorts for people over 50 years of age, mainly retirees.

It's a niche model in Australia which is operated by several other companies such as Serenitas. The latter is an investee company of GIC, the sovereign wealth fund of Singapore.

GemLife is a joint venture founded in 2016 between Thakral and the Puljich family who are seasoned real estate investors.

"We came in as the capital partner, but also bringing a difference on how can we look at the market, how can we move a little bit faster than they were doing it before. We are the youngest and the fastest growing company in that niche," said Thakral CEO Inderbethal Singh Thakral at an investor briefing last week.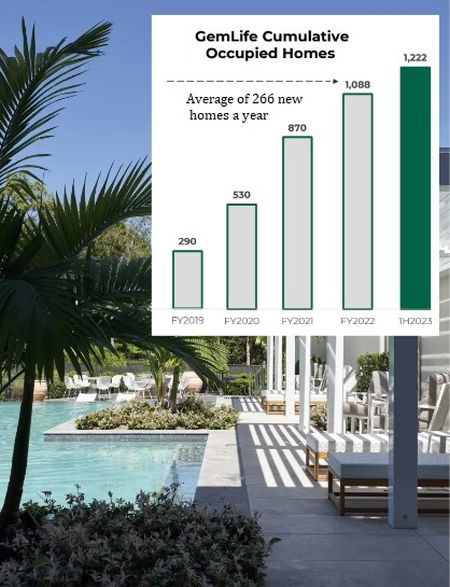 "Our first house was delivered in 2019 and now we have 1,222 homes already occupied. We have acquired sites that take us to almost 7,000 homes which we plan to deliver to the market over the next decade."


"We sell the house but the land is on lease. We never sell them the land. Residents keep on paying us the site fees. It's perpetual, as long as they own the house."
The residents enjoy clubhouses, gymnasiums and swimming pools within the resorts, among other things. These common facilities, including the roads, all belong to GemLife.

Typically of 2,150 sq ft, the 3-bedroom houses are sold in the A$600,000-650,000 range, while waterfront ones can go for more than A$1 million.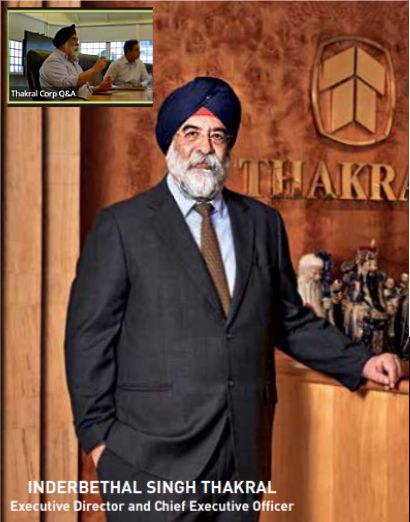 "We only construct when the buyers put down the money. They pay for the construction, so it's a very low risk business model," said Mr Thakral.

"We sell the house but the land is on lease," Mr Thakral pointed out. "We never sell them the land. Residents keep on paying us the site fees. It's perpetual, as long as they own the house."

The buyers have downsized, ie sold their previous homes, and qualify for government grant of A$1,400 a month, which they use to pay A$200 a week for the lease.

"The houses are fully paid for, and all paid in cash, because the residents have sold their old houses. There is not a single loan."


Thakral

FY18

FY19

FY20

FY21

FY22

1HFY23

Dividend
(SG cts)

4

4

3

4

4.5

2
Thakral has been a steady payer of dividends.


Regarding GemLife's target 7,000 homes, Mr Thakral said obtaining planning approval from the authorities takes a lot of time, which is the biggest bottleneck. But GemLife is planning for 300-400 a year in the near term with no shortage of demand.


"We want to bring in over-50s when people are healthy and they are moving in here with the whole idea that they're coming here for a change of lifestyle. You see them mingling with each other. You see them playing sports together. They have karaoke nights, and then you have the chef, almost every other day there is a party going on."


The 1HFY23 presentation deck is here.