• Australia is enjoying an exploration and mining boom as demand surges for commodities necessary for the production of electric vehicles, wind turbines, etc. Junior explorers which make large discoveries are seeing their market caps multiply rapidly.

• We heard of an upcoming visit to Singapore by the MD of a junior (market cap: ~A$21 million) to meet funds and retail investors. Greg Miles of Caspin Resources is excited to talk about its initial discoveries and results from the latest drilling campaign.



•

Read our article below on Caspin, and if you are keen to attend his 22 Aug (10 am) presentation, email your name and contact number to This email address is being protected from spambots. You need JavaScript enabled to view it.

Poking deep holes in search of deposits of minerals is a challenging and speculative business but it helps to have a track record. Greg Miles has over 25 years of experience as a geologist and many years as a corporate leader.

At Cassini Resources, as an Executive Director, he led the team exploring its West Musgrave Project (nickel and copper) in Western Australia before its emerging value led to a takeover by mining giant OZ Minerals in October 2020.

Cassini had 2 other projects then, which were spun off to form a new company, Caspin Resources, on the ASX.

Greg became its CEO – and recently, MD.

Among the exploration results to date, Caspin has recently staked its claim to having made a
"groundbreaking" discovery of rare earth elements (REE) at the

Mount Squires project

in

the West Musgrave province

.
First discovery of rare earth elements!
Caspin says this is the first discovery of significant REE mineralisation in the West Musgrave region and one of a somewhat unique style in Australia.

The map below gives a snapshot of Caspin's 2 projects, focusing on the REE project: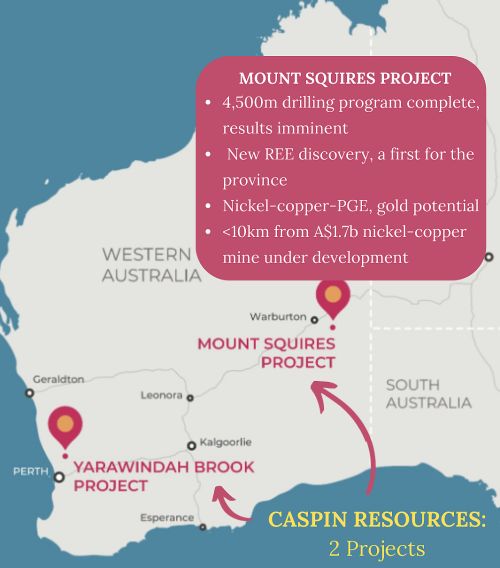 Results released in May 2023 from drilling in the 720 sq km area, which is about the size of Singapore, were promising.

One core had REE intersections including 46m at 7,102ppm TREO (total rare earth oxide) with a higher-grade zone of 22m at 12,545ppm TREO.

The results "compares very favorably to all the rare earths development projects in Australia right now," says Mr Miles.

Further drilling has been done since then with results imminent.

"We are barely past the start line on assessing this opportunity," says Mr Miles.

(Caspin has concurrently been actively exploring another project, the Yarawindah Brook, for minerals including copper and nickel).



REEs are heading into a large supply deficit in the years ahead as they are required in the making of permanent magnets that go into the motors of electric vehicles and wind turbines.

REEs are also essential in the making of various weapons of war, including missiles and submarines.

Hence there is a geopolitical impetus for the West to develop its own supply chain, and cut its reliance on China which currently dominates the global production, processing and production of REEs.


What's special about Mt Squires
To date, the drilling results show a high proportion of heavy rare earth elements (HREE) to light rare earth elements (LREE), averaging approximately 28% across all intersections, and in some areas, reaching as high as 40%.

HREEs are relatively rare in REE deposits not just in Australia but also worldwide, making them highly valuable as a result, says Caspin.


RARE EARTHS ++
"The high proportion of heavy rare earths found so far provides a distinct point of difference and value to the multitude of new rare earth projects in the market. The Company will systematically explore the rare earth opportunities across the (Mt Squires) project

in parallel with its nickel, copper and gold

exploration targets.
"


-- Caspin Resources
Important HREEs are dysprosium (Dy) and terbium (Tb) which are used in magnets alongside LREEs neodymium (Nd) and praseodymium (Pr).

The value of Dy and Tb is especially high.

Historically, Nd and Pr are roughly priced the same, while Dy is about 4 to 5 times higher than Nd, and Tb's price is about 4 to 5 times higher than Dy, says Caspin.

Dysprosium has traded in a range of US$200-US$400/kg (equivalent to US$200,000/t - US$400,000/t) over the past 2 years, approximately 10 times the value of nickel at current prices on the London Metal Exchange (~US$24,000t).



More $ pours in for exploration
To finance further exploration at the Mount Squires project for not just REEs but also minerals such as copper, gold and nickel:


•

Shareholders applied for
$2.8 million worth of new shares under a Share Purchase Plan in June 2023 when the company had determined that it would accept a maximum of $2.0 million.



•

No. 1 shareholder Chalice Mining (market cap: A$2.3 billion) took up about $400,000 worth of shares in an April 2023 placement, updating its shareholding to 8.77%.

The Chalice take-up was part of a A$3.8 million placement exercise. The presence of Chalice on the shareholder register is tantalising -- it once was a junior like Caspin, but today it is a ~A$2 billion company following the discovery of nickel, copper and PGEs at its Julimar Project in March 2020.

This was the largest discovery of its type in Australia for at least 20 years and is located in similar rocks to Capsin's Yarawindah Brook Project, just 40km to the north.

The presence of Chalice on Caspin's shareholder register is tantalising -- it once was a junior like Caspin. Chalice's market cap exploded (currently ~A$2 billion) following the discovery of nickel, copper and PGEs at its Julimar Project in March 2020. That's just 40 km away from where Caspin is exploring its Yarawindah project.
Further financial support of A$220,000 was granted under the WA Government Exploration Incentive Scheme grant for drilling for gold and copper.

In addition, A$1.35M of exploration credits for 2023/24 was awarded to Caspin, as part of the Junior Minerals Exploration Incentive (JMEI), which encourages investment in greenfield minerals exploration companies.

There's potential for big discoveries of nickel, copper and gold at Mt Squires, not least because its neighbour is the West Musgrave Project that Mr Miles once was involved in.

That project is currently progressing to become a large nickel-copper mine. Just look at the capex of A$1.7 billion and the big name miner developing it -- BHP, which recently bought over OZ Minerals.


For more, see Caspin's recent presentation deck here, and 2 recent videos below: