After weakening over the past 4 weeks or so, has the stock price of Singapore-listed coal producer Geo Energy found support at 23-24 cents?

That appears to be the case, perhaps owing mainly to share buybacks by the Indonesian miner over four days in a row last week (more on this below) and yesterday (Monday).

Is the stock looking attractive now? On a number of metrics, it appears so, including a trailing PE of around 2.

The PE ratio is likely to be still in the low single-digits after considering that coal prices in 2023 will be lower than the record prices of 2022. The price surge was triggered by disruptions in coal supply/demand following Russia's invasion of Ukraine.


What's around the corner may be a boost for Geo Energy stock: an earnings-accretive acquisition(s), which the company has signalled as far back as 6 months ago (see link here).

The most recent word from Chairman/CEO Charles Melati, on 12 May, was contained in the company's 1Q2023 business update.

It sounded upbeat:
"We are making active progress towards value accretive acquisitions of producing coal mines, to increase our reserves, production volumes, as well as achieve diversification. We are not only eyeing the growth of our revenue, but also an expansion of revenue streams towards building a sustainable business."

The chart below captures the stock price movement of the past year, including the recent past: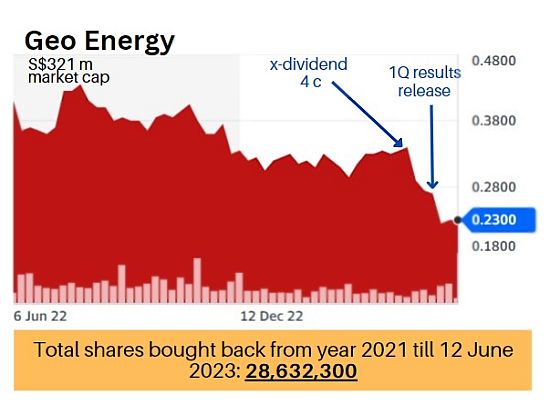 The disappointing recent market action of Geo Energy's stock may be attributed to:

• The stock going ex-dividend.
• 1Q2023 profit coming in at US$16 million (S$21.5 million), which was 60% lower y-o-y.
This was due to lower coal tonnage sold and higher cash cost of production but all that was offset partially by higher average selling prices.


• Softer coal prices.
Geo Energy's stock traded at the 33-cent level cum-dividend of 4 cents a share before going ex-dividend on 9 May.

Instead of staying stable at 29.5 cents after x-d, it slipped, reaching a low of 22.5 cents on 5 June.

That was quite close to the net cash level of Geo Energy (US$205 million as at 1Q2023 update).

Last week, Geo Energy resumed its share buyback for four days in a row, which appears to have put a floor on the stock price at the 23-24 cent level.

Details of the recent buyback:

GEO ENERGY SHARE BUYBACK

Date

No. of shares

Price
(cts)

Value
(S$)

Cumulative purchase

12 June (Mon)

800,000

23

184,347

4,500,000 shares

9 June
(Fri)

600,000

23

138,328

8 June
(Thur)

500,000

23

115,273

7 June
(Wed)

1,800,000

23-23.5

421,497

6 June
(Tue)

800,000

23-24

189,449

Source: Company announcements

Geo Energy, through 2021 and 2022, had been buying back its shares, totalling 20,132,000. With the 2023 purchases, the total is now 28,632,300, as treasury shares.

Another shareholder-oriented move has been its quarterly dividends, staying true to its payout policy of at least 30% of earnings:


DIVIDENDS FROM GEO ENERGY

Period

1Q21

2Q21

3Q21

4Q21

1Q22

2Q22

3Q22

4Q22

1Q23

Cents

0.5

0.5

3

5

2

2

1

4

0.5

Total

9 cents/share

9 cents/share
Like Geo Energy, coal stocks in the world's top 2 exporters, Indonesia and Australia, trade at cheap valuations owing to the non-participation of ESG-sensitive funds and other investors which have pivoted away in support of the green energy agenda.

Examples of some of the biggest coal plays in Australia and Indonesia:

• Whitehaven Coal: Trailing PE 1.8, dividend yield 11.1%.
• Yancoal Australia: Trailing PE 1.7, dividend yield 26.1%.
• Adaro Energy: Trailing PE 1.8, dividend yield 22.4%.
• Indo Tambagraya Megah: Trailing PE 1.5, dividend yield 55%.

This likely will continue to translate into high dividend yields for remaining shareholders as coal companies enjoy robust free cash flow given that coal fetches prices that are still way higher than in pre-Covid days.