After a highly profitable 2022, and laden with cash even after paying out large dividends to shareholders, Geo Energy is looking to make asset acquisitions.


Cash & bank balance
US$234.1 million
*as at end-2022
That may be just around the corner, as Geo Energy has identified coal mines it is keen on but has not given a timeline.

Yes, coal mines.

CFO Adam Tan said in an investor briefing on its 2022 results this week that Geo Energy's expertise is in the coal sector and it made sense for it to expand its business there and ensure business certainty given that its key producing mines have 5-6 years worth of coal left.

"We have been involved in coal mining for more than 20 years. We are looking for diversification in terms of geography -- mines which are located in other parts of Indonesia -- and calorific value of the coal."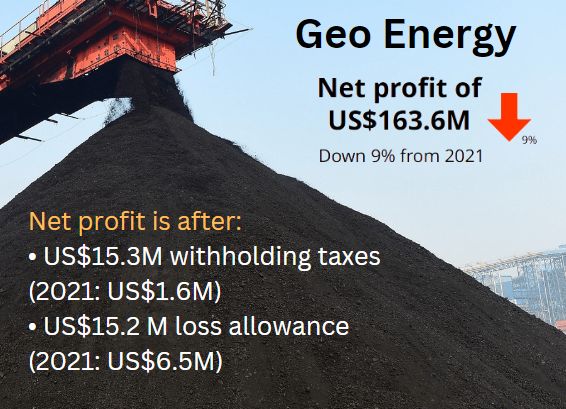 In 2022, the average production cash cost increased to US$43.10/t (2021: US$31.37/t) due to a higher mining strip ratio at the TBR mine, higher fuel prices as well as higher sales royalty with effect from Sept 2022.

Excerpts from investor Q&A session with CFO Adam Tan:
Q: Regarding the cash balance, do you foresee increasing share buybacks or any other form of capital return to investors?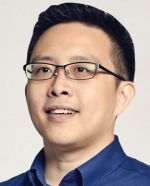 Adam Tan, CFOA: Our company believes part of capital allocation in returning value to shareholders is through dividends. That's why we have declared over 51% of our earnings as dividends.

The cash balance that we have currently in our bank account is predominantly set aside for M&A acquisition.

We believe the way to unlock the value of the shares is through making a good acquisition that will secure the long term business of the company, not just predominantly relying on share buybacks and dividends.



Q:

For M&A, would you rely entirely on your balance sheet or will you also try to get some external financing or execute share placement, rights issue, etc.

A: If it's one M&A, we don't really need financing. If we are going to do 2 acquisitions, then there will be a requirement to draw upon financing.

In terms of share placement etc, right now we recognize our stock is undervalued. Of course, if the incoming party as part of a structured deal is interested in coming in at a premium to the market price, we can discuss. But we want to restrict the amount of equity raised through share placement if the share price is based on the existing share price.

Q: S

hould we expect acquisitions to be at EV/EBIDTA multiples similar to Geo Energy's or higher? (Geo Energy's EV/EBIDTA is a very low 0.4X).
Stock price

31.5 c

52-wk range

30 – 60 c

PE

1.4

Market cap

$444 m

Shares outstanding

1.41 b

Dividend
yield

29 %

1-yr change

-41%

P/B

0.86

Source: Yahoo!
A: The targets we're looking at are producing assets. They had very strong EBITDA last year because coal prices were very strong.

But we cannot base the acquisition price on a fantastic year, we have to moderate it in the event that coal prices come down a bit, making sure that we still have strong EBITDA from these acquisitions.

Whatever we acquire should have stronger multiples than what we are trading at in terms of EBITDA. We should not be paying over 2 + or 3 times. Definitely, it has to be value-accretive to the company.


Q: With regards to renewables, do you think that the slow scalability of renewables give you an extended run for good profitability on coal?

A: We recognize the importance of renewables in the long term but it's something that will take time.

We can't stop all the coal production given the shortage of energy worldwide. Definitely there is a decreased amount of funding into the coal industry. That creates a higher barrier to entry. So coal prices are expected to remain relatively strong due to the demand-supply gap.

Supply can't be increased readily except by operating mines that have the ability to ramp up, which is quite limited.

Due to the lack of external financing, only parties like us with a lot of cash on the balance sheet can partner or work together to increase coal production as demand continues to go up.


Q: With the current visibility that you have, do you expect to distribute quarterly dividends in 2023 as well?
A: We are one of the few companies on the SGX that give quarterly dividends. We want to return the cash flow earlier to our shareholders instead of half-yearly or at year-end.

For the moment, there is no intention to change this, but it depends on our M&A strategy. If we are going to utilize a significant amount of cash for M&A, we could consider dividends given half yearly, or some form of change.

The Q&A has been edited for brevity and clarity.

Geo Energy's 2022 results presentation deck is here.