Excerpts from UOB KH report

Analyst: Roy Chen

Singapore Airlines – BUY

• Upcoming 3QFY22 results likely to beat consensus expectations. We expect SIA to achieve peak performance in the upcoming 3QFY23 (ended Dec 2022) at S$800m-1b, driven by the strong passenger yields locked in by the advanced bookings as well as the upbeat passenger volume recovery as the pent-up air travel demand gets fulfilled during the seasonally strong Sep-Dec quarter.


SIA

Share price:
$5.53

Target:
$5.35
Sales in advance of carriage, a leading indicator for near-term revenue recognition, stood at S$4.16b as at end-1HFY23; this was about 40% above the end-1HFY20 (pre-pandemic) levels.

We forecast SIA's FY24 (beginning March 2023) net profit to hit S$2.3b, a record level, while believing that there is still scope for surprises from the upside.

The consensus FY23 net profit forecast of S$1.69b is on the conservative side (27% below ours) and due for surprises, in our view.

• Proposed merger of Vistara into Air India a positive development. We are positive towards SIA's planned merger of Vistara into Air India, which will allow SIA to strengthen its presence in the fast-growing Indian market via its 25.1% strategic stake in a stronger and more competitive Air India (the surviving entity).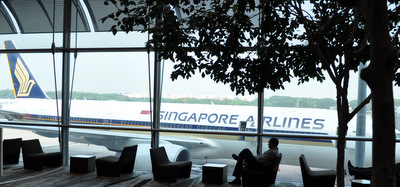 SIA: Strengthening its presence in India.Expected to be completed within FY24, the merger will lead to a one-off accounting gain of S$1.1b upon completion, raising SIA's FY24 net asset value per share by about 8% by our estimate.

Due to the significantly larger scale of the new Air India than Vistara, this strategic move would also enhance the long-term profitability prospects of SIA's Indian investment, in our view.


• Valuation not cheap, but sentiment could be high in the near term. SIA trades at 1.09x P/B, or 1.3SD above its historical mean P/B of 0.97x. We expect SIA's core profitability to normalise from 4QFY23 onwards, as competition catches up and drives down pax yields.

The current favourable fuel hedge position would also largely come to an end by 1QFY24.

In view of the likely profitability normalisation ahead, we have a HOLD rating on SIA, with a fundamentally-driven target price of S$5.35.

Having said that, we believe market sentiments towards SIA would be high leading up to the 3QFY23 results in early this year. Therefore, there could be trading buy opportunities in the short term.

Share Price Catalysts
• Events:
a) High sentiment towards a stellar upcoming 3QFY23 financial performance, and
b) news on China's shifts in stance towards treating COVID-19.
• Timeline: 3 months.

Full report here.