Singapore-listed Food Empire Holdings is a global branding and manufacturing company in the food and beverage sector. Its products include instant beverage products, frozen convenience food and snack food. Food Empire's products are sold in over 50 countries.




Its solid 3Q performance plus proceeds from the disposal of a property in Singapore have sharply pushed up its cash balance, raising the prospect of a final dividend bonanza in 3 months' time.

Here's how the past dividends look like:
Food Empire's sales of instant coffee turned up in its key markets, even Ukraine and Russia, exceeding the company's own expectations.
Full-year dividend

FY18

FY19

FY20

FY21

SGD cent

0.68

2.2

2.2

2.2

*Historically, Food Empire has not paid interim dividends

Food Empire's sale of an industrial property -- where its HQ is located -- in the MacPherson area, completed in 3Q, reaped S$49.25 million in proceeds.

Coupled with positive operating cashflow, the cash balance ballooned to US$107.1 million (S$147 million) as at 30 Sept 2022.

After deducting an outstanding US$42 million or so in borrowings, which were taken mainly to fund the construction of a freeze dry coffee plant in India, the net cash came up to about US$65 million (S$89 million).

Stock price

54 c

52-week range

42 – 81 c

Market cap

S$290 m

PE (ttm)

5.4

Dividend yield

3.2%

1-year return

-32%

Shares outstanding

537.5 m

Price/Book

0.7

Source: Yahoo!
For perspective, Food Empire's market cap is currently about S$290 million.

The stock (54 cents) is down 32% year-to-date, despite 2022 shaping up to be a record year of profitability.

Inclusive of a one-off US$15 million gain on its property sale, its 9M profit came up to US$49.6 million, which far exceeds 2021's entire year profit of US$19.5 million (see table below).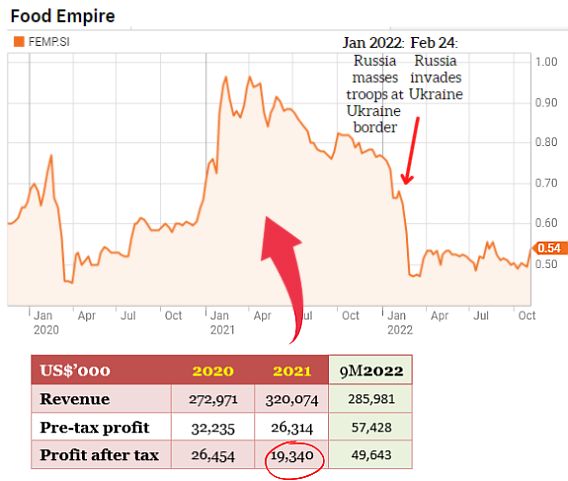 Food Empire stock traded above 80 cents for most of 2021. After being impacted by the initial Russian invasion of Ukraine, the stock has yet to respond to the company's rollout of strong quarterly profitability.

Food Empire enjoyed higher average selling prices across most of its business segments, with revenue for 3Q2022 increasing by 42.1% to US$108.6 million, boosted mainly by Russia and South Asia.

South Asia, or specifically India, is where Food Empire has two plants producing instant coffee for international sale, and are operating at near maximum capacity. The newer of the two plants is a freeze dry coffee plant which commenced operations in 2Q2021. The other is a spray dry coffee plant.

These products are used in-house to produce Food Empire consumer products as well as sold to third parties. (Click here to know the difference between spray dry and freeze dry coffee)


Some highlights of investor/analyst Q&A session last week with CEO Sudeep Nair:
Q: Can you talk a little bit about the results and the group's diversification, especially into South Asia and Southeast Asia?

Sudeep: Russia still stands as the biggest single market and is doing, under the circumstances, very good. But Food Empire is diversified into many many markets, this is evident from the numbers which you see and this is something which is going to continue. The geopolitical scenario is not something which is desirable and which was not expected but our business results are what we expected. Even after two years of Covid and a lot of disruptions which still continue in one form or another, a lot of the markets have started contributing to Food Empire and moving forward that is going to be the story.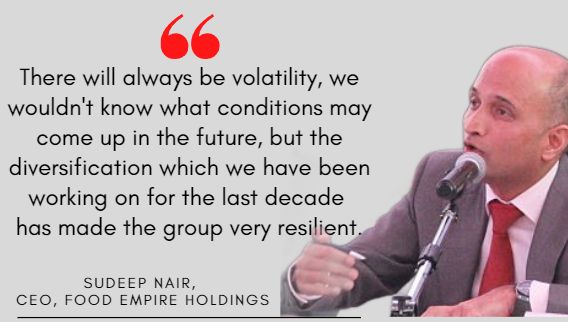 Q: You mentioned that Russian and the Ukraine markets continued to deliver. Why was that the case?

Sudeep: Consumption habits don't change. If a person drinks two cups of coffee they won't stop. Consumption still continues. In Russia we have seen very consistent demand for our products. In fact at times, we had not been able to supply because of certain disruptions and supply chain which still continue.



Examples of Food Empire's instant coffee products sold in Ukraine. Sales of Food Empire's products in the country have risen this year.

Revenue by markets

US$'000

9M2022

9M2021

Change (%)

Russia

99,545

86,177

15.5

Ukraine, Kazakhstan and CIS

66,488

52,077

27.7

South-East Asia

69,208

63,867

8.4

South Asia

29,615

10,188

190.7

Other segments

21,125

13,756

53.6

Total Revenue

285,981

226,065

26.5
Q: To follow up on the Russia question, what has actually changed in the third quarter compared to the first two quarters when Russian market actually declined?

Sudeep: In 3Q, after the Russia-Ukraine conflict broke out, top line growth was not the priority but bottom line was. Once things like the ruble kind of stabilized, from third quarter onwards we could push more volume. This is showing the pricing power of our brands. After having raised prices, we are in a very comfortable position in terms of margins. We are doing promotions which, in turn, are helping to drive up revenue.

Q: The results this year has been quite fantastic. Can shareholders expect better dividends for this year?

Sudeep: If the geopolitical situation doesn't deteriorate beyond what it is today, we would recommend to the board a growth in dividends.


The Q&A content has been edited for brevity and clarity.
For more on 3Q results, see Food Empire's announcement here.