For Dr Bernard Ng, people - especially patients and employees - always come first.
The healthcare industry veteran believes in prioritising the well-being, growth and empowerment of those around him, a key tenet championed by American executive Robert Greenleaf's theory of servant leadership.
"As a physician, I've been trained to put my patients first, and that has been a guiding principle throughout my career. As a result, my leadership style is one of servant leadership," said the Chairman and Chief Executive Officer of SGX-listed Meta Health Ltd.

"According to Greenleaf, a servant-leader's primary motivation and purpose is to encourage greatness in others, while organisational success is the indirect, derived outcome of servant-leadership," Ng added.
"Servant leadership reflects a servant-first, rather than a leader-first, mentality. This is critical in today's fast-changing environment, where a leader does not necessarily have all the answers."
Ng, previously the Executive Director of Meta Health's wholly owned subsidiary 5Digital, was appointed Chairman and Group CEO of Meta Health in June 2022. With more than two decades of professional experience in the pharmaceutical and consumer health industries, Ng is well-positioned to oversee Meta Health's pivot to the digital healthcare space.
Prior to joining the Group, he served as Chief Medical Officer, Head of Global Medical and Clinical Affairs at Bayer Consumer Healthcare. Ng obtained his medical degree from National University of Malaysia in 1999, and his Master of Business Administration (MBA) from the University of Melbourne in 2011.
"I started my career as a clinician, but then realised I wanted to learn more about how the drugs and products we're using in practice are developed. So I switched to a role in the pharmaceutical industry," he recalled.
"I had the opportunity to bring products from concept to market, lead global teams and learn about the different health and regulatory systems around the world. My career path has prompted me to look at the healthcare ecosystem in a very different light, recognising its strengths as well as its challenges."
Disrupting Healthcare
One key takeaway from Ng's years in the industry is that the healthcare sector needs to be disrupted in order to offer sustainable care for patients and consumers across the region.
"To successfully disrupt the industry, collaboration is essential. The changes must first be piloted, then adopted by a wider group. In this respect, Singapore is well-positioned to be a test-bed for new products and technologies, before they are rolled out to the rest of ASEAN for adoption," he added.
Meta Health, previously known as Metal Component Engineering, was founded in Singapore in 1987. With a consistent focus on quality and engineering innovation, the Group expanded its customer base by serving multinational corporations, electronic manufacturing services companies, as well as small and medium enterprises globally. It recently diversified into healthcare technology and services with an investment in Gainhealth Pte Ltd, a direct-to-consumer and high-growth, omni-channel health and wellness platform.
"The Group has made a conscious decision to expand into digital healthcare, where we help medical practitioners digitalise their operations to increase efficiency and provide personalised services to patients," Ng noted.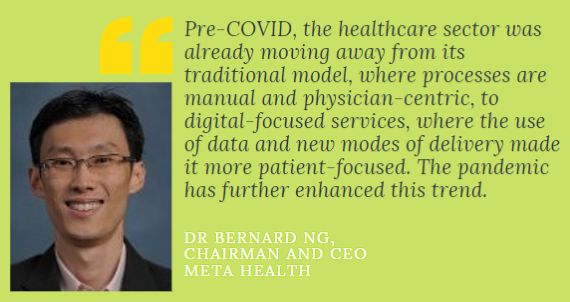 Following various acquisitions over the past year, Meta Health now has four key segments within its healthcare division - Primary Care & Home Care, which includes GP consultation, telemedicine and home care services; Central Pharmacy and e-Pharmacy, which helps deliver medicines for teleconsultations and recurring medications for chronic illnesses; Clinical Nutrition Distribution, as well as Infrastructure-As-A-Service, where the Group helps medical institutions digitalise their backend operations.
"With an asset-light business model, our healthcare segment is already profitable since it started contributing to the Group in 2H 2021, with revenue of S$1.3 million and EBIT of S$0.25 million," Ng pointed out.
"The number of users for the Group's digital health and online e-Pharmacy services has grown from over 2,000 in 1Q 2021 to more than 14,000 by 4Q 2021, with average bill size also expanding from S$39 to S$48 during this period."
Undoubtedly, the COVID-19 pandemic has also played an instrumental role in accelerating the digitalisation of the healthcare industry.
"Pre-COVID, the healthcare sector was already moving away from its traditional model, where processes are manual and physician-centric, to digital-focused services, where the use of data and new modes of delivery made it more patient-focused," he noted. "The pandemic has further enhanced this trend."
Scaling Growth
Looking ahead, Meta Health is targeting organic and inorganic growth avenues to realise its vision of becoming a leading healthcare services company in Southeast Asia, providing personalised healthcare within a curated ecosystem of online and offline care providers and e-pharmacies.
In particular, the Group plans to leverage on its highly scalable Infrastructure-as-a-Service division to enable medical institutions to digitalise their backend services that include customer relationship management and claims processing, without incurring heavy capital expenditure.
This segment operates primarily through the Group's 70%-owned Indonesian subsidiary, PT Gaido Digital Medika (PT GDM). PT GDM's trademarked "Digital Hospital" product in Indonesia has gained significant traction - in an announcement by the G20 business council, Digital Hospital was identified as a partner of the Indonesian Tourism Medical Association in March 2022, amidst the country's push towards digitalisation in the healthcare sector.
The Group also aims to expand its Central Pharmacy presence by extending services to nursing homes and individual clinics. "By enabling these institutions to offer telemedicine consultations and timely delivery of medications, we can help boost their productivity," he added.
A fervent believer in digital transformation, Ng spends much of his time plugged into start-ups that pioneer technology with the potential to create significant value for medical professionals.
"I've always liked the story of David versus Goliath. Hence, I'm always rooting for the disruptors and the start-ups that are out to change the world," he said with a laugh.
"I'm also passionate about sustainable access to healthcare, and for this to happen, technology must play a role. That explains my interest in healthtech and medtech start-ups."
When the 48-year-old is out of the office, he can be found with his wife and son, 19. "The advice I would give my son is: always be humble, work hard, and be willing to try new things - because life is a journey," Ng said.
"The more I learn, the more I realise there are so many things I do not know. Humility is an important virtue if we want to continue to grow and become better versions of ourselves over time."

Meta Health Ltd
Meta Health (META), formerly known as Metal Component Engineering Ltd, was founded in 1987 in Singapore. With consistent focus on quality and engineering innovation, META has expanded its customer base by serving multinational corporations, electronic manufacturing services companies, as well as small and medium enterprises globally. It recently diversified into healthcare technology and services with an investment in Gainhealth Pte Ltd, a direct-to-consumer and high-growth omnichannel health and wellness platform. META is vertically integrated with licensed clinics that have pharmacy and online self-branded e-commerce portals, as well as product placements on regional e-commerce portals.
The company website is: metahealth.sg

Click here for the company's StockFacts page.

For the half year ended 30 June 2022 financial results, click here.
About kopi-C: the Company brew
Text: Jennifer Tan-Stanisic
Photo: Company file
kopi-C is a regular column on the SGX Research website that features C-level executives of leading companies listed on Singapore Exchange. These interviews are profiles of senior management aimed at helping investors better understand the individuals who run these corporations.

For previous editions of kopi-C: the Company brew, please click here.