One of the more unforgettable moments in Yusaku Mishima's life took place nearly two decades ago, when he first heard the tenet - "with freedom, comes responsibility" - from his high school headmaster.
He did not fully grasp its meaning then, but over the ensuing years, this principle became an indelible part of his life.
"Traversing life's encounters, I've made many decisions – freedom - that I've taken responsibility for, and realised the impact of those decisions," recalled the Executive Director of SGX-listed mechanical and electrical (M&E) engineering and blockchain technology services provider OIO Holdings Ltd.
One example was a change of career choices. Growing up in Japan and studying in a local high school, Mishima initially had ambitions to pursue a medical degree. However, after attending an international school in Italy, he embarked on a different path.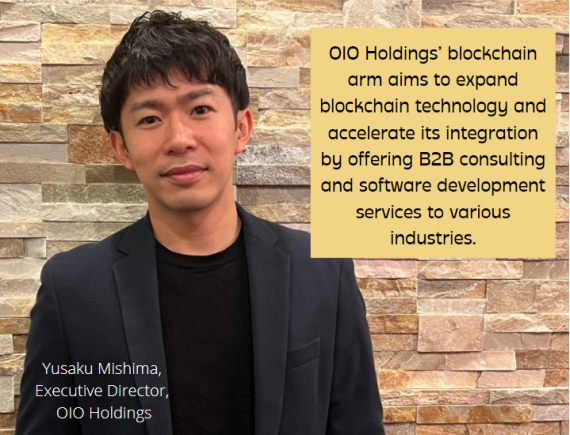 "I've often wondered what would have happened if I had not gone overseas but stayed in Japan. It's likely I would have ended up as a doctor, and would be living a completely different life," laughed the 34-year-old, who graduated from Canada's McGill University with a Bachelor of Science in Biochemistry and a minor in Economics.
"My life now is challenging but fun. I've no regrets about the decision I made - that freedom (choice) came with responsibility (results)."
This tenet also happens to be one of the foundations of his management philosophy at OIO. "My leadership style involves empowering every team member to have his or her own freedom and responsibility," Mishima said.
"The goal of our organisation is to create more freedom within its structure, so as to allow each employee to make decisions that align with the organisation's overall vision."
Listed on SGX Catalist, OIO - formerly known as DLF Holdings - provides blockchain agency and consulting services, staking services, M&E engineering services, as well as project management services.
The Group expanded its blockchain technology services by completing its acquisition of Moonstake Ltd and Moonstake Pte Ltd - Asia's second-largest staking business - on 31 May 2021. Moonstake provides staking-related wallet services for digital assets to retail customers, as well as research and software development services related to blockchain-based finance, including staking to enterprise customers.
Staking involves committing crypto assets to support the running of a blockchain network and maintaining its security. It allows crypto holders to earn passive income from their digital assets.
Staking utilises Proof-of-Stake (PoS) as a validation mechanism, by rewarding token holders who have staked their tokens. A staking pool aggregates digital assets from multiple token holders to increase their likelihood of receiving blockchain validation rewards under the PoS system, which is a more energy-efficient alternative to the original Proof-of-Work model.
"Our core business in the past was M&E, and it was a cost-intensive model. We've since restructured the company to make it asset-light by establishing our blockchain business, which is commission-based. This has led to the improvement of our financial figures from FY2020 to FY2021," said Mishima.
"Our goal of introducing blockchain services was to restructure the company's financial position. I'm happy to say we've been successful so far."
Digital Assets Gain Ground
Looking ahead, Mishima expects Moonstake and the Group's focus on blockchain asset management consulting services to generate growth.
"Since its acquisition, Moonstake has continued to demonstrate strong growth potential, which OIO seeks to build on," he noted. "Riding on increased usage of digital assets in Asia, which could potentially overtake traditional investment assets, Moonstake is poised to help OIO to capture this growing market."
As of April 2022, the staking industry has grown to a US$280 billion market, Coindesk data showed. As at end-March 2022, Moonstake's staked asset pool was valued at nearly US$700 million.
Moonstake has continued to expand its partnerships with cryptocurrency and blockchain players to improve the security and functionality of its platform. The platform currently supports over 2,000 cryptocurrencies, and Moonstake aims to add at least three new cryptocurrency projects every quarter, Mishima added.
Beyond staking, the platform has also been building up its capabilities in the wider blockchain and decentralised finance (DeFi) industry. The formation of the Moonstake Gaming Guild (MSGG) marks its first foray into Gaming and Decentralised Finance (GameFi). The GameFi industry, which allows users to earn in-game currency and tokens through games that can be traded on crypto asset exchanges and marketplaces, has been gaining popularity in Southeast Asia.
The Group's second growth driver is blockchain asset management consulting services offered by its subsidiary, OIO Singapore, which focuses on how to safely hold and create yield on the blockchain.
"Many family offices and institutional investors are interested in investing in cryptocurrencies, but do not know the basics behind it and how to generate yield," Mishima noted.
"Since we have domain knowledge and expertise, we offer this as a consulting service, from setting up multi-signature wallets, creating and adopting internal policies for cryptocurrencies investments, and finding yield generation products from the market aligned with risk appetites of our customers. We provide this service in a decentralised non-custodial manner, which means the wallet remains with the customer."
Credibility and Accountability
However, industry growth prospects remain clouded by the inherently volatile nature of cryptocurrencies. Digital asset prices have slumped over the past few months, as fears of rising interest rates and accelerating inflation spurred investors to offload riskier investments.
The total crypto market value was holding at around US$1.3 trillion as of 6 June 2022, well below its all-time peak of US$2.9 trillion in November 2021, according to CoinMarketCap data.
"This is one of our biggest challenges," Mishima admitted. "Our main revenue generator is Moonstake's blockchain validator business, and that revenue is in cryptocurrency. Therefore, the volatility directly impacts our Group revenue."
Other headwinds include competition in the industry, which could crimp commissions over time, he noted.
"For now, Moonstake is profit-generating, and its number of users is rising, but in future, it's likely that competition for commissions will increase. This is why we're creating new revenue streams such as guild management. Diversification of revenue will be a key element to ensure the success of OIO."
Yet another worry for Mishima is the prevailing perception of blockchain and cryptocurrencies by the general public. "Through its public-listed status, OIO aims to bring credibility and accountability into this industry where fraud exists as a result of unethical practices by scammers and the like. Because of such people, the blockchain industry will continue to have a relatively dark image," he said.
"Blockchain investors so far are mostly early adopters, big risk-takers, or those who are unaware of the risks but aim for extremely high returns. Many blockchain projects focus on these types of investors and therefore, such projects are unsustainable. This negative spiral needs to be stopped."
Fortunately, some positive signs in the industry have emerged - more institutional investors and family offices are starting to enter the industry.
"Such investors are more grounded, and have thought through their investment strategies, unlike the risk-takers. There will be more products that will focus on these investors, and eventually, the industry itself will mature and stabilise," he noted.
According to Fortune Business Insights, the global cryptocurrency market is projected to reach US$1.9 trillion in 2028, expanding at a compound annual growth rate (CAGR) of 11.1% between 2021 and 2028.
"OIO wants to contribute to the sustainability of the blockchain industry. For this to happen, investor education needs to be improved. We believe the services we offer would support this," he added.
For Mishima, his personal ethos is simple: When others are happy, he is happy.
"Contributing to someone's happiness is what I consider most valuable," he said. "To my team members, I want them to improve their skills to be able to make better decisions - that's freedom - and take on responsibility at the same time. I believe this would lead to their happiness."
"For our users, I would like them to benefit from the services we provide and be happy. In order to achieve this, OIO's aim is to provide unbiased and fair information for users to make their own decisions. My hope is that everyone becomes responsible for themselves, and finds a path to make themselves and others happy."
OIO Holdings Ltd
OIO is a Singapore-based holding company whose core business units are blockchain technology services and mechanical and engineering (M&E) services. The group's blockchain arm aims to expand blockchain technology and accelerate its integration by offering B2B consulting and software development services to various industries. Following the acquisition of Moonstake Pte Ltd in May 2021, OIO Holdings has extended its business beyond the corporate level by providing digital wallets and staking services. Apart from blockchain-related businesses, the Group has extensive expertise as an M&E engineering service and solution provider, and has built up a strong network with well-established customers in Singapore.
The company website is: oio.holdings
Click here for the company's StockFacts page.

For the first quarter ended 31 March 2022 financial results, click here.
About kopi-C: the Company brew
Text: Jennifer Tan-Stanisic
Photo: Company file

This article was first published in kopi-C, a regular column on the SGX Research website that features C-level executives of leading companies listed on Singapore Exchange. These interviews are profiles of senior management aimed at helping investors better understand the individuals who run these corporations.

For previous editions of kopi-C: the Company brew, please click here.