For many investors, blockchain and its myriad related concepts are as alien as can be.

But they are showing up occasionally in media headlines and stories, which is to say these topics are seeping into our lives in one way or another.

Few investors are aware that a blockchain solutions provider has made its way onto the Singapore Exchange.

We can start the story around a year ago, in June 2020, when a not-so-well-known listed company called DLF Holdings sought and won shareholder approval at an EGM to diversify into blockchain-related businesses. (The EGM Powerpoint slides are here)

DLF was in the mechanical & electrical (M&E) business, and was floundering.

With the business diversification approved, the corporate name changed to OIO Holdings.

Preceding the EGM, a new controlling shareholder (64% as of June 2020) emerged -- QRC Pte Ltd.

In 2019, QRC had bought large stakes directly from 2 substantial shareholders, following which it made a mandatory takeover offer and raised its stake to 64%.

QRC has blockchain expertise and offered, through its strategic alliances, (a) sales agency services to blockchain companies; (b) software development outsource agency services to blockchain companies; (c) consultancy services; and (d) commercialisation of blockchain-related products.
1. Staking Rewards, https://www.stakingrewards.com/providers


For an understanding of the blockchain industry and its increasing relevance even to the ordinary person, read DLF's June 2020 EGM circular's "Potential in the New Business" section:


"With the rapid advances in blockchain technology and a shift towards corporations adopting and utilising blockchain in businesses, world expenditure related to blockchain has been increasing at a fast pace. According to MarketsandMarkets Research Private Ltd, the size of the global blockchain market is expected to reach US$23 billion by 2023.

"Singapore is increasingly becoming a popular market for blockchain-related products and services. As at 16 April 2020, there are 398 blockchain start-ups in Singapore. The Monetary Authority of Singapore, Singapore's central bank and integrated financial regulator, has also initiated Project Ubin, a collaborative project with the industry to explore the use of blockchain and distributed ledger technology for clearing and settlement of payments and securities.

"A pilot trial was also initiated by the SGX-ST to explore the use of distributed ledger technology for the issuance and servicing of fixed income securities in Asia. The Group believes that Singapore will be a blockchain hub in the Asia Pacific region, given its key attractiveness for global businesses and the support for blockchain by the governmental agencies. A healthy demand in Singapore is expected with the increased use of blockchain technology in businesses. Accordingly, the Group is optimistic about the demand of blockchain-related products and services in Singapore. The Proposed Diversification would allow the Group to participate in the growth prospects of the blockchain industry."

While the legacy M&E business continues, OIO's blockchain business has taken a jump with its acquisition of 100% of Moonstake on 31 May 2021.

The consideration was satisfied by issuing new ordinary shares of the Company valued at S$7.182 million at 17.8 cents a share.

Moonstake was founded in 2020 with the goal of becoming Asia's largest staking pool.

As of 31 May 2021, Moonstake is Asia's second-largest staking business1, with more than US$900 million in staked assets.


1
Staking
is the process of actively participating in transaction validation (similar to mining) on a proof-of-stake (PoS)
blockchain
. On these blockchains, anyone with a minimum-required balance of a specific
cryptocurrency
can validate transactions and earn
Staking
rewards.
Perfect acquisition
"Moonstake is the perfect acquisition for OIO. Crypto investors are clamouring for a single platform to provide crypto-asset investment opportunities such as staking. The commission-based model provides us with good visibility of earnings, being added to our current Blockchain Business."
-- Rudy Lim,
CEO of OIO Singapore Pte Ltd,
OIO's blockchain business subsidiary.
OIO will recognize the approximately 0.3%-0.5% commission that Moonstake is charging its users for their staked assets after the completion of this acquisition.

By leveraging its experience and network in the blockchain space, OIO intends to grow Moonstake's user base and its staked assets, as well as increase valuable services and features for users to access through a single platform.

This is expected to result in recurring revenue for the Group.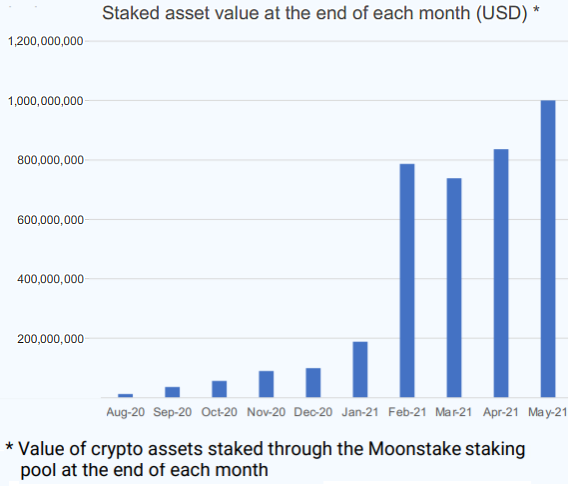 Stock price

8 c

52-week range

8 – 20 c

PE

--

Market cap

S$14.7 m

30 Day Avg Volume

23,833

Shares outstanding

179.4 m

Dividend
yield

--

1-year return

--

Source: Bloomberg
OIO also foresees Moonstake enhancing its position in the growing blockchain finance space and synergizing with existing consulting services with blockchain finance through this acquisition.

The popularity of staking is increasing as major coins are starting to shift away from the traditional method of Proof-of-Work (POW) through mining to Proof-of-Stake (POS) technology.


• Proof of work is used widely in cryptocurrency mining, for validating transactions and mining new tokens.
•

Due to proof of work, Bitcoin and other cryptocurrency transactions can be processed peer-to-peer in a secure manner without the need for a trusted third party.
•

Proof of work at scale requires huge amounts of energy, which only increases as more miners join the network.
•

Proof of Stake (POS) was one of several novel consensus mechanisms created as an alternative to proof of work.

POS produces and validates new blocks through the process of staking, allowing new blocks to be produced without relying on specialised mining hardware.

In comparison to POW, POS is energy-efficient and is expected to improve issues such as power consumption and computational power costs.


Cryptocurrency holders who lock their coins may also get a certain return by participating in staking.

This marks a major milestone for OIO in the expansion of its blockchain business, with the addition of staking as a new business model.

Backed by Infinity Blockchain Group, which has more than 40 blockchain specialist engineers, OIO is confident that will set itself apart as an established provider of blockchain technology and a leading developer.

For more, see OIO's corporate update here.