Excerpts from CGS-CIMB report

Analyst: Ong Khang Chuen, CFA

UG Healthcare Corp Ltd

OBM model bears fruit
■ 3QFY6/22 results in line with expectations. Net profit was flattish qoq as volume recovery offset weakness in ASPs.


UG Healthcare

Share price:
22 c

Target:
42 c
■ We believe that UGHC's OBM model enables it to fare better than OEM peers, which currently face pricing pressure.

■ Instead of competing on price, UGHC is focused on producing higher margin niche products while outsourcing generic nitrile gloves. Reiterate Add.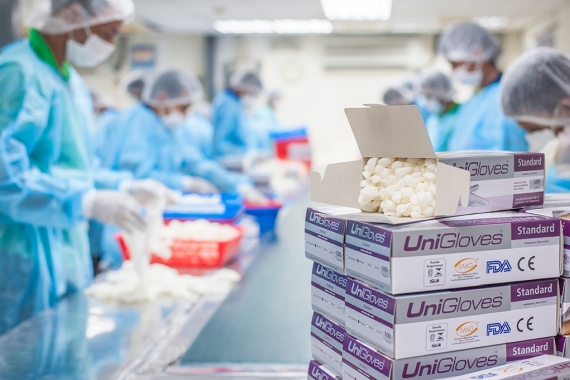 3QFY6/22: Stable profitability despite industry ASP declines
UGHC reported 3QFY6/22 net profit of S$10.7m (+0.3% qoq, -69% yoy), in line with our expectations, with 9M22 net profit making up 75% of our FY22 forecast. While ASPs continued to trend downwards, revenue rose 12% qoq in 3Q22 helped by higher sales volume of c.15% qoq during the quarter.

This was mainly due to recovery of its manufacturing operations to optimal utilisation level (previously impacted by Covidrelated shutdown and lower mandated workforce capacity).

Gross margins compressed on a qoq basis due to lower ASPs, leading to flattish net profit on a sequential basis.

OBM model bears fruit

"For the past three consecutive quarters, UGHC has achieved stable net profit of c.S$10m while peers' have been showing sequential declines."
Thanks to its OBM business model, UGHC has been able to navigate challenges in the glove manufacturing industry, where ASPs have been on a decline for the past year due to intensified competition resulting from higher industry supply.

For the past three consecutive quarters, UGHC has achieved stable net profit of c.S$10m while peers' have been showing sequential declines.

Instead of competing directly on pricing, UGHC has been focusing on production of gloves with higher margins (i.e. niche/premium nitrile gloves, latex gloves), while outsourcing generic nitrile glove products (which is seeing stronger price competition) from other manufacturers.

Management notes that with FOB pricing falling to c.US$22-23 per carton, distribution margins are still stronger than prepandemic levels.

Commissioning of 1.2bn capacity to start in 4QFY22
UGHC's new capacity will be commissioned gradually from May 22 onwards. However, labour shortage may be a constraint on the pace of production ramp, hence we cut our FY22F EPS forecast by 7.1% on lower volume assumption.

Nevertheless, we continue to believe that with a significantly expanded production scale and strengthened customer base in end-markets, UGHC can achieve much stronger financial performance compared to pre-Covid levels even as glove pricing fully normalises in the upcoming quarters.


Reiterate Add
Our TP of S$0.42 is based on 11.2x CY23F P/E (30% discount to the glove sector's historical mean).

Current valuation is undemanding at 2.6x ex-cash CY23F P/E – net cash of S$76.7m (at end-Mar 22) represents 56% of its market cap.

Stronger-than-expected demand for gloves is a potential re-rating catalyst.

A key downside risk is steeper decline in glove pricing.

Full report here