Some Food Empire shareholders are, understandably, concerned about the impact of Russia's invasion of Ukraine on Food Empire's business in Ukraine and Russia. Food Empire yesterday answered shareholder questions submitted ahead of its AGM. We excerpt two of them below, along with the company's responses:



Q: Impact of Ukraine war on this year profit? What actions have been taken to prevent business loss? Share buyback plan. Future business plans.

A: While the ongoing conflict is expected to have a negative impact on the affected markets for FY2022, the Group's other markets and businesses are relatively unaffected by the fallout and remain resilient.

Over the past decade, the Group has built up economic resilience by geographically diversifying our markets and businesses, which puts us in a good foothold to weather the current storm.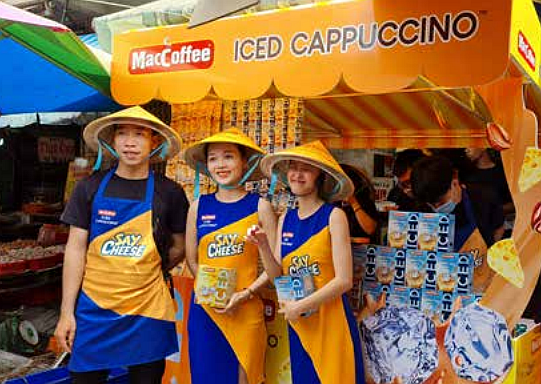 Vietnam market has grown significantly in recent years for Food Empire.
Photo: CompanyOutside of Russia and Ukraine, Vietnam continues to show growth and is expected to act as a counterweight to events in Russia and Ukraine. The Group will also continue to invest in its Non-Dairy creamer and snacks businesses and expand its footprint regionally.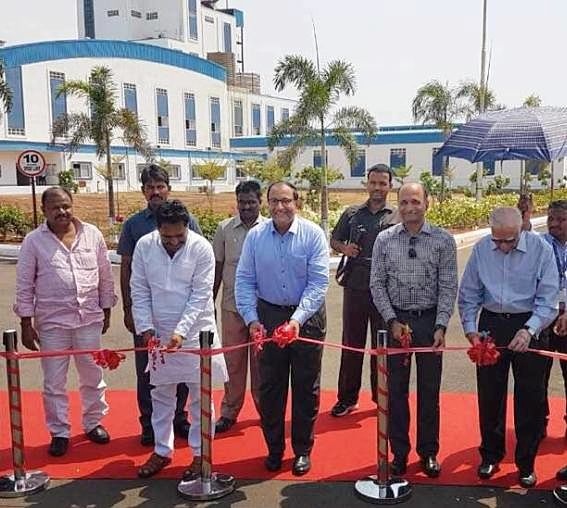 Food Empire has diversified the location of its production facilities such as this instant coffee plant in Andhra Pradesh, India. At its official opening in 2017: Mr S. Iswaran, Singapore Minister for Trade and Industry (centre) with Food Empire CEO Sudeep Nair. Photo: IE Singapore.

As explained previously, the Group has put in place various plans to mitigate the fallout of the Russia-Ukraine crisis. Overall, the Group expects profits from operations in its affected markets to decrease in FY22 compared to FY21.

The decline will depend, amongst other factors, how long the conflict lasts, potential impairment to productive assets and the impact of existing and/or new economic sanctions imposed on Russia, which may increase business costs and the value of its currency.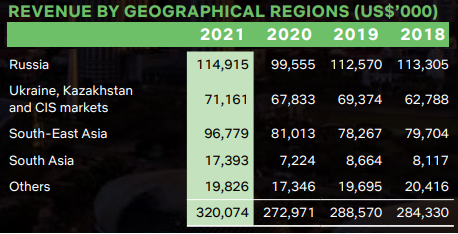 Vietnam accounted for 19.5% of total revenue in FY2021 or approximately US$62.4 million. Its revenue is categorised under South-East Asia.
However the mitigating actions and higher contributions from some markets might also offset the loss of income from affected markets.


Stock price

53.5 c

52-week range

42 – 97.5 c

Market cap

S$287 m

PE

10.9x

Dividend yield*

4.1%

1-year return

-42%

Shares outstanding

537 m

* FY21 final dividend 1.62 cents + special dividend 0.58 cents

Source: Yahoo!
While conditions will remain challenging due to the conflict, the Group remains cautiously optimistic and is confident in managing the crisis due to our past experience.

In view of the situation in our key markets, the Group is taking a prudent stance and has temporarily halted share buyback. We will review our plans when situation becomes clearer and operating conditions are more stable.


Q: Does the relocation of factories into other countries ameliorate problems? Any going concern on Food Empire in the long-run?

A: Relocation of factories is a major decision with strategic implications and complex commercial ramifications. The Group's decision to localise production has enabled us to shorten the supply chain and develop deep understanding of our core markets.

It was one of the key factors that has helped the Group to overcome many past crises. Nonetheless, the Group is monitoring the situation closely and we will make appropriate changes to our business model if necessary.

The Group does not foresee any going concern issues arising from the conflict.

For the full Q&A posted on the SGX website, click here.