Geo Energy's stock price yesterday (13 Apr) touched 57 cents, a level never reached for the most part of its nearly 10-year listing history on the Singapore Exchange.



What's driving the stock?

Its profit in 2021 was massive (US$179 million, or S$244 million) and 2022 looks even brighter, going by the coal index, ICI4, which is relevant to the grade of coal that Geo Energy produces. (more on this below)

To get a good sense of the 2022 outlook of this Indonesian-based miner, we turn to its 2021 annual report which has just been released.

The content-rich publication gives detailed figures and commentary on its performance.

From page 25, we take 2 parameters -- ICI4 index and Geo Energy's profit figures -- and plot them as follows: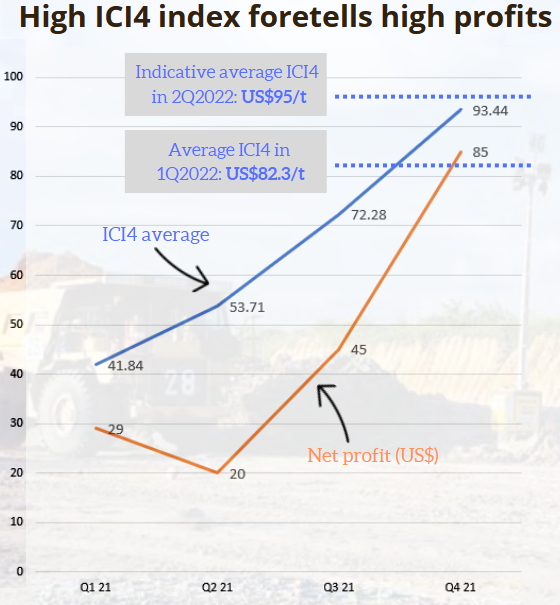 Key points:

1. The quarterly net profit of Geo Energy correlates with the quarterly ICI4 average. Nothing surprising there, but there was an anomaly in Q2 2021.

Net profit was lower than in Q1 2021 despite a rise in ICI4. Reason: The volume of coal produced and sold fell by 17% q-o-q (see table below).





2. What 1Q2022 profit looks like: The average ICI4 index in 1Q this year was US$82.3 / tonne, according to Geo Energy's AR.

What this suggests is that, based on the above chart, Geo Energy's 1Q2022 net profit could be roughly US$80 million.

In reality, the figure is likely to be lower because in that quarter, Geo Energy sold 51% of its coal to the Indonesian domestic market, instead of the 25% level it is obligated on an annual basis.

Geo Energy did so because of a shortage of coal being sold domestically for power genereation, which triggered a power crisis and led to a temporary export ban on all miners by the Indonesian government.

Geo Energy is likely to report its 1Q 2022 results in mid-May, if it keeps to the same date as for its 1Q2021 release.

3. What 2Q2022 profit looks like: ICI4 futures are currently hovering around US$95 / tonne, according to cmegroup.com.

Futures can, and do, fluctuate from day to day, week to week.

If US$95/t turns out to be the average for 2Q 2022, the profitability of Geo Energy could be US$100 million -- assuming there's no surprise fall in its coal production/sales.

That would be a phenomenal result, aggregating the 1H2022 profit to more than S$200 million.

Compare that with its market cap of S$800 million.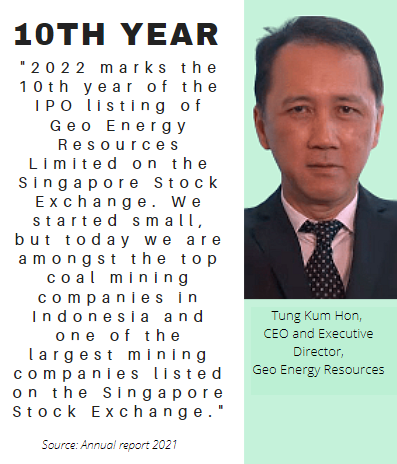 And, given its policy of at least a 30% payout, the dividends would come in at, say, at least 4 cents/share in 1H2022 alone (ie, 30% of S$200 million divided by 1.4 billion outstanding shares).

(note: For 2021, Geo Energy's dividends totalled 9 cents, or a whopping 52% payout ratio).

To be clear, these are speculative numbers but they are within range of Geo Energy's own forecasts.

In its annual report, it says it expects 1H2022 EBITDA of "close to US$200 million (1H2021: US$77.5 million) and targets a coal production of 5-6 million tonnes."