The last 12 months have been a bullish period for stocks in many markets, and here we identify some Singapore-listed ones that have done very well.

We obtained a list using two criteria.

In additon to the usual comparison of how stock prices have done over the past 52 weeks, we added an extra filter to trim the list down to those which also have done well in the past 26 weeks.

This sets us up to identify stocks whose current elevated prices:

• have an uptrend that was maintained over the year, and/or

• have demonstrated recent momentum.
The best performer was Azeus Systems, a low-profile provider of IT products and services which was listed on the Main Board of the SGX-ST in October 2004.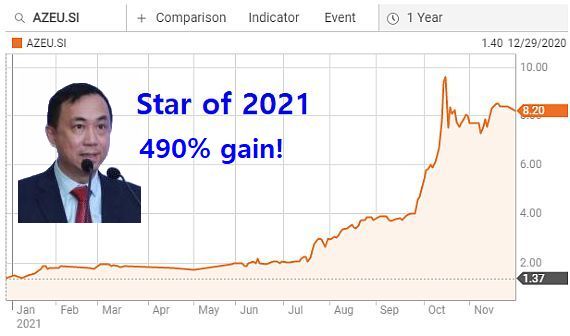 Inset: Lee Wan Lik, Founder and MD of Azeus. Chart: Reuters

Azeus has offices in Hong Kong, Singapore, the United Kingdom, the Philippines, and China.

Its long-established forte was as one of the first companies in Hong Kong to be appraised at the highest level (Level 5) of the CMMI-SW model in November 2003, placing the Group among the top 10% CMMI appraised companies in the world.

Azeus has a solid track record of completing over 100 IT services projects for more than 40 Government departments, as well as over 20 projects for the private sector in Hong Kong.

Venturing into software as a service, the Group introduced what became its highly successful flagship product, Azeus Convene. This is a paperless meeting solution used by directors and executives in various industries, across more than 100 countries.

To ensure data security, Azeus Convene is equipped with advanced security features and end-to-end encryption. The Group has also introduced a virtual AGM solution, AGM@Convene, in response to the shifting trend towards eAGMs as a result of the COVID-19 restrictions.

This solution was used by more than 50 listed companies in Singapore. It allows live Q&A interaction and realtime voting, etc, which boosted Azeus' profit and dividend growth, hence the share price soared.

The best is yet to come as Convene sales continue to grow, which may be aided by the issue of new tenders by the HK government.


OK, if you missed out on Azeus, hopefully you have at least one of the following winners in your portfolio:


Stock

Mkt Cap ($M)

P/E

Yield (%)

26-wk %Pr. Chg.

52-wk %Pr. Chg.

AEM

1585.7

19.9

1.3

34.3

50.6

Aoxin Q & M

124.7

53.1

36.1

Azeus

246

46.6

0.8

300

489.9

Broadway Ind

96.7

6.3

2.4

47.5

28.9

Cortina

687.2

13.6

0.5

51.2

101.9

DISA

60.6

200

500

Excelpoint

147.5

5.3

2.4

43

161.8

Geo Energy Res

475.5

4.5

12.5

42.6

93.6

Global Testing

21.7

7.2

105

92.2

Grand Venture

383.7

26.7

28.2

286.7

Heeton

143.9

43.4

1

40.5

49.8

HG Metal

49

6.3

1.3

27.1

107.2

Hwa Hong

235.3

35.4

2.8

33.3

33.3

Intraco

48.8

70.9

113.6

JEP

115.9

33.3

45.1

KTL Global

43.8

56.8

427.3

Metech Intl

55.2

335.3

356.8

OKH Global

27.1

7.5

26.3

71.4

RE&S Hldg

72.6

7.7

6.6

28.1

105

Rex Intl

355.2

8.4

46

84.9

Samudera Shipping

293.8

5.8

2.3

43.4

134.1

Shenshan

20

33

177.8

SingHaiyi

491.4

127.5

63.4

58.9

Sinjia Land

22.7

391.7

436.4

The Hour Glass

1410

12.2

3

37

151.6

Uni-Asia Grp

92

20.6

2.1

36.1

91.8

Source: SGX, 24 Dec 2021