Geo Energy Resources currently has a market capitalisation of S$454 million based on yesterday's closing stock price of 32 cents.

Its CEO, Tung Kum Hon, said the stock is undervalued in the light of the latest valuation of Geo Energy's two coal assets and its business performance to-date.

Geo Energy, which is an Indonesian coal mining group listed on the Singapore Exchange, has a policy of paying at least 30% of its earnings as dividends.


| | | | |
| --- | --- | --- | --- |
| Dividends | 1Q2021 | 2Q2021 | 3Q2021 |
| S$'m | 7 | 7 | 42 |
| cents/share | 0.5 | 0.5 | 3 |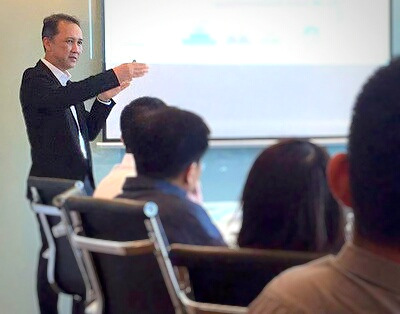 CEO Tung Kum Hon. NextInsight file photoAn Independent Qualified Person's Report (IQPR) was issued by independent JORC Consultant, SMG Consultants, on 3 December 2021.

It states that as at 31 August 2021, the Group's operating coal assets – SDJ and TBR -- have combined coal resources of 101 million tonnes.

Combined proved and probable coal reserves totaled 77.3 million tonnes.

In accordance with the VALMIN code, the IQPR also reported an estimated combined valuation of US$726 million for SDJ and TBR.

That's S$991 million or more than double Geo Energy's market cap.



Geo Energy achieved sales volume of over 2.3 million tonnes and a revenue of around US$200 million in October and November 2021.

The Group targets a sales volume of 1 - 1.2 million tonnes for December 2021.

"Riding on the strong coal prices and targeting total sales of up to 3.5 million tonnes for 4Q2021, we are expecting our highest quarterly performance ever," said Mr Tung.


Period

Average ICI* price

October 2021

US$132.64 / t

November 2021

US$79.34 / t

9M2021 average

US$55.95 / t

*Indonesian Coal Index price for 4,200 GAR coal

"Price are still expected to remain high for the rest of 2021 and into 2022 based on the futures market."


• Coal prices decreased to US$70.58 per tonne as at 6 December 2021 from a high of US$154.61 per tonne as at 22 October 2021 following China's market intervention policies. The extreme cold this winter has driven demand and depleted supplies despite rising domestic coal production.

• 4,200 GAR coal was trading at around US$70.00-US$75.00 per tonne FOB for December loading geared vessels, and around US$68.00 per tonne FOB for January.