AEM Holdings has secured a new customer in the memory integrated device space.

A global leader in test and handling solutions, AEM briefly announced today that it was selected to be the System Level Test (SLT) Solution supplier for "one of the industry's leading memory integrated device manufacturers."


So-called "Integrated Device Manufacturers" are those that produce the m

ajority of their products in factories that they own and operate themselves.

The new client's identity is confidential.

This adds to the ultra-short (but hugely impressive) client list of AEM, the best known and biggest by far being Intel Corp.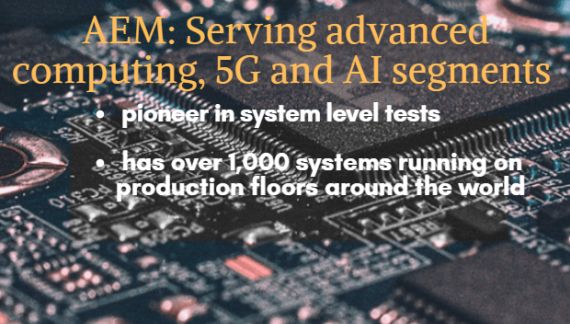 Stock price

S$4.01

52-week range

$3.23 – S$4.72

Market cap

S$1.1 b

PE

15.7x

Dividend yield

1.3%

1-year return

-2%

Shares outstanding

282 m

Price/NAV

4.6

Source: Yahoo!
AEM reiterated that a key differentiator that sets its AMPS SLT+ solution apart is its "full-stack solution that ranges from high-speed device handling, seamless integration of test content, advanced thermal control, intelligent data tracking, and factory 4.0 automation readiness."

The solution is also highly configurable to be application-specific to meet each customer's evolving needs.

Being selected by the unnamed customer "reaffirms AEM's clear industry leadership providing the most flexible and cost competitive test solution across the broad semiconductor market."

AEM has over 1,000 massively parallel SLT systems running on production floors worldwide.


"The momentum is clear. More companies are building complex chips, and multimode chips in a single package. And more of these companies are quickly realizing that the only way to ensure safety, reliability, and repeatability is by using System Level Test (SLT). As pioneers in high parallel test platforms, we have a tremendous lead in deployment experience coupled with our disruptive technologies."

--

Chandran Nair, CEO of AEM