Rates for dry bulk shipping of cargo such as iron ore, coal and grains have been rising since 4Q2021. Uni-Asia Group, listed on the Singapore Exchange, has a fleet of 18 dry bulk ships and is expected to report sterling 1H2021 profit. Meanwhile, its peer in Thailand, Precious Shipping, gets glowing ratings from DBS Research below: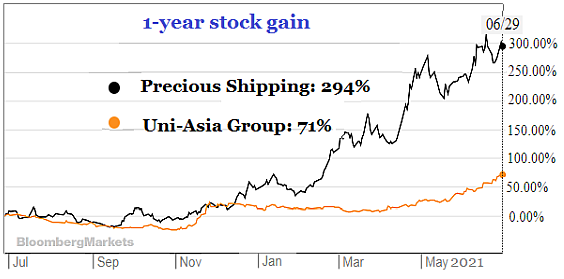 In 1 year, Precious Shipping share price: from 5.25 baht to 20.70 baht.
Uni-Asia: from 53 cents to 91 cents.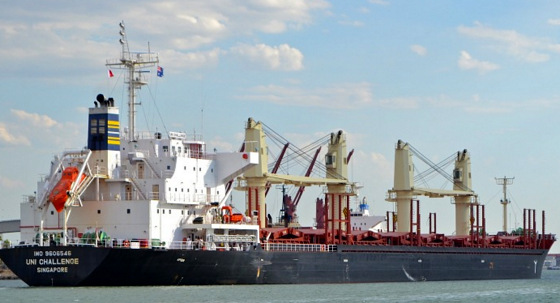 Excerpts from DBS Research report


Profile
Precious Shipping (PSL) is a pure dry cargo ship-owning company that operates in the geared sector with a fleet size that ranges from 10,000-69,000 DWT for the tramp freight market globally. The geared sector can be broken down into Handysize sector and Supramax/Ultramax sector. The Handysize sector includes vessels that can carry 10,000-39,999 DWT while the Supramax/Ultramax sector includes ship sizes of 40,000-69,999 DWT. Currently, the company has a total of 36 owned vessels under its operations.


PRECIOUS SHIPPING

Baht 'm

2020

2021f

2022f

Revenue

3,730

6,581

7,262

Net Profit

(590)

2,566

3,325

Profit Gth (%)

(163.9)

nm

29.6

PE (X)

nm

12.5

9.6

Div Yield (%)

0

0

5.2

P/BV (X)

3.2

2.5

2.0
FY end December. Net profit 2,566 m baht = SGD 108 million.
Source: DBS Group Research


Our Views
Freight rates at 11-year high… The Baltic Exchange Dry Index (BDI) remained at its 11-year high. Similarly, the Baltic Exchange Handysize Index (BHSI) also has reached an 11-year high. We expect Precious Shipping's (PSL) time charter (TC) rate to surge 97% y-o-y to US$16,409/day/ship in FY21F from US$8,332 in FY20 and increase further by 9% y-o-y to US$17,816 in FY22F, on the back of the strong jump in demand but limited new supply.

…as global dry bulk demand growth far outstrips fleet supply growth. We expect FY21F to be the new upcycle year for the shipping industry, supported by demand growth for dry bulk trade that is expected to surpass fleet supply growth. According to Clarksons, demand for dry bulk shipping (in billion tonnes-miles) is expected to rise by 3.37% y-o-y in FY21F, while net fleet supply is expected to expand at a lower rate of 2.6% y-o-y.

Turnaround story with upside potential. We believe that PSL's FY21F net profit will rebound to Bt2.6bn. Meanwhile, we see upside potential as we expect its freight rate to remain high in 2H21F and trump that of 1H21F.
Risks
Decline in trade activities, slowdown in global economy and increased new supply surpassing demand growth are some of the key risks.
Valuation
Our target price (TP) of Bt22.70 is based on 2.2x FY22F book value per share (BVPS).

Full report here.
See also: UNI-ASIA: In the midst of V-shaped recovery