Metal Component Engineering's (MCE) metal stamping business has not had it easy in the past 5 years, as this table shows.



Looking back, several events point to Singapore-listed MCE seeking a new lease of life.

• In Jan 2020, it signed an agreement to dispose of its 100% interest in MCE Industries in Shanghai for RMB75.5 million (S$14.8 million) to a Chinese third party.

It said the sale would allow the Group to "reduce its gearing, have more working capital to fund its operations and/or undertake new investment opportunities that may arise in the future."

MCE said it was in search of "a strategic diversification strategy towards improving its financial performance and position over a longer term."


• Then in April 2021, while MCE had adequate working capital, it did a small placement of new shares, raising gross proceeds of S$800,000, in part to support "new business investments and acquisitions".

Finally, MCE's June 2021 announcement specifically mentioned that it proposed to diversify into the healthcare and e-commerce business.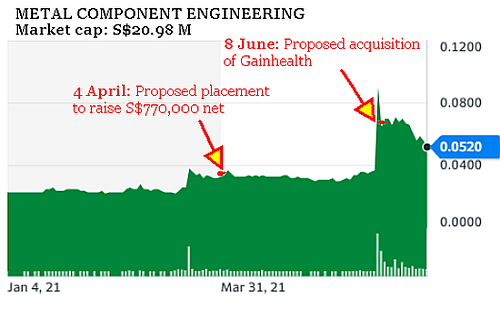 Chart: Yahoo!

Subject to shareholders' approval at an EGM on 8 July 2021, MCE would acquire 85.07% of Gainhealth Pte Ltd for S$4,250,000, payable in cash and new shares.

It would award a performance bonus of up to S$5,100,000 to the vendors, subject to the fulfilment of certain performance conditions.

Gainhealth has a single licensed general practitioner clinic in Blk 531 Ang Mo Kio Ave 10 -- which is approved for community health assist scheme subsidies for online telemedicine and in-clinic care.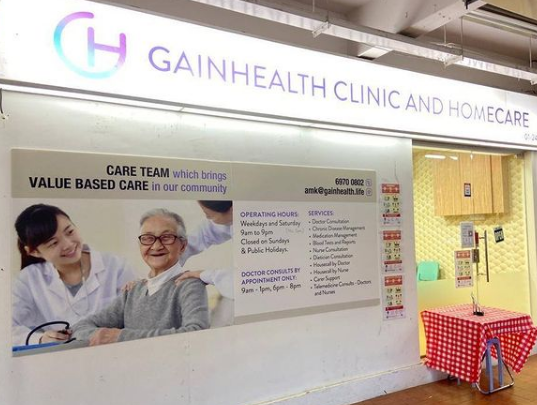 MCE's June 2021 announcement summarised the target's business:

(1) healthcare business -- including the business of developing, training, distributing (via retail, direct selling, network marketing or e-commerce) healthcare products and/or services and including but not limited to

(a) general health and wellness;
(b) homecare nursing and carer support;
(c) supply of medication for chronic diseases;
(d) direct to home and consumer personalised care; and
(e) training on home based medical procedures; and

(2) e-commerce business -- including online self-branded e-commerce portals and growth stage digital ecosystem platform and including but not limited to

(a) operating of technology and digital payment applications that enable digital and mobile payments;
(b) identify and invest in or build (whether through expertise in the Group and/or suitably qualified external personnel) proven business models relating to e-commerce or the internet of things and seek to scale them into market leading online companies.


Of particular note -- perhaps because of the large business potential -- is the announcement's reference to the business of e-pharmacy.

"Existing retail pharmacy chains have been slow to progress online and have been plagued with delivery delays and struggle with targeted product placements and worry about competing with their own stores which have high operating costs. Whereas pharmacy on virtual platforms have been successful in Asia. The Proposed Acquisition would enable the Group to explore new business opportunity where there is an increase in demand for pharmacy on virtual platforms in Asia.

"The Proposed Acquisition enables the Company to diversify and expand into the growing digital ecosystem platform in pharmacy to focus on the healthcare industry with increased awareness and volume growth during the pandemic for digital healthcare and e-commerce."
"The principal object of the Target is to operate an integrated online to offline healthcare and wellness ecosystem across the region."

-- Metal Component Engineering Circular for 8 July 2021 EGM
A search of Gainhealth's website shows it marketing a wide range (202) of healthcare products -- ranging from cough syrups to glucosamine tablets to Zyrtec.

The website also enables access to online consultation with doctors who are on the MyDoc platform: https://gainhealth.life/pages/ask-a-doctor

Following the consult, a patient can have prescription drugs delivered to his home, if he so wishes.

e-pharmacies and telemedicine consults are an emerging trend in Singapore, and Gainhealth is a young company -- with a net loss attributable to the Sale Shares of S$99,630 for the period from the date of its incorporation of 26 June 2020 to 30 April 2021.

The EGM circular did not spell out specific growth plans, so it is premature to try to size up the profit potential of Gainhealth.

One can, however, look overseas for the macro picture of the industry which has spawned several successful platforms:


Examples include JD Pharmacy, a core part of JD Health's B2C business, which has become China's largest pharmaceutical retail platform, online or offline in just three years. For more, click here.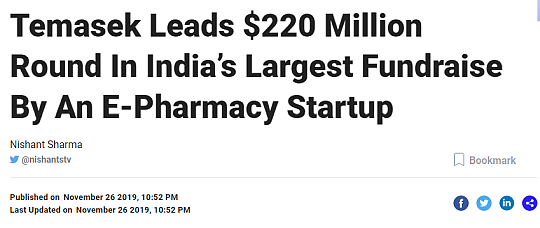 Ever alert to emerging opportunities, Temasek Holdings has gotten a foothold in e-pharmacy startup PharmEasy of India, which raised US$220 million in a 2019 funding round led by Temasek at a valuation of about US$700 million. For more, click here.

In Indonesia, there is
Halodoc, which Temasek has also invested in.

Halodoc runs an e-pharmacy service, where users can order medicine from 4,000 drug stores.

It currently partners with more than 20,000 doctors that are available for consultation via voice and video calls, or chat. Patients can make bookings for appointments at about 2,000 hospitals, labs, and clinics. For more, click here.