The satellite business is, not surprisingly, not on the radar screen of many investors in Singapore.





Global Invacom and Addvalue Technologies come to mind. It's unfamiliar territory, there's no analyst coverage, and there are only a few stocks from this industry listed on the Singapore Exchange.

Global Invacom has a certain longevity on the SGX where it has been listed since 2012 via a reverse takeover.

Its stock price sprang up last week, likely on the back of an article written by IR agency Gem Comm and published on its website.



It considered Global Invacom to be a proxy to increased spending on satellites as demand rises for increased connectivity especially in areas where it's not easily accessible and with the rise of remote working.



Global Invacom is a fully integrated satellite equipment provider with sites across China, Singapore, Indonesia, Philippines, Malaysia, Israel, UK and the US. Its customers include satellite broadcasters such as BSkyB of the UK and Dish Network of the USA and Data over Satellite providers including Hughes Network Systems, Viasat and Gilat Satellite Networks. Global Invacom provides a full range of satellite ground equipment including antennas, LNB receivers, transceivers, fibre distribution equipment, transmitters, switches and video distribution components, as well as manufacturing services in the military and medical industries. The Group is the world's only full‐ service outdoor unit supplier.




-- Tony Taylor, Executive Chairman & CEO
(Annual report 2020)"The Group continues to see increased demand for DOS technology and services, as consumer appetite for constant connectivity grows. With ever-growing data consumption across all geographies, underpinned by increased levels of remote working, service providers will continue to adopt satellite solutions to meet the significant growth in demand."

Let's distil the essence of the Gem Comm article.

Consider first the cash generation ability of Global Invacom and then its apparent profit trajectory.

1. Global Invacom's net cash stood at 3.6 Singapore cents/share whileo its recent stock price was 11 Singapore cents.

2. It has been generating free cash flow over the last 2 years with a yield of 18-27% per annum.

(Free cash flow yield is a solvency ratio that compares the free cash flow per share against its market value per share.)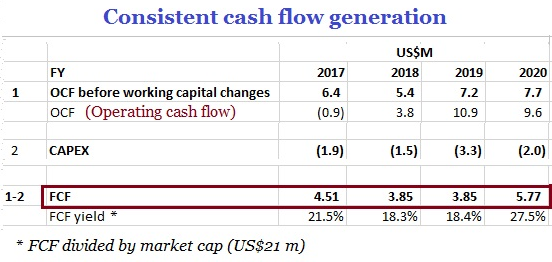 At last year's rate, over another 2 more years, Global Invacom's cash pile will be equal to its market cap!

How? Assume the US$5.8 million FCF achieved in 2020 is repeated over the next two years, and we get a total of US$11.6 milliion (S$15.3 million).

Add that to the end-2020 cash pile of US$11.3 million (S$14.9 million) = S$30.2 million. That's the company's market cap currently at a stock price of 11 cents.

(Note this projected S$30.2 million cash is not net cash, as the company has borrowings (US$3.9 million, or S$5.1 million) as at end-2020.

It remains to be seen if and when Global Invacom will resume paying dividends.

It last paid a dividend (0.525 cent a share) in May 2015 for FY2014.


"The Group's CAPEX has ranged from US$1.5-US$3.3m/year (excluding any M&A), and we believe it will maintain at that level or even lower, following the Group's strategy shift in Asia towards an asset-light model, outsourcing its manufacturing in Asia to a third party vendor."
-- Gem Comm

3. Likely strong earnings rebound in 2021. Reasons:

• Recovery in US. Global Invacom derives nearly 70% of its revenue from the US. While the Group was identified as an essential supplier, the pandemic has affected some of its end customers' planned rollout of communication services and networks.


Stock price

11.1 c

52-wk range

7.0 – 13.4 cts

PE

8.5

Market cap

$30.2 m

52-week change

39%

Shares outstanding

271.7 m

Dividend
yield

--

Float

158.1 m

P/B

0.64

Source: Yahoo!
This, together with component shortages, disrupted design resources and the lack of consistent availability of logistics have resulted in reduced shipments to its customers.

With the US pandemic gradually coming under control with the mass vaccination program, hopefully, we can see a recovery in demand for Global Invacom.


• Cost savings from the relocation of manufacturing facilities from China to the Philippines. The Group relocated its manufacturing operations from Shanghai to a third-party in the Philippines.

According to its AR2020, "This transition was completed in the first half of 2020 and is expected to deliver meaningful annualized savings in 2021 and beyond while reducing the Group's exposure to increased productions costs and trade disputes between the US and China."

The 2H2020 results point to an optimistic outlook for 2021.

Yes, 2H2020 revenue dropped owing to Covid-19 impact on Global Invacom's customers.

But 2H2020 gross profit increased due to an increase in gross profit margin to 26.5%, the highest in the last few years.

The Group attributed it to "a more profitable product mix, manufacturing efficiencies and cost reduction programs".


| | | | |
| --- | --- | --- | --- |
| (US$'m) | 2H2019 | 1H2020 | 2H2020 |
| Revenues | 62.6 | 52.8 | 50.3 |
| Gross Profit | 9.0 | 12.4 | 13.4 |
| Gross Profit Margin | 20.9% | 23.4% | 26.6% |

The increase in gross profit in 2H was US$4.4m (a 48.6% yoy increase!).

It was US$1m higher than 1H2021 despite US$2m lower revenue in 2H.

Will the profit upturn sustain into 2021?

Chances are it will -- but these are unusual times for most industries.

Some are seeing not just unusual opportunities but also higher operating expenses (such as shipping costs, raw material costs, labour costs), and disruptions to their supply chains, etc. Stay tuned for the 1H2021 results.

For the full article, visit Gem Comm website.