The Suez Canal blockade by a container ship has just been resolved but the shipping industry is staying firmly on investors' spotlight.
The repercussions of the event are unfolding, including higher costs that will sooner or later pass through to consumers.

And it's certainly not helping to ease a supply crunch in the container market nor dry bulk.

For months now, a global container shortage has sparked a spike in container shipping rates -- and the stock prices of container ship owners.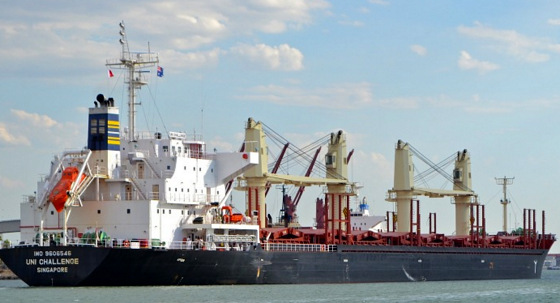 Uni Challenge is one of the 10 dry bulk vessels wholly-owned by Uni-Asia.
The dry bulk market has its own upturn story: Huge demand from China for commodities such as iron ore has been driving shipping rates up.

And it's all been happening since 2H2020.

"2020 was a year of two halves. In the FH (first half) we had the mother of all black swans, Covid19, descend on the dry bulk markets resulting in demand destruction and a global economic recession as bad as the 1929 great depression. The pundits proclaimed that the dry bulk market was condemned to perdition. But just as the pundits were murmuring our last rights, China and its USD 667 billion stimulus plan announced in May, brought the dry bulk market and demand roaring back to life!"



-- Commentary by Precious Shipping, 19 Feb 2021.

Precious Shipping stock listed in Thailand is up about 150% over the past 6 months.

Among the handful of shipping companies listed on the Singapore Exchange, two are relatively small players and are riding on the uptrend in rates.


Uni-Asia Group (market cap: S$45 million, stock: 57 cents)
Uni-Asia Group wholly owns 10 dry bulk ships and jointly owns 8 dry bulk ships.

While property investment contributed US$10.9 million to Uni-Asia's revenue in 2020, shipping contributed US$34.9 million.

"Shipping", which encompasses chartering on top of asset management and provision of services, is clearly the significant driver by far of Uni-Asia.

Its stock price has enjoyed a modest recovery in the past 6 months, rising 36% from 42 cents to 57 cents.

Much of the rise happened in one month -- November 2020 -- and it has plateaued since, trailing the performance of the Baltic Handysize Index.

The index has made a strong run in 1Q2021 (see chart).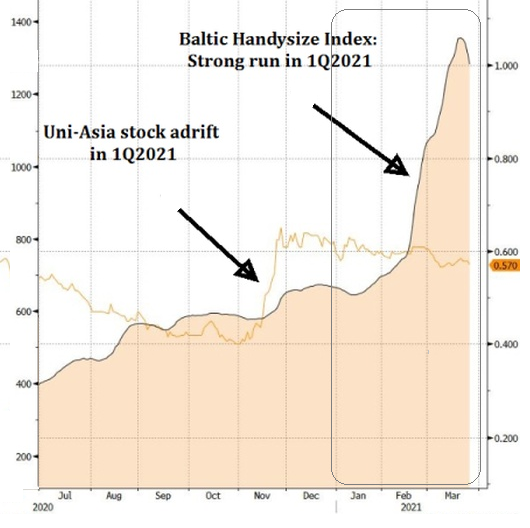 Chart: Bloomberg

Uni-Asia's fleet is roughly equally split in terms of their charter schemes: one-third index-linked, one-third short-term time charter and one-third, more than a year.

In other words, the majority of the existing charter periods will be up for renewal this year, while the rest next year.

Assuming freight rates stay elevated, Uni-Asia could be seeing a jump in profitability in 1Q2021 and beyond.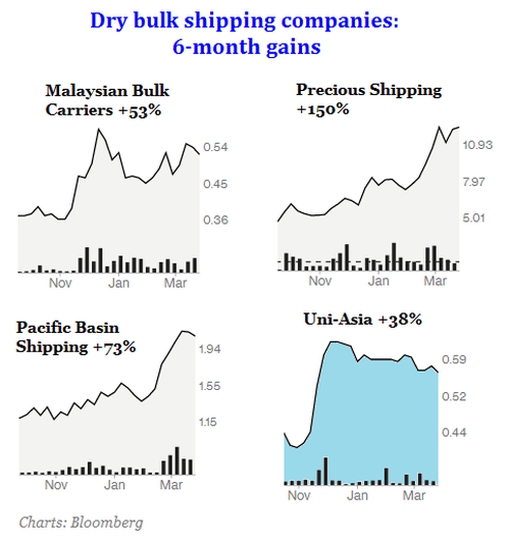 Samudera (market cap: S$145 million, stock: 27 cents)
Samudera Shipping Line, whose core business is container shipping, is up 69% in the past 6 months.

Samudera transports containers through its feeder services between the central "hub" port in Singapore and smaller size "spoke" ports in the region.

It has a fleet of about 24 vessels -- some owned, some chartered -- which connect ports in Southeast Asia, the Indian Subcontinent, the Far East and the Middle East.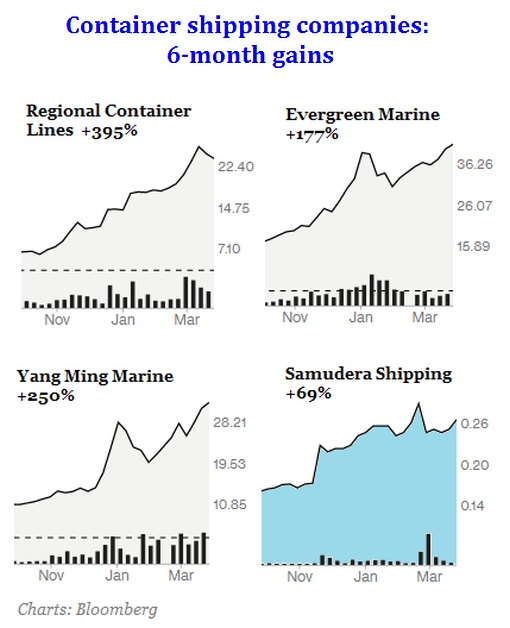 Explaining the current business situation, Samudera said in its FY2020 results announcement:

"Pent-up demand for container shipping services boosted activities significantly in the second half of the year. The strong demand has led to a shortage of container and vessel capacity, as ports and other logistics centres grapple with bottlenecks arising from pandemic control measures. While freight rates have been sustained at higher levels as a result, the Group is nevertheless mindful of the impact of port delays and the volatile bunker price on operating costs. In addition, the rising demand for container shipping services has also led to an increase in vessel charter cost as charter hire rates begin to pick up."
A Freightwaves.com article on 26 March said: "The Suez snarl will put upward pressure on ship and equipment leasing rates."

B. Riley Securities analyst Daniel Day was quoted in that same article, saying: "We now expect container shortages to last through at least Q2 and [to be] increasingly likely for the majority of 2021."


In a 29 March Business Times article, Samudera CEO Bani Mulia commented on the impact of the Suez Canal blockade:
"The incident will have a direct impact on oil prices and other operational costs for the shipping industry, but some of the cost increase will be passed on to customers in the form of surcharges. The situation is also likely to drive up freight rates in the foreseeable future, even as the industry is expected to face a challenging operational environment."