Excerpts from CGS-CIMB report

Analyst: Ong Khang Chuen, CFA
Growing from strength to strength
■ 2QFY6/21 NP of S$32.3m (a 58-fold increase yoy) was above expectations, despite logistical disruptions that temporarily impacted sales volume.


UG Healthcare

Share price:
79 c

Target:
$1.70
■ We continue to see stronger quarters ahead as ASPs remain on an uptrend. UGHC could leverage on favourable industry trends to expand capacity.

■ Reiterate Add and TP of S$1.70. UGHC is trading at an undemanding valuation of 6.1x CY22F P/E (a 55% discount to its Malaysian peers).


2QFY6/21 results above expectations
UG Healthcare Corp's (UGHC) 2QFY21 net profit of S$32.3m (+42% qoq, a 58-fold increase yoy) was ahead of expectations, as we had forecast a S$30m net profit for the quarter (1H was 53.3% of our FY21F forecast).

The stronger profitability was led by continued ASP hikes, which drove topline growth to S$88.2m (+24% qoq, +228% yoy) and further margin expansion during the quarter.

This is despite near-term logistical disruptions and shipping delays, which caused lower revenue recognition in the quarter (as evident from UGHC's inventory level rising 70% hoh to S$57.4m as of end-1H21).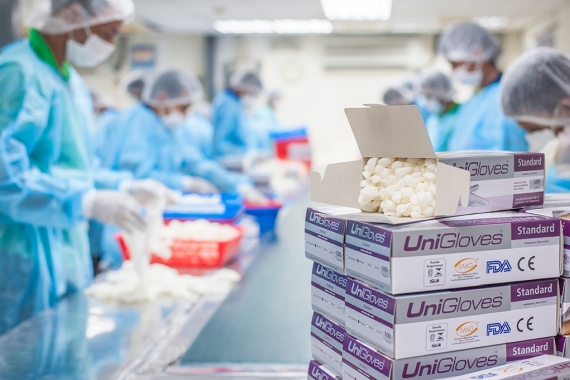 By end-1QFY22F, UG Healthcare's total manufacturing capacity will reach 4.6bn pcs/annum (+59% yoy). Photo: Company

Stronger quarters ahead due to further rise in ASPs
On the back of strong global glove demand, UGHC expects its ASPs to rise further in coming months, albeit by a smaller quantum given the high base.

We estimate ASPs grew by 5%/8% monthly in Jan/Feb 21, respectively, supported by the narrowing price gap for gloves between developing and developed countries.

We believe quarterly earnings can grow further in coming quarters, as ASP hikes more than offset higher raw material prices and shipping costs.

Further capacity expansion on the cards
Planned capacity expansion of 500m pcs/annum is on track to come on stream by Mar 2021, but construction progress of the new factory for additional 1.2bn pcs/annum capacity has been delayed by Malaysia's second movement control order (MCO).

We estimate a three-month delay and expect the plant to be fully commissioned by end1QFY22F, after which UGHC's total manufacturing capacity will reach 4.6bn pcs/annum (+59% yoy).

Leveraging on the industry's favourable demand-supply dynamics and UGHC's strengthened balance sheet (net cash of S$32.5m as of end-1HFY21), we see possibility of further production capacity expansion in CY22F.


Reiterate Add and TP of S$1.70



We lift our FY21-23F EPS forecasts by 0.1%-12.5% to reflect higher ASP assumptions; our TP is unchanged at S$1.70, still pegged to 13.2x CY22F P/E.

Potential re-rating catalysts include stronger-than-expected increase in selling prices; downside risks include earlier-than-expected widespread vaccine availability for Covid-19.Reiterate Add; UGHC remains our preferred pick in the Singapore-listed glove sector, given its relatively cheaper valuation and our expectations of higher normalised profits, backed by a 59% yoy manufacturing capacity expansion in CY21F.


Full report here.