Excerpts from UOB KH report

Analyst: Lucas Teng
Potential Offer On The Cards; Valuation Still Attractive
Singapore Medical Group announced on 18 Dec 20 a possible transaction involving the company's shares.


S'pore Medical Group

Share price:
33 c

Target:
46 c
While discussions are still preliminary, the stock is up 12% since the announcement.

Current valuation at 12x 2021F PE is at a sizeable discount to peers' despite the group's strong growth prospects amid recovering healthcare expenditure in Singapore.

Maintain BUY on this undervalued healthcare player with a higher PE-based target price of S$0.46.

WHAT'S NEW
• Potential offer on the cards? Singapore Medical Group (SMG) had announced on 18 Dec 20 it was in discussions with a third party regarding a possible transaction of the company's shares.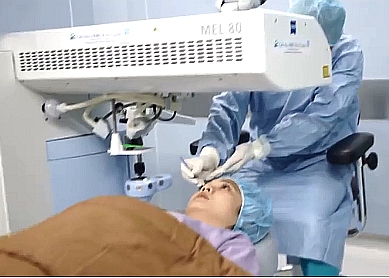 SMG's JV in Indonesia offers a wide range of eye care including Lasik and cataract surgery. Photo: CompanyThe discussions are preliminary and there is no certainty or assurance that such discussions will progress beyond the current stage or that any transaction will materialise as a result of such discussions.

• Recent offers for healthcare peers were done at 26-31x implied forward PE. SMG is assetlight, and currently trades at 17x 2020F PE and 12x 2021F PE although its 2020 earnings were impacted by COVID-19. Assuming its patient load recovers to 80-85% of pre-COVID levels in 2021, SMG would still be trading at a discount to recent offer premiums as well as peers' average of 17x 2021F PE.

• Ownership. CHA Healthcare, the group's strategic partner, had previously purchased vendor shares from certain shareholders at $0.605/share while also investing about S$10m through a convertible loan at $0.423/share in Feb 19 but this was subsequently not exercised and repaid. CHA Healthcare is part of the CHA Group, one of the largest and most diversified private healthcare service groups in Asia, and is headquartered in Seoul. In 2018, the group had a rights issue at S$0.48/share. Currently, insiders hold some 46% of the group.

STOCK IMPACT
• Pent-up demand. In its 1H20 results, management noted pent-up demand for elective medical services such as health screening and aesthetics treatment after the circuit breaker. Specialist outpatient clinic attendees in Singapore had also increased yoy in Sep and Oct 20, which indicates the recovery in patient load and demand for medical services.

• Based on our channel checks, we believe demand for elective medical services remained robust in 2H20. This could be likely due to the diversion of travel expenditure to healthcare expenditure, as well as an increasingly health-conscious population amid COVID-19. This would likely support earnings of healthcare players, such as SMG, in 2H20.

• Solid organic growth. The group continued to adopt organic growth initiatives in 2H20, with the onboarding of a new IVF doctor in 3Q20, a new O&G doctor in 4Q20 and the opening of a new Women's Health and Paediatric clinic in the eastern region of Singapore in 4Q20.

EARNINGS REVISION/RISK
• We raise 2020-21 net profit forecasts by 4% and 12% respectively. We factor in a faster recovery in patient load, given the pent-up demand in medical services in recent months. While foreign patients are still lacking, we opine that the stronger-than-expected recovery in demand for medical services could lift patient loads to 80-85% of pre-COVID levels in 2021.


VALUATION / RECOMMENDATION

• Maintain BUY with a higher PE-based target price of S$0.46, pegged to peers' average PE of 17x of 2021F PE (previously 14x).

• Assuming a potential offer, we opine SMG should be valued at a slight premium or at least similar to peers', given its expansion in high-growth markets, such as Vietnam's aesthetics clinics, telemedicine through HiDoc, as well as solid organic growth initiatives from the addition of medical specialists.

• The stock is currently trading at an attractive 12x 2021F PE.

SHARE PRICE CATALYST
• Recovery in foreign patient load.

• Earnings-accretive M&A.
• Stronger traction in high-growth markets, such as Vietnam.

Full report here.