10 Questions for Pasture Holdings
Company Overview

Stock price

18 c

52-wk range

17– 25 c

Market cap

S$23.8 m

Average Daily Trading Volume since IPO (S$)

3,337

Shares outstanding

132 m

Dividend
yield

NA

Float

15.15%

P/B

14.5

P/E

26.5

Source: Bloomberg, Refinitiv (18 Sept 2023)
Pasture Holdings is a pharmaceutical and medical supplies company based in Singapore. Established in 1996, the company has three subsidiaries – Pasture Pharma, Pacific Biosciences, and Pasture PharmaHub. The company is primarily a business-tobusiness and business-to-government goods and services provider, with its major customers being distributors of pharmaceutical products and medical supplies and devices, as well as governments and institutional customers such as hospitals, pharmacies and other healthcare institutions. Link to Stock Screener company page.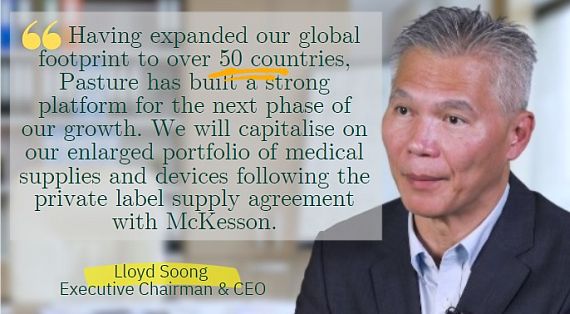 1. Pasture Holdings is a pharmaceutical and medical supply company, could you elaborate on the products/services that you provide for customers?

▪ Under our medical supplies business, we have our range of proprietary products under the Pasture Masks brand, which includes Halal-certified masks catered for the Muslim communities.

▪ We also distribute around 1,200 types of other medical supplies and devices such as syringes, lab gowns, and gloves.

▪ As for pharmaceuticals, we supply over 1,000 third party products; primarily temperature-sensitive items such as vaccines, and products related to oncology and medical aesthetics.

▪ We are also in the early stages of establishing a pet healthcare ecosystem which is materialising through furlife, a mobile application we launched this year. This ecosystem is complemented by our pet pharmaceutical and nutraceutical products, which we have been supplying for many years.

2. What were some of your considerations before the initial public offering (IPO)?

Growing our business and brand was the primary motivation for the IPO exercise. We decided to list on the SGX as it offers the right platform for our objectives.

▪ We are starting to see positive impacts on customer retention and to some extent, sales generation.

▪ Given the industry and the profile of our current and potential clients, transparency and credibility are crucial factors in their respective due diligence processes. Being a listed entity is an advantage.

▪ Furthermore, a stronger brand name also commands greater confidence among our stakeholders and can help us attract talent and staff retention to support this exciting growth journey.

3. Describe Pasture's recent financial performance.

▪ We faced a temporary setback in FY2023 due to industry cyclicality and one-off expenses from the IPO.

▪ The mask sector is undergoing an inventory digestion at the moment.

▪ However, we are confident in turning things around in the near term given our newly enlarged product portfolio of 1,200 medical supplies and devices. This will increase the business' resiliency as we are now more diversified across products and services.

▪ Coincidentally, there are also signs of tailwinds with the Singapore Government announcing that it will be stockpiling medical supplies. This will benefit us as we can introduce our new products to potential buyers who are actively looking to stock up.


4. How has the IPO this year affected the company's resources and financials?

▪ Our balance sheet was boosted by the injection of US$3.7 million from the IPO.

▪ This enables us to invest in the intended business verticals, which we are currently in the process of building.

▪ On the flip side, the bottom-line for FY2023 has been dragged down due to one-time listing expenses amounting to US$1.1 million.


5. What are Pasture Holdings' key considerations when expanding into a new market or business vertical?

▪ We have a systematic approach when it comes to expansion. Over the years, this has proven to be a successful formula as evident in the expansion of our pharmaceutical product range and the building of our own brand of mask products.

▪ The main factors we look for are the growth potential and the sustainability of the opportunity. We conduct extensive market research of the local healthcare landscape, including demand, competition and potential gaps or opportunities.

▪ In healthcare, each market and business vertical has a unique set of regulations and requirements. Understanding regulatory compliance is a key component of ensuring the business is feasible and scalable. Beyond the monetary consideration, we also ask ourselves if our presence could improve the lives of humans or pets. e.

6. Explain what some of Pasture Holdings' growth strategies are.

▪ In October 2022, we signed a private label supply agreement with McKesson Medical Surgical Inc., resulting in the increase of our medical supplies portfolio to over 1,200 products.

▪ Given our extensive network of customers through our masks and pharmaceuticals businesses, we have a ready target market to cross-sell our new range of products to as well as opportunitiesto penetrate new markets.

▪ Additionally, we are building a pet healthcare ecosystem via our newly launched mobile application, furlife.

▪ We have some exciting plans in the pipeline and are confident in tapping into the current trends of increased pet ownership and pet humanisation in Singapore.

7. How are you improving your existing productions and what strategies have you implemented to ensure you retain your consumers?

▪ As we mainly operate as a distributor, we are consistently investing time and effort to improve our internal due diligence process with the goal of strengthening our product portfolio. This ensures that we are taking on products that are of quality, meet regulatory requirements, offer good margins, and are accepted by our customer base.

▪ For products that we have manufacturing control over, such as Pasture Masks, we will remain focused on product innovation to stay in line with the latest industry trends and even be pioneers in certain aspects.

▪ On customer retention, we will continue to do what we do best – focusing on personalised services and ensuring that each customer continues to receive the same level of support and care as we grow. At the same time, we are also being proactive in coming up with value-added services based on individual needs.

8. What are some ongoing market opportunities/trends and how is Pasture Holdings leveraging them to strengthen your businesses?

▪ Some of the megatrends like the ageing population in developed nations and growing global healthcare expenditure will benefit Pasture.

▪ Given our extensive product range for both pharmaceuticals and medical supplies, along with the broad distribution network in over 50 countries, we are in a good position to capitalise on this sustainable long-term growth trajectory.

▪ In addition, the increase in pet ownership is an area we are leveraging via the furlife mobile application, which is centered around pet healthcare.


9. What extent is the Group capitalising on new norms and trends that could be game-changers for it in the future?

▪ Pets as family is the new norm. We plan to capitalise on this trend through the furlife mobile application. We are constantly looking to improve the existing user interface and explore new features. The goal is to attract more pet owners to use the app and growing the user base. We are extremely excited about the potential of this space.

▪ With the growth of biologics and specialty medications, the demand for temperature-controlled logistics is increasing. We invest in cold chain solutions to ensure the integrity of temperature-sensitive products throughout the distribution process.


10. What is Pasture's value proposition to its shareholders and potential investors? What do you think investors have overlooked?

▪ People tend to associate Pasture with masks but we are much more than that.

▪ Today, we have a comprehensive suite of products and services including pharmaceuticals and medical supplies, as well as our pet healthcare business.

▪ With all these under one roof, we are on a better footing to scale the business. Most of our customers require a wide selection of items that we have to offer. Given the possibility of cross-selling, the new products could have huge growth implications.

10 in 10 – 10 Questions in 10 Minutes with SGX-listed companies
Designed to be a short read, 10 in 10 provides insights into SGX-listed companies through a series of 10 Q&As with management. Through these Q&As, management will discuss current business objectives, key revenue drivers as well as the industry landscape. Expect to find wide-ranging topics that go beyond usual company financials.

Originally published on www.sgx.com, this report contains factual commentary from the company's management and is based on publicly announced information from the company.
For more, visit sgx.com/research.
For more company information, visit http://www.pasturegroup.com/
Click here for Pasture Holding's FY2023 Financial Results.