Trek 2000 International's renewed share buyback since October 2020 has been providing a tailwind to the stock price.

Trek,

inventor and patent owner of the ThumbDrive® among others,

last bought back shares in 2019 (2,573,400 shares were bought back).

Since October this year, it has bought back 3,416,700 shares, attracting some market attention and aiding in a 33% rise, from 7.7 cents to 10.2 cents today.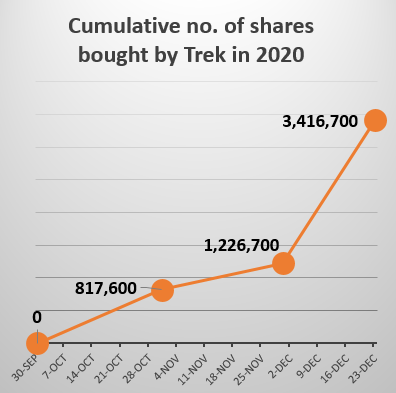 The share buyback would have helped to attract attention to its undervaluation.

Trek's market cap at the start of October 2020 was S$25 million (at stock price of 7.7 cents).

But its balance sheet was quite pretty: Zero borrowings and nearly US$40 million (about S$54 million) in real solid assets which comprise cash, bonds, quoted and unquoted funds (as highlighted below):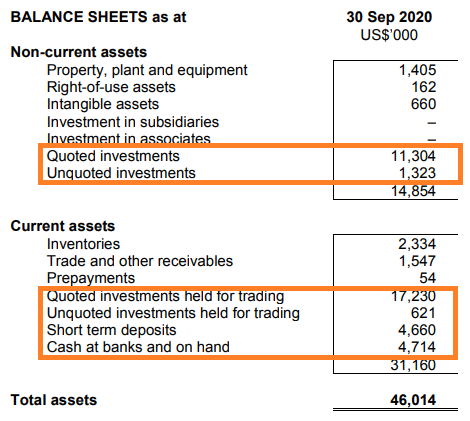 Its NAV as at end-Sept 2020 was 12.16 US cents, or 16.4 SGD cents. That's way above its trading stock price for a long time.

All this is not to say Trek is a stock to buy.

The accumulated holding of cash and investments is clear for investors to appreciate but there are significant issues to note, including:

• CAD investigation and court cases involving four former top executives.

• Business headwinds (See 3Q20 results announcement here.)



• B

eing on SGX watchlist. End-2021, Trek will reach the third and final year to meet the criteria to exit the watchlist, failing which Trek may be delisted or suspended from trading.

The exit criteria: Volume-weighted average price of at least S$0.20 and an average daily market capitalisation of S$40 milion or more over the last 6 months.

And by the way, does anyone know why Trek appointed a restructuring veteran, Neo Ban Chuan, 68, as a non-executive independent director this month?

Mr Neo was previously the Head of Restructuring with one of the Big Four accounting firms in Singapore.

Is he to help restructure Trek?


Another question: Given Trek's deep cash holding, will it continue to buy back its shares till at least it clears one exit criterion of the watchlist, ie a 20 cent share price?