Trek 2000 International, inventor and patent owner of the ThumbDrive®, has launched Trek iSSD, which features the first ever 4-in-1 solution that serves the critical functions of being both a portable server and power bank.

Available in either 240GB, 480GB or 960GB capacities, the device targets users from consumers to prosumers.

In an environment where remote working is the norm, the Trek iSSD plugs a gap in the market for a hardy, reliable and secure portable server that provides users with the ability to store and access files on computers and smartphones.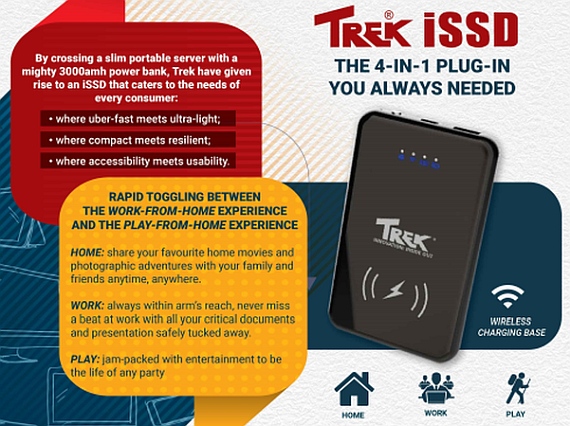 Apart from convenient access to data (from files to images to videos), the Trek iSSD also doubles up as a 3000mAh power bank with bi-directional wireless charging capabilities, enabling one to charge both the iSSD and other compatible devices concurrently.

And through its high speed wireless b/g/n (up to 300Mbps) connection, users are able to use the device virtually anywhere without the fear of its battery draining out quickly.

Further, increasing the ease of usage by consumers, the Trek iSSD is capable of backing up directly from SD Cards, and users can access data from a smartphone without needing to plug-in or through the use of a dongle.

Mr Wayne Tan, Group President, Trek 2000 International, said: "In the blink of an eye, CV-19 has thrown everyone into a new world of online classes, remote working and tele-working for the foreseeable future. To meet consumer demand, Trek will continue to do our part to continuously invent products to smoothen this transition. We believe in change being the only constant, and will continue to distinguish ourselves by staying ahead of evolving consumer sentiments and creating new gadgets that will improve the lives of our customers."

The Trek iSSD is currently compatible with all brands of computers and smartphones, and integrates seamlessly with both the corporate and consumer worlds, from home to class to the office to outdoor environments, depending on the individual's needs.

In the former, colleagues within teams are able to conveniently and securely access and share documents to their own personal devices to work on.

Whilst in the latter, the Trek iSSD is the perfect companion for social sharing whether it be between classmates, peers or families.


For specialised use by designers and professional photographers, who require both storage capacity and portability, the Trek iSSD is compatible with all File Transfer Protocol (FTP) functions.

This allows the camera to copy video recordings or files to a computer connected via a network connection.

Using the FTP, the Trek iSSD is able to be connected directly for instantaneous file transfer. Time transfers are dependent on the size of the file, but a 5MB file transfers in a second, while a 30MB raw file transfers in five seconds.

The Trek iSSD is now available at selected stores and online at www.thumbdrive.com.

The devices come in three colours, black, blue and red which are reflective of their capacity at 240GB, 480GB and 960GB, and are priced at USD$179, USD$239 and USD$339 respectively.

For more information, visit www.bit.ly/TrekiSSD.