In partnership with Singapore doctors, Trendlines Group has progressed innovations that address unmet clinical needs.

Below are three companies, which were held up as notable achievements, at a virtual MOU signing ceremony (more on this later) between Singapore-listed Trendlines and National Healthcare Group (of Singapore) today.

The trio's products will soon progress to clinical trials at NHG institutions:
Start-up

Problem

Innovation

Impact

In conventional procedures, a needle is inserted into the spinal canal, most commonly to collect cerebrospinal fluid for diagnostic testing. These procedures are relatively less accurate, and complex.

World's first real-time ultrasound-guided needle entry into the lumbar (lower back).

Globally, about 75 million lumbar and epidural procedures are performed annually.

Chronically ill cardiac and renal patients, among others, often have difficulty managing their day-to-day fluid levels, developing complications from under- or over-hydration. In hospitals, hydration is assessed subjectively, potentially leading to suboptimal care.

With Szone's bioelectrical impedance analysis device, the body's hydration level can be determined in seconds by placing the tip of the device on the tongue.

The health care burden from inadequate fluid management has been estimated at US$9.1 billion per year in the United States.

Urinary tract infections from the use of catheters. (see video below)

Features in catheter that mitigate the migration of bacteria.

The cost of treatment for such infections can reach up to US$3,000 per episode; in the United States, the total annual cost is over US$1 billion.

Sources: Various

In November 2017, Trendlines Medical and NHG entered into the first MOU and, over the past three years, have worked closely to identify the clinical needs, and collaborated on innovative solutions.

That resulted in the establishment of nine companies, which are incubated by Trendlines Medical.

The new MOU extends the strategic partnership in the following areas: Dermatology, Infectious Diseases, Population Health, Chronic Diseases, Ageing and Rehabilitation.

Eric Loh, CEO of Trendlines Singapore, commented, "The partnership has benefitted from both the strong clinical standing of the hospitals and physicians of NHG, as well as the market knowledge and engineering/technological expertise of Trendlines. We have jointly identified development projects that serve substantial unmet clinical needs and refined the development through clinical validation of solutions within NHG."


Todd Dollinger, Chairman of Trendlines Medical and CEO and Chairman of The Trendlines Group, said, "Our work together has proven that much can be achieved, much more can be achieved by working together than by working alone, more can be achieved with good communications, and more can be achieved when there's a common mission to which we are all dedicated to improve the human condition.



"
In July 2020, Trendlines Medical Singapore established Trendlines Labs Singapore, our Singapore-based in-house innovation center to support medical innovation in the Singapore ecosystem. Here we are dealing with product conceptualization and product development. Trendlines Lab Singapore, strong in its own right, is not alone in its efforts.

"The Singapore team works closely with our Trendlines Labs teams in China and our home base in Israel. And our aim is to curate solutions with the collective talents from across all three countries, across our Trendlines teams, and in partnership of course with our friends at NHG."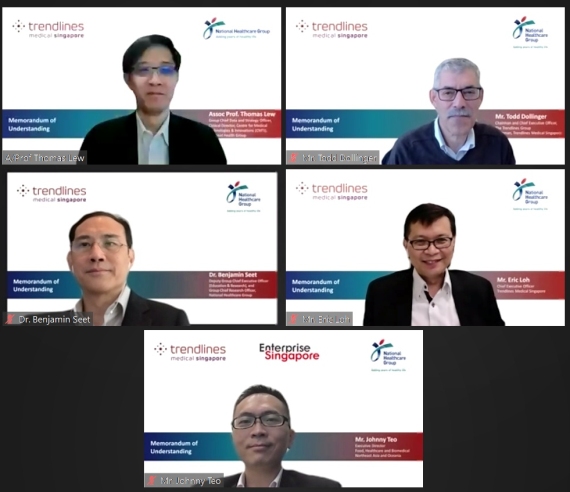 Clockwise from top left: Assoc Prof Thomas Lew (NHG) | Todd Dollinger (Trendlines Group) |Eric Loh (Trendlines Medical Singapore) | Johnny Teo (Enterprise Singapore) | Dr Benjamin Seet (NHG).


•

Associate Professor Thomas Lew, Clinical Director of NHG's Centre for Medical Technologies and Innovations (CMTi), and Group Chief Data and Strategy Officer, NHG:
"This public-private collaboration has allowed us to successfully translate research into medical devices, where our clinicians combine their valuable clinical knowledge andunderstanding of patients' needs with the technical expertise of industrial partners to co-create innovative technological solutions. This enables us to address immediate healthcare needs,improve patient care outcomes, and deliver better care to our population."


•

Dr Benjamin Seet, Deputy Group CEO (Education & Research) and Group Chief Research Officer of NHG:
"The outcome speaks for itself – nine novel projects leading to the formation of nine new companies in just three years. This reflects the innovation potential here at NHG, and how our partnership with Trendlines Medical has accelerated projects into the clinic, where they will start to make a difference to patients and healthcareproviders. I look forward to the next stage of this fruitful and exciting partnership."


•

Johnny Teo, Executive Director for Food, Healthcare and Biomedical, Enterprise Singapore:
"For Singapore to become a vibrant and successful medtech hub, it is important that our players in the ecosystem find ways to collaborate and co-create, and develop long-term partnerships that can address the healthcare opportunities in Singapore and overseas. The renewed MOU between Trendlines and NHG and the fruits we have seen are testaments to this."