Dividends are drying up across many industries as corporate earnings take a hit because of the Covid pandemic.

REITs, for example, are no longer able to deliver the dividends they used to. And banks are lowering interest rates for deposits.


Stock price

23.5 c

52-week range

12 – 34 c

Market cap

S$222 m

PE (ttm)

9.4

Dividend yield

3.7%

1-Year
return

46%

Shares outstanding

946.5 m

Source: Bloomberg
But the pandemic has lifted certain businesses, especially producers of gloves and personal protective equipment. As a result, they are raising dividends.

Outside of those industries, one Singapore-listed stock is about to pump up its dividend -- Avarga Ltd.

It was not a widely-known business until only recently after solid 1H20 results (+43% hike in core earnings) and a series of announcements (more on this later).

Since Aug 2020, its trading volume has been sizeable (9.4 million units a day in the past 30 days).

And its stock has risen 47% year-to-date (from 16 cents to 23.5 cents).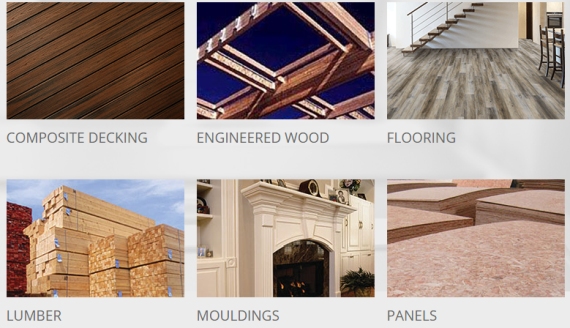 Taiga is Canada's largest wholesaler of home-building products. It accounted for 91% of Avarga's gross profit in 1H20.
In its 3Q results, likely to come out in November (as it did in 2019), Avarga is set to have good news for investors.

Firstly, the business of its 69.7%-owned Taiga Building Products has been unusually strong.

Taiga is Canada's largest wholesale distributor of building materials, such as lumber, panels, doors, engineered wood, roofing and others.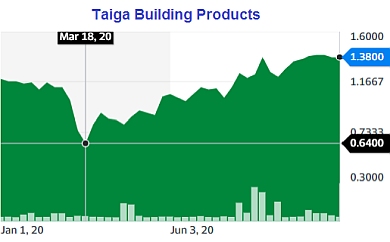 Taiga's stock has soared more than 100% from its March low. Chart: Yahoo!The business has boomed and that has flowed through to the performance of Taiga stock (+100% from its March low) on the Toronto Exchange.

Taiga's 2Q net profit was C$13 million (+87% y-o-y).

Likely, it will have a 3Q profit jump to report -- with 3Q being typically its strongest quarter -- which will contribute nicely to Avarga's bottomline.

(Read more analysis --> AVARGA: Trading at an implied FY2020 PE of 4.1x).

Secondly, Avarga is set to hand out its first ever 3Q interim dividend.

This follows from Avarga's announcement of a dividend policy just 4 months ago (25 June 2020), which said it would ....

"... provide shareholders with a target annual dividend payout of not less than 40% of the net profit attributable to shareholders excluding non-controlling interests and non-recurring, one-off and exceptional items, with effect from financial year ending 31 December 2020. The dividends will be paid on a

quarterly basis with effect from the second half of 2020

."
| | | |
| --- | --- | --- |
| (S$'000) | 1H2020 | 1H2019 |
| Revenue | | |
| Paper manufacturing | 19,374 | 25,484 |
| Building products | 692,544 | 655,118 |
| Power plant | 8,341 | 8,003 |
| | 720,259 | 688,605 |
| Gross profit | | |
| Paper manufacturing | 4,286 | 5,574 |
| Building products | 74,957 | 63,630 |
| Power plant | 3,398 | 3,249 |
| | 82,641 | 72,453 |
So a nice bump in 3Q profit potentially could translate into a nice 3Q dividend.

However, while Avarga has declared a payout of not less than 40% of net profit, its 3Q dividend payout may be more or may be less than that, because the "not less than 40%" guideline applies to the annual total.

Thus, 3Q dividend may go below 40% but 4Q may go above that, and vice versa.

Let's see!

2H2020 is likely a stronger half than 1H, so the 3Q/4Q dividends can be counted on to be handsome.

Historically, Avarga has paid decent dividends, including special dividends:

| | | | | | | |
| --- | --- | --- | --- | --- | --- | --- |
| | 2015 | 2016 | 2017 | 2018 | 2019 | 1H2020 |
| Dividend / share | 1 cent | 1 cent | 1 cent | 3.5 cents | 2 cents | 0.36 cent |

Taiga is Avarga's key growth driver this year compared to two other business segments.

The paper mill business in Malaysia was affected in 1H2020 by reduced downstream demand for packaging and increased raw material costs owing to Covid restriction measures.

The 50MW power-generation business in Myanmar was stable 1H20 -- in fact, it grew slightly. (See table)

The paper mill business likely has staged some recovery in 3Q, going by the guidance of management in its 1H20 results statement.

And the power business being what it is can be expected to be stable at least.


To recap, excluding the effects of one-off or non-operating items, Avarga's net profit increased 43.0% from S$13.9 million for 1H2019 to S$19.9 million for 1H2020.

The increase was primarily due to higher contributions from Taiga.

The one-off or non-operating items:

a) Currency exchange loss in 1H2020 of S$2.5 million (1H2019: gain of S$2.4 million) that mainly arose from the translation of intercompany receivables denominated in Canadian Dollar and US Dollar;

b) Covid-19 related government grants of S$3.1 million for 1H2020; and

c) One-off gain on disposal of property of S$10.9 million in 1H2019 but nil in 1H2020.

Beyond its near-term positive outlook, Avarga has revealed, in Aug 2020, certain possible significant moves.

• It is considering divesting its Myanmar power business following the expiry of tax incentives, and presumably will deploy capital for other growth opportunities.



•

It is exploring a listing for its wholly-owned Malaysian paper mill subsidiary, UPP Pulp and Paper (M).

On 16 Oct 2020, it updated the market that it has appointed Public Investment Bank as an adviser for the IPO.