Kitchen Culture Holdings is diversifying its business from
kitchen solutions providers to fintech.

It
has entered into a sale and purchase agreement
and a shareholders' agreement with OOWAY Group to acquire
30% equity stake in OOWAY Technology for S$23.92
million.

The consideration will be satisfied by the issuance of 90,000,000 new
ordinary shares in Kitchen Culture based on S$0.2658 per share.

The issue price is a 17.25% discount to the volume weighted average price of S$0.3212 on 11
August 2020, which is the last full market day on which the shares were traded prior to the date of the sale and purchase agreement
.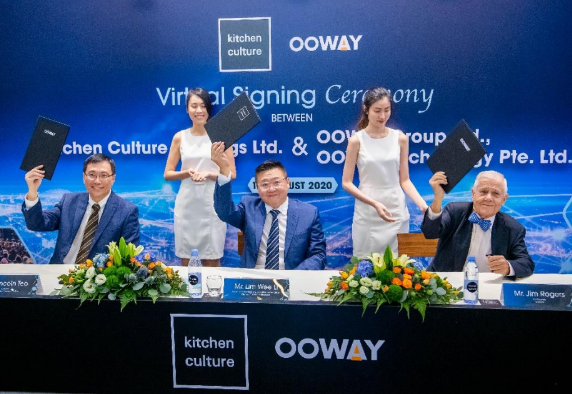 L-R: Lincoln Teo, Director of OOWAY Technology | Lim Wee Li, Executive Chairman and CEO of Kitchen Culture Holdings | Jim Rogers, Co-founder of OOWAY.

The Vendor and the Target are in the process of procuring the completion of the establishment of OOWAY Data Technology (Beijing) Co., Ltd. ("OOWAY Beijing"), as a Wholly Foreign Owned Enterprise in China wholly-owned by the Target.

The completion of the restructuring exercise will result in OOWAY Technology Co., Ltd becoming a wholly-owned subsidiary of OOWAY Beijing.

Mr Lim Wee Li, Executive Chairman and CEO of Kitchen Culture, commented, "This acquisition is in line with the Group's diversification strategy. We believe that this acquisition will allow the Group to explore new areas of opportunities and alternate businesses, including artificial intelligence, machine learning and data science, whilst offering an opportunity for the Group to leverage on the networks and capabilities of the Target and the OOWAY Group. We have high hopes that this investment would deliver great value to our shareholders."

Led by a team comprising AI talents and data scientists from the UK, Southeast Asia and China, the OOWAY Group is principally engaged in the establishment of the Credit 3.0 platform in China named Behaviour Model of Association Risk System ("bMARS®"), which utilises machine learning and artificial intelligence to quantify corporate behaviour into credit value.

Via bMARS®, the OOWAY Group provides credit rating services and credit management services for importers and exporters in China, Singapore, Thailand, Vietnam, Malaysia, Myanmar, Philippines, Brunei, Cambodia, Indonesia, and Laos.


"OOWAY offers thought-leadership, devising radical and novel ways to address risk-based analytics for markets that do not conform to existing processes. With bMARS®, we may now observe SMEs behavioral histories of transactions,
deals, and activities and re-purpose that behavioral footprint efficiently to infer estimates of their credit worthiness, bypassing those traditional requirements, and opening up to include mass markets of SMEs wishing to grow through trading and requiring cash to pump-prime their expansion.

"The data science is never sleeping. I spend my life working with many different kinds of AI and data
science initiatives and have a network of colleagues across the world. There are both surprises and risks inherent in the extraordinary and scalable performance of modern data scientific methods.

"These will transform whole sectors and we, OOWAY, will be a catalyst for such transformations."
-- Professor Peter Grindrod,
Chief Scientist of OOWAY
Mr Jim Rogers, the well-known stock investor and Co-founder of OOWAY, said, "With the complementary strengths of OOWAY and Kitchen Culture, I believe that our collaborations will yield exciting results in the future. If OOWAY can continue to do what it's doing, it's a bonanza. It's going to be phenomenal. This is one of those things that comes along and makes a huge change in the way the world works and also brings prosperity and efficiency to a lot of people."

Decision-making is increasingly based on data and analytics in business, economics, and beyond.

The Global Big Data & Business Analytics Market is expected to grow from USD 192.24 billion in 2019 to USD 446.42 billion by the end of 2025 at a Compound Annual Growth Rate (CAGR) of 15.07%.

The Risk & Credit Analytics is projected to witness the highest growth during the forecast period while the Asia-Pacific is projected to witness the highest growth during the forecast period.

Being at the forefront of fintech growth, China is the world's largest fintech market with two main technologies used which are Big Data and AI. China's fintech sector is expected to enjoy further growth with the release of Fintech Development Plan (2019 – 2021) by People's Bank of China in August last year in a move to promote the development of fintech industry.

In addition, China's fintech lending market is forecasted to grow at a compound annual growth rate (CAGR) of 16% between 2017 and 2023.

"Beyond China, we see huge development opportunity for OOWAY in ASEAN. As the fourth largest market globally and a leading manufacturing and trading hub, ASEAN is also China's largest trading partner. The multiplying bilateral trade between ASEAN and China will lead to explosive expansion with Big Data and AI being one of the key engines of growth," Mr Rogers added.