Excerpts from RHB report

Analysts: Lee Cai Ling & Jarick Seet
• Maintain BUY, unchanged P/E-based TP of SGD0.54, 17% upside with 6% FY20F yield. Temasek is now CSE Global's substantial shareholder, owning 25.03% after acquiring the stake from Serba Dinamik (SDH MK, BUY, TP: MYR2.55) at SGD0.45 per share last week.


CSE

Share price:
46 c

Target:
54 c
This marks a positive transition for the company, and we remain upbeat on the stock.

• Overhang has been removed. Serba Dinamik's investment in the company in 2018 led to investor concerns over CSE's direction ahead.

However, expectations of a collaboration between the two companies were not realised.


"We deem this news as positive for the medium term, premised on Temasik's solid credentials as well as what the Singaporean Government's investment arm can offer – CSE may be able to tap on the former's network, which may also facilitate M&A deals."
-- RHB report
Through the married deal with Serba Dinamik (completed on 7 Jul), Temasek subsidiary Heliconia Capital Management has emerged as the new substantial shareholder.

• Oil prices are stabilising, but… On 7 Jul, the US Energy Information Administration (EIA) lifted its outlook for crude oil prices by USD4.00/bbl for 2H20F, and by USD2.00/bbl for 2021F.

This is based on expectations of growing demand – after COVID-19-related lockdowns are lifted – as well as OPEC+ production cuts.

If oil prices stabilise, the flow of recurring business should be more stable in 2H20.

In our 8 Apr report titled CSE Global: Temporary Disruption; Still BUY, we wrote that the pandemic may be subdued in 2H20.

However, the situation is still very fluid. At present, daily new COVID-19 cases remain high, potential second and third waves of infection are surfacing, and some places are heading for or have already implemented a second lockdown.

If the situation persists, demand for oil will remain low as road and air traffic will still be depressed, until a vaccine is found. The oil & gas segment accounts for 57% of CSE's 1Q20 orderbook.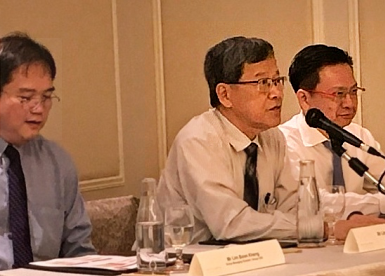 (L-R): MD Lim Boon Kheng | Non-executive Chairman Lim Ming Seong | CFO Eddie Foo. NextInsight file photo.• Some impact in 2Q20. CSE expects 2Q20 numbers to be impacted, due to lockdown measures and low oil prices.

We expect to see a decline in revenue recognition on slower project execution, a slower flow of orders, and margin pressure as customers turn cautious about their budgets.

The situation may be prolonged, as the current environment remains undesirable.

• Growth strategy intact. Despite the pandemic, CSE's acquisition strategy remains intact – and such exercises may be carried out at a slower pace.

We are likely to see acquisitions in the oil & gas or infrastructure space in either the US, Europe, or Australia/New Zealand.

With a positive cash flow and a net gearing of only 0.18x, we do not see any issue regarding funding for growth.

Moreover, CSE now has Temasek as a substantial shareholder, which may support the group's future funding needs for acquisitions.


• BUY on cheap valuation. We expect QoQ earnings growth in 2Q20 to be somewhat tepid.

With its robust orderbook of SGD302.7m and the earnings-accretive acquisitions CSE made last year, we continue to believe its FY20F dividend will be sustainable – and maintain our projections.

Our TP of SGD0.54 implies 10.5x FY21F P/E.


Full report here.