Dasin Retail Trust was listed on the SGX three years ago. The CEO of its trustee-manager is Ms Wang Qiu (photo), who was appointed to the post in March 2020.

She is the third CEO in three years. The rapid turnover may raise concerns among investors but she says her predecessors left for personal reasons and there were no issues within the organisation that led to their departure.

Ms Wang herself signaled that she is here to stay for the long haul to do her best for the Trust.

She is entirely familiar with the Trust, having served as team leader of the IPO working group for three years.

In fact, she knows the Dasin Holdings Group as her only employer in her 29-year working career.

In several senior posts -- such as

Secretary to the Board of Directors and, concurrently, General Manager of Risk Management division --

she came into constant contact with the Chairman, Zhang Zhencheng, and the board of directors.


大信商用信托在新加坡交易所上市已超过三年。王秋女士于2020年3月正式委任为受托经理人的首席执行官。她是信托三年上市以来的第三位首席执行官,频密更换首席执行官可能引起投资者的担忧,但她也分享说,前任CEO都是出于个人原因离职,并不是因为信托内部的因素而导致他们离职的。王女士本人也表示,她会在大新商用信托任职很长一段时间,以尽最大努力为信托服务。

王女士自2014年末开始担任IPO工作组的团队负责人,直到该信托于2017年1月上市为止已有三年之久。因此,她对于信托非常的熟悉。大信控股是她21年工作生涯中唯一的雇主。她曾担任董事会秘书以及风险管理部总经理等多个高级职位。她与主席张镇成先生和董事会也持续保持着密切的联系。


1. Dasin Retail Trust has been listed since 2017. What would you say are some of the business highlights in that period?

1. 大信商用信托自2017年起上市。可以说下上市至今这段期间的业务亮点吗?


DRT started off with 3 retail properties in the portfolio with an aggregate value of approximately RMB4.6 billion and grew to a total of 5 assets with an aggregate value of about RMB9.5 billion as of 31 March 2020. In September 2019, DRT achieved a major corporate milestone with the Trust's maiden acquisition, Doumen Metro Mall in Zhuhai City, since our listing on SGX-ST in 2017. Following the successful acquisition of Doumen Metro Mall, we announced the proposed acquisition of Shunde and Tanbei Metro Malls in November 2019 which was approved by unitholders at the EGM in December 2019.

DRT在初期时仅拥有3间购物中心,总价值为人民币 45.6亿元,但截止2020年3月31日已拥有5间购物中心,总价值为人民币94.8亿元。2019年9月,信托完成了自2017年上市以来的首次收购,即位于珠海市的大信∙新都汇斗门店。在成功收购斗门店后,DRT于2019年11月宣布收购顺德和坦背店,在2019年12月的特别股东大会上获得单位持有人的批准。

Since IPO in 2017, DRT has expanded its assets under management from RMB4.6 billion to RMB12.1 billion including the proposed acquisition by actively implementing investment growth strategies. If the proposed acquisitions are included, the valuation of the portfolio will expand by nearly three times within three years from listing.

自2017年IPO以来,DRT通过积极的实施投资增长策略,扩大了资产规模。在3年的时间里,信托投资物业组合估值扩展至上市之时的近3倍,从人民币45.6亿元增长至人民币120.9亿元。

2. How has the Trust's 5 malls performed through the COVID-19 period?

2. 在疫情期间,DRT的5间购物中心的表现如何?

From 26 January 2020. Dasin Retail Trust's five retail malls shortened operating hours from 10:00 to 16:00 with the exception of the provision of essential services such as supermarkets and certain F&B outlets etc. but cinemas, KTVs, ice skating rings, bookstores and other crowded places were temporarily closed.

1月26日起,大信·新都汇的五间购物中心缩短营业时间为10:00—16:00。商场仍提供基本公共服务(如大型超市、药店、部分餐饮等),但是电影院、KTV、溜冰场、书城等人流密集型场所全天暂停营业。

Shiqi Metro Mall, Xiaolan Metro Mall, Dasin E-Colour and Doumen Metro Mall resumed normal operating hours since 24 February 2020, while Ocean Metro Mall reverted to its normal operating hours on 2 March 2020. Thus, revenue decreased by about 21% yoy in 1Q2020.

2月24日起,石岐店、小榄店、斗门店和溢彩荟恢复正常营业时间;远洋店则于3月2日起恢复正常营业时间。因此,2020年第一季度收入同比下降约21%。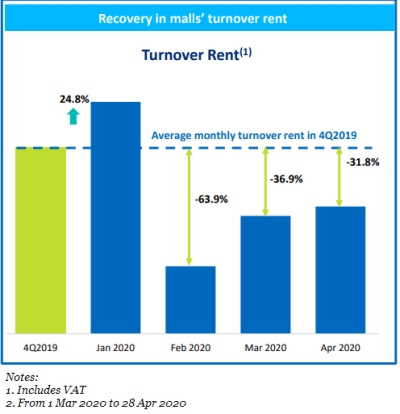 During COVID-19 period, the property manager organized live streaming and interacted with shoppers at the malls to drive tenants' sales through live streaming app "Dasin Hui" (大信荟) with more than 540,000 members.

From March to May 2020, DRT hosted more than 100 live broadcasts hosted by influencers to promote a plethora of tenants' items sold at the malls.

疫情期间,物业管理人通过小程序"大信荟",在购物中心现场与消费者进行实时互动交流以推动商户销售。在2020年3月至5月期间,大信荟共举办了超过100场现场直播带货,促进商户销售。

With the initiatives taken, the monthly turnover rent has gradually recovered from February to May.

Turnover rent in May 2020 was about 89.2% of average monthly turnover rent in 4Q2019 as compared to February 2020 which was about only 36.1% of average monthly turnover rent in 4Q2019. We believe that the positive trend will continue and full recovery is expected.


通过采取这些措施,营业额提成租金在2月至5月之间逐渐恢复。2020年5月的营业额租金为2019年第四季度平均水平的89.2%左右,而2020年2月的营业额租金仅为2019年第四季度平均水平的36.1%左右。我们相信这良好的趋势将持续,并有望全面恢复。


3. As e-commerce becomes more prevalent, how do you see the retail business of the 5 malls faring?

3.随着电子商务的普及,您觉得这5间购物中心的零售业务会如何发展?

While we acknowledge the rising trend of e-commerce, our malls are positioned to serve the densely populated catchment area and seek to be a one-stop centre fulfilling the demands of the community in terms of their daily necessities needs, dining, entertainment, education and shopping.


虽然电子商贸正有上升趋势,但信托的商场却定位于为人口密集的住宅社区内提供各种服务,并致力成为满足社区需求的一站式中心,例如餐饮、娱乐、教育和购物。

Through proactive asset and lease management, the trust introduced more experiential trades (e.g. leisure, sports, entertainment, dining and training) and defensive retail businesses (e.g. supermarkets, home appliances and other daily necessities) to its assets. For example, since the second half of 2019, we reconfigured the traditional home furnishing space at Ocean Metro Mall into a children's education area that are in line with current consumption trends, and achieved a positive rental reversion of about 48% for the reconfigured space. Apart from improving shoppers' traffic, the enhanced tenant mix also brought greater resistance to the impact of e-commerce. As of 31 March 2020, experiential and defensive retail mix accounted for approximately 60% of the trust's total NLA. Therefore, we believe that the impact of e-commerce on the trust's assets is manageable.


通过主动的租户管理策略,信托物业引入了较多的体验型业态(如休闲、运动、娱乐、餐饮、培训等线下体验业态),比如,我们从2019年下半年开始,对远洋店传统家居业态进行改造升级,引进了符合时下消费趋势的儿童教育类业态,改造后租金水平提升约48%,同时依托现有的防御型业态,如超市等。这两类业态不仅能为商场带来消费人流,同时对电商造成的冲击抵御能力也更强。截至2020年3月31日,信托物业中以上两种业态合计占出租面积约为60 % 。因此,我们相信信托资产受线上消费的影响是较可控的。

In recent years e-commerce companies have been actively expanding their offline platforms. Taking Alibaba as an example, since Ma Yun introduced the concept of new retail in 2016, the company has expanded its offline platforms by investing in Yiguo, Suning, Sanjiang shopping, Lianhua Supermarket, Yintai, Sunart Retail and formed strategic partnership with the Bailian Group. As at end-2017, Alibaba's investments in offline retailing reached 73.5 billion yuan. At the same time, Tencent partnered with retail giants such as Yonghui Superstores, Carrefour and Wal-Mart to digitalise and introduce smart retail to areas including retail experience, payment innovation, marketing and membership etc. In addition to the active integration of online and offline resources, technological innovations such as artificial intelligence and unmanned supermarkets have also brought new growth potential to the retail industry.


我们留意到近年来电商平台也在积极拓展线下领域,打响了最后一里路争夺战。以阿里巴巴为例,自马云在2016年提出新零售的概念后,阿里加快线下布局,现已投资易果生鲜、苏宁云商、三江购物、联华超市、银泰、高鑫以及和百联集团达成战略合作。截至2017年底,阿里巴巴对线下零售的投资规模达到735亿人民币。与此同时,腾讯也先后牵手永辉,家乐福及沃尔玛等传统零售业巨头,计划在购物体验、支付创新、市场营销、会员会籍等方面开展数字化和智慧化零售合作。此外,除了线上线下资源的积极整合外,人工智能及无人超市等技术革新也为零售业带来新的增长潜力。


In addition, we have also developed our own member management system, "Dasin Hui" (大信荟), a platform that provides comprehensive information on the products and services in the malls, to ensure that the customers can have a convenient and preferential shopping experience. We aim to draw customers from online channels to physical stores while being the shopping mall operator of choice among tenants. We have also identified brands which are more suitable for e-commerce and brick-and-mortar respectively during the COVID-19 pandemic. This would help us in better targeting and pivoting the tenant mix for our malls.


我们的商场定位于为人口密集的住宅社区内提供各种服务,并致力成为满足社区需求的一站式中心,满足日常生活需求,例如餐饮、娱乐、教育和购物。访问购物中心和线上购物主要区别在于客户体验。因此,我们引入了更多的体验型业态,以此提升顾客的体验。
此外,我们也推出了自己的会员管理系统 - "大信荟",为消费者提供最便捷优惠的购物体验。在疫情期间,我们对于一些租户品牌和业务有了更深一步的了解,哪些品牌更适合电子商务或实体商务。这将有助于我们更好地选择和调整我们商场的租户组合。

By adopting such a business strategy, the management aims to draw customers from online channels to physical stores while being the shopping mall operator of choice among tenants.

通过采用这样的商业策略,管理层希望将客户从网上吸引到实体店,同时成为租户中首选的购物中心运营商。

4. Shareholders have been receiving dividends which are higher than otherwise because of an agreed waiver by the Sponsor of part of its entitlement for 5 years ending 2021. Can you explain how the waiver works and the rationale?

4.由于发起人同意在5年内放弃部分分派权益直到2021年,因此股东获得的股息较高。您能解释一下豁免的原因吗?

The Sponsor is of the view that there is a lot of embedded value in the current valuations of the properties which are currently not realised as two of the properties (Dasin E-Colour and Ocean Metro Mall) are relatively new and require time to mature and stabilise. Their rental income will not have reached a level in line with those of more mature or stabilised properties.


发起人认为,目前物业估值未体现实际价值,因为其中两项物业(溢彩荟及远洋店)是新物业,需要时间发展成熟及实现稳定增长。它们的租金收入还没有达到成熟水平。

As an expression of confidence in the long-term income growth of DRT, each of Aqua Wealth and Bounty Way will waive a portion of their entitlement to distribution from DRT for the benefit of other Unitholders to ensure that investors in DRT will receive a distribution yield more commensurate with market-level rents immediately when they invest in DRT, without having to wait for Ocean Metro Mall and Dasin E-Colour to stabilise. The Trustee-Manager will distributethe total amount of the waived distribution to the Unitholders. For the avoidance of doubt, such waived distribution will also be distributed to each of Aqua Wealth and Bounty Way in relation to their Units that are not subject to the Distribution Waiver in any particular year.

为了表达对大信长期收入增长的信心,Aqua Wealth和Bounty Way放弃其部分的股息分配,以使其他单位持有人受益,以确保大信的投资者能立即获得与市场水平的租金相应的收益率,而不必等待大信新都汇远洋店和大信溢彩荟成熟运营后。信托管理公司将豁免分配的总额分配给单位持有人。有关豁免的分配也将分配给Aqua Wealth和Bounty Way不参与分配豁免的单位。

As the rental levels for the portfolio is expected to increase to a level that is comparable to the market rate over time, the percentages and number of Units held by Aqua Wealth and Bounty Way which will not be entitled to distributions will decrease over time.

由于投资组合的租金预计将随时间增长到市场水平,因此Aqua Wealth 和 Bounty Way参与分配豁免的单位的百分比和数量将随之而减少。


5. Cumulatively, in absolute dollars, how much has the Sponsor given up through the waiver?


5.

发起人通过豁免放弃了多少分派金额?



Approximately S$55.1m from 2017 to 2019.



从

2017

年到

2019

年约

5,510

万新元。





Dasin Retail Trust has launched a dedicated WeChat official account.

Scan the QR code or search for DASIN_RETAIL_TRUST to subscribe to Dasin Retail Trust on WeChat.
Next: DASIN RETAIL TRUST: Picking up steam after Covid-19 (part 2)